Students Double Stake in Jaguar Investment Fund, Secure Additional Investment for Scholarships
---
Posted on March 9, 2021
Thomas Becnel
---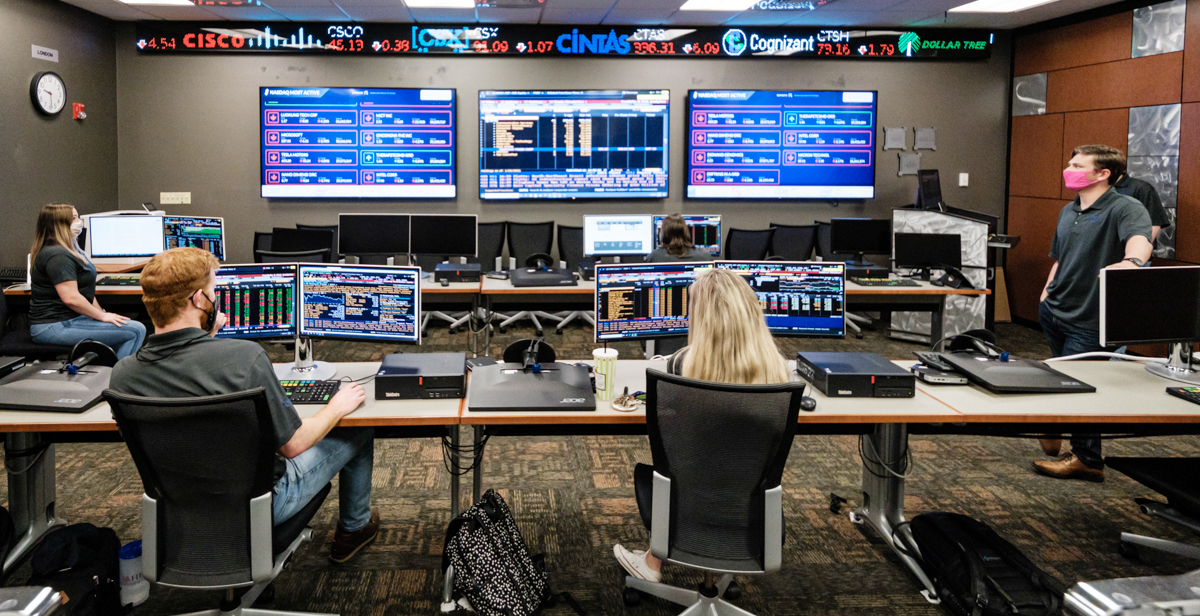 The Jaguar Investment Fund meets weekly in the John B. Saint Financial Analysis Center at the Mitchell College of Business. Its success, rising above $1 million and beating the S&P 500, has led to an additional investment from the University, with profits funding scholarships.
---
The Jaguar Investment Fund meets in the John B. Saint Financial Analysis Center, where students perched at Bloomberg Terminals face a wall of video screens with streaming stock quotes and breaking financial news.
This is where Wall Street meets the Mitchell College of Business at the University of South Alabama.
Each Wednesday afternoon, the nine students who run the fund vote on pitches to buy and sell certain stocks.
The best part?
These students are investing real money for the Jaguar Investment Fund. They are making decisions worth thousands of dollars. Success is measured with each trade.
The very best part?
These students are making real money for the Jaguar Investment Fund. In 2020, they outperformed the S&P 500 stock market index by 9 percent. The fund is now worth more than $1 million.
Hails Burnette, a finance senior from Chattanooga, Tennessee, is a risk analyst and operations manager for the student fund. Last semester, she and another student pitched a telecommunications company called Nextstar. The hundred shares of stock that the fund bought at $86 are now trading for more than $140.
She enjoys following a satisfying investment.
"I have this little widget on my phone that I swipe every day," Burnette said. "It's like, 'Oh, look at that — we're still doing well with that stock.'"
The success of the Jaguar Investment Fund recently prompted the University to invest $750,000 in a second student-run fund. It, too, will focus on long-term investments. Profits will go to scholarships.
Instead of pitching their classmates, students had to convince University leadership that their program was a sound investment. They made a formal proposal, and then waited.
"It was kind of nerve-wracking," said Christina Miles, a finance senior from Satsuma. "I've never asked people for a million-dollar investment before."
Student-Driven Investments
Many of the top universities in the country have student investment funds. The South program began in 2015 with a $250,000 donation. Three years later, there was another $250,000 investment in the Jaguar Investment Fund.
Since then, it has grown in value. Buying stock in companies such as Amazon and PayPal has paid off. A diverse portfolio includes everything from manufacturing and agriculture to media and entertainment.
Dr. Chris Lawrey, an assistant professor of economics and finance, became the adviser for the Jaguar Investment Fund last year. Students are excited about starting a second fund. Reinvestment is a vote of confidence for the program.
"This is a unique experience," Lawrey said. "We have some of our best students in here. This is totally driven by them. I sit back in the corner and let them do what they do."
His predecessor vetoed one trade in five years. He hasn't been tempted so far.
In the past, students would draw money from a mutual fund account for their stock purchases. Now that fund has been exhausted. This means students have to sell underperforming stocks to raise money for new purchases.
"It's getting more complex to manage," Lawrey said. "And, with the economy, it's getting harder to find stocks that are undervalued."
Students who apply for the Jaguar Investment Fund must maintain a 3.5 grade-point average, complete a senior-level investment class and become certified in use of the Bloomberg software system. The Wednesday classes count as an internship in the Mitchell College of Business.
Those accepted for the program are expected to do research, write proposals and stand before the class when pitching a stock.
The rest of the class members sit in judgment at their computer stations in a classroom that replicates the trading floor at a brokerage house. An extraordinary amount of financial information is at their fingertips. Even if they like a proposal, students make a point to question stats, challenge arguments and force their classmates to justify their positions.
"It's a little stressful," Miles said. "You really have to know what you're talking about. If you don't, they're going to destroy you."
Buying, Selling, Voting
On a recent Wednesday afternoon, the Jaguar Investment Fund considered several items.
John MacLatchie, a finance junior who grew up near Sacramento, California, led a few classmates in one proposal. They wanted to buy about $10,000 worth of stock in KB Home, a real estate company.
"I'm pitching this in a little different light," he told the class. "I want you guys to look at this as more of a value-based stock. This is a good hedge against some of these high-risk growth stocks that we've had."
The class responded with a rapid-fire series of pointed questions:
What about inflation? What about interest rates? What about the housing market?
How has KB Home done during the coronavirus pandemic? What about lumber prices? Why should they expect growth from an older, established company?
Why are its earnings per share lower than some competitors? Isn't this stock already listed near its 52-week high? What makes you think this is the right time to buy this stock?
MacLatchie scrambled to defend his pitch. He admitted when he didn't know the answer to some questions. He conceded that others raise legitimate concerns.
"I'll be the first to admit that with real estate, it's not going to be too glamorous," he said, "but I think this company will keep doing what works for them."
The students finally voted 7-2 to buy $5,500 worth of KB Home stock. To pay for the trade, they discussed selling shares of Alibaba, the Chinese e-commerce giant, which hasn't done well for the fund.
Lawrey stepped in to suggest holding on to Alibaba and selling stock in American Tower, a communications company. The students discussed selling their stake in Verizon, the telecommunications company which has been underperforming for years.
The class noted that, since 2016, the Verizon stock has gone up — by a grand total of $1.34. Students laughed and gave this number a round of sarcastic applause, but one wouldn't let the debate end there.
"I'll play devil's advocate," MacLatchie said, "just for the sake of it."
After a brief debate, the students voted 9-0 to unload $11,000 worth of Verizon.
Soon, Lawrey told the class, they'll be investing $750,000 from the University. These are exciting times for the Jaguar Investment Fund. The stakes keep going up.
"This is what we're going to be doing in the second half of the semester," Lawrey said. "We may have that money by the next time we meet."
---