Five Honored by USA National Alumni Association
---
Posted on March 14, 2019
Alice Jackson
---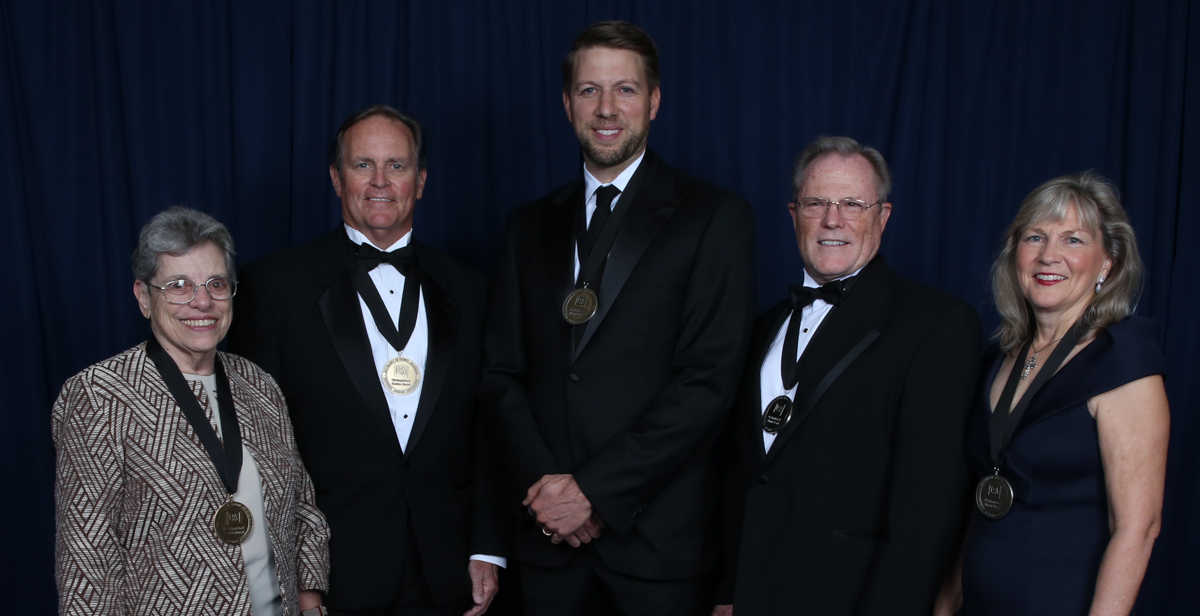 The University of South Alabama National Alumni Association honored four alumni and a Mobile businessman for outstanding accomplishments. They are, from left, Sr. Marilyn Joyce Aiello, O.P., M.D.; Ralph A. Hargrove; Caleb Crosby, '03; Dr. Edward A. Panacek, COM '81; and Tanya Fratto Blair, '83.
---
The University of South Alabama National Alumni Association honored four alumni and a Mobile businessman for their outstanding accomplishments during the 15th annual Distinguished Alumni and Service Awards gala March 14 at USA's Mitchell Center.
"The individuals who were honored have shown outstanding leadership, not only in their respective career fields, but in their communities as well," said Margaret Sullivan, vice president for development and alumni relations. "We are thrilled to have the opportunity to recognize their achievements as alumni and supporters of the University."
This year's recipient of the Distinguished Service Award was Sr. Marilyn Joyce Aiello, O.P., M.D. Before graduating from the College of Medicine in 1978, she opened the Franklin Clinic to provide health care for the African-American poor near Davis Avenue in Mobile. Afterward, she practiced family medicine in the Mississippi Delta, which includes some of the poorest areas of the country. Later, she taught at the University of Mississippi School of Medicine before moving to Chicago where today she serves as medical consultant for the 600 Dominican Sisters in her community.
The recipient of the V. Gordon Moulton Distinguished Service Award was Ralph A. Hargrove, president and CEO of Hargrove Engineers + Constructors of Mobile. He has been a consistent supporter of USA, hiring more than 130 graduates, supporting athletics as well as the College of Engineering, the School of Computing, USA Health University Hospital and endowing scholarships. A new organization, harGIVES, provides adapted motorized cars to mobility-limited children while supporting USA Engineering's Senior Capstone Project. Hargrove's company, known for its relationship building and client service, is also a strong promoter of civic engagement with its employees.
Recipients of the Distinguished Alumni Awards were:
Tanya Fratto Blair, '83, whose outstanding engineering career and her strategic business leadership were evident throughout a career that began with an internship at International Paper and continued to her first job with General Electric, then as CEO and president of her own company. Today, she serves as a board member of numerous international corporations, including Smiths Group PLC, a British multinational diversified engineering business with operations in more than 50 countries; Advanced Drainage Systems, Inc., which produces high-density corrugated pipes and other drainage products; and the Ashtead Group PLC, a London-based industrial equipment company.
Caleb Crosby, '03, is president and CEO of the Alabama Policy Institute, a leading conservative think tank. His political career began with the 2004 Bush-Cheney re-election campaign. He served in the Environmental Protection Agency, then at the White House in the executive office of the president, managing the event and travel budget for the president and first lady. Later, he served at the Department of the Treasury, and in 2008 he became chief financial officer at the National Republican Congressional Committee. He returned to Alabama to become API's director of development, then vice president and chief financial officer.
Dr. Edward A. Panacek, COM '81, returned to South to head the emergency department at USA Health University Hospital, as well as teach, research and develop a new ER residency program. He is the only graduate to regularly appear on-screen and be the medical adviser for a television show "Untold Stories of the ER." Panacek contributed to USA Health's success in securing $9 million for the new Fanny R. Meisler Trauma Center, and he is a leader of the facility's design team. Presently, Panacek leads the medical alumni Class of '81 Scholarship for medical students, which has raised more than $600,000.
"We are incredibly proud of these five individuals," said Karen Edwards, director of alumni relations. "They represent the significant contributions our more than 80,000 alumni and friends are making in our region and throughout the world."
The USA National Alumni Association was founded in 1974 to support and positively influence the goals of the University through an active relationship with students, alumni and friends. The vision of the association is to provide comprehensive programs, services and resources to benefit a community that South Alabama has created.
---