MCOB Grad Begins Small, Expands Her 'Purpose-Driven' Agency
---
Posted on March 15, 2017
Alice Jackson
---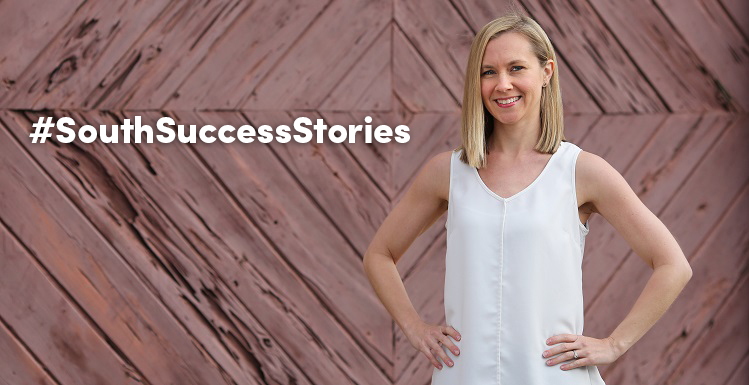 University of South Alabama alumna Vanessa Reyner started her agency, VMR, at a breakfast table. Her business has since expanded, combining a trio of talents, ideas and personalities at a downtown Mobile office.
Download larger image
---
#SouthSuccessStories is an ongoing series featuring University of South Alabama alumni who are life-savers, innovators, game-changers, music-makers and creative-thinkers, successful in their careers and supportive of their communities.
University of South Alabama alumna Vanessa Reyner founded her successful marketing and public relations agency at her breakfast table in 2011, one month after her wedding.
The 2006 graduate had earned a bachelor of arts degree with a concentration in marketing from the Mitchell College of Business, and she'd already worked for one of Mobile's biggest advertising agencies, climbing from an entry-level position to public relations manager within three years.
Today, the 33-year-old is living the dream of most marketing and public relations students – working for herself in her own agency. However, she's quick to admit there was a lot of work between that breakfast table and the downtown Mobile office at 308 St. Michael St. now occupied by VMR Agency.
"My husband was also starting his own construction business at the time, so he got the office and I got the breakfast table," she recalled. "In the beginning, I worked with freelancers, but I just couldn't keep my head above water with all the work coming in, so it wasn't long before I hired an accounts manager, Marissa Thetford, and then a graphics designer, Mallory Godwin."
The trio combine their talents, ideas and personalities during discussions conducted in an open office space, which Reyner said "makes us efficient because we know each other's personalities and how we best work." Like many agencies, they also outsource some work to reliable freelancers.
Their impressive client list includes the 2017 Providence Hospital Foundation's Festival of Flowers; Meridian at the Port, the largest residential development in downtown Mobile since the 1950s; Tri the Gulf, the first triathlon in Mobile County; and The Mayors, a think tank formed by Mobile Mayor Sandy Stimpson and the mayors of the five largest cities in Alabama.
A couple of years ago, VMR's focus narrowed to become a purpose-driven marketing agency as opposed to a full-service advertising agency. Reyner said the move was necessary to find the right partners to work with to accomplish similar goals."
"More and more companies want to hire outside agencies rather than having large internal staffs," Reyner said. "When you contract with us, you're getting three team members with various skill sets for maybe the same price you would pay one person. It works for companies because they don't have to pay benefits or train people. And when our goals align, we become a strong team for our clients."
The McGill-Toolen Catholic High School graduate decided on USA for her degree "because I got a really big scholarship offer." She lived on campus "and was really active."
"I was a member of Kappa Delta sorority, founded the Marketing Club in the Mitchell College of Business and was involved with the Student Government Association," she said. "It was a different school then, and it's been exciting to see all the development and extreme growth South has had in the years since I was there."
Another thing Reyner likes about owning her own agency is the flexibility of working out of her home during the afternoon where she can spend time with her 8-month-old son, Mac, and 3-year-old daughter Virginia.
"Agency work is something you can take with you anywhere," Reyner said. "I do keep the business and the personal work separate as needed, but it definitely is something I can also do at home when necessary."
The Reyners are "extremely involved" with their church, Dauphin Way United Methodist, and when they do have spare time, they enjoy spending it at the local beaches.
Reyner admits "it's crazy" when she realizes how much has happened in her life since South.
"It wasn't too long ago that I graduated, and I do remember thinking at that time it would be great to have my own agency," Reyner said. "It's great that the entrepreneurial spirit is so alive and well in our country. It's flowing steady, and it may not be glamorous, but if there's something you're interested in doing, it's a great time to go for it."
---