South Engineering Student Leads Drone Certification Course
---
Posted on March 22, 2017
Alice Jackson
---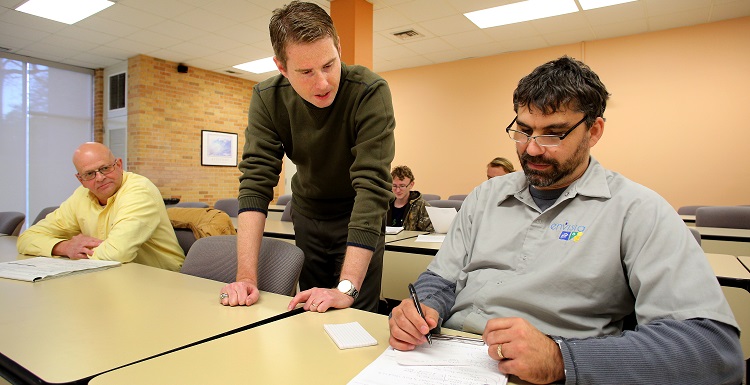 Jake Magnin, instructor for South's first drone certification course, discusses technical aspects of the federal drone certification test with students.
---
Student Jake Magnin practically went around the world with his college classes before he landed at the University of South Alabama, where he studies engineering and teaches the area's first preparatory course for the federal drone certification test.
"Flying was always my passion, and I got my private pilot certificate while I was still in high school," Magnin said. "Then, I entered college, intending to get my pilot rating while I was working on my degree."
Growing up, the 33-year-old's two passions were flight and engineering, he initially studied for a journalism degree because "my math skills weren't my best asset, and I didn't think I could hack the math in engineering, but I loved writing." He later switched his major to psychology, earning his bachelor's degree at the University of Missouri. Between classes, he also earned a commercial rating for mutealti-engine airplanes.
"I never intended to get a job as a psychologist because my entire focus was still flight," Magnin said. "My first job was with a cargo airline company that flew multi-engine 727s, and I earned my flight engineer certificate, then moved up to co-pilot, but the company folded before I went further with certifications."
That didn't stop Magnin, who later earned a single-engine commercial rating, then a flight instructor certificate, all of which qualifies him to teach community education students in USA's Center for Continuing Education and Conference Services. He's preparing attendees with the knowledge and expertise necessary to receive a Federal Aviation Administration Part 107 Remote (Drone) Pilot Certification. Twelve students signed up for this initial class, and interest has been so high that a second class will begin May 17. Students range in age from 17 to retirees. Course cost is $225 for the public, $195 for USA employees and $175 for USA students.
The class is the latest addition to a variety of special interest courses offered to USA students, employees and the community as part of South's University-Community Engagement initiative.
"If you make money from flying drones, you have to be certified," Magnin explained.
The two-hour class meets for six weeks on successive Wednesday nights. There are no drones in class, according to Magnin, because the focus is on book work needed to prepare for the test. The course syllabus outlines weekly quizzes and a final exam. To pass the certification test, applicants must understand:
Federal air regulations
The National Airspace System and operating requirements
Aeronautical environment, including aerial charts
Aviation weather and its effects on aircraft performance
Aircraft weight and balance/aerodynamics
Emergency procedures
Communication procedures
Flight physiology
Aeronautical decision making and in-flight judgment, and,
Maintenance of flight equipment.
Magnin said he's happy with his choice to work for a second bachelor's degree at South, and he admits the math is easier to calculate now that he's older. He's focusing on computer engineering "because it's a growing field, and it lines up with my interests." Presently, he's also working as a co-op student with Alabama Power.
During his spare time, Magnin works with Dr. Carlos Montalvo, assistant professor of mechanical engineering, on a drone research project for South's meteorology program, exploring new ways to use drones to predict thunderstorm activity.
And, since he's a fan of remote-controlled airplanes, he occasionally flies those with a local group of enthusiasts.
Magnin owns several remote-controlled airplanes and drones, all stored in his garage, but he added "none of them are in working condition." That's because most of his time outside class and work is devoted to his wife, Dr. Sarah Koon-Magnin, an assistant professor of criminal justice at South, and their 11-month-old son.
Because Magnin holds advanced flight certifications, he only had to complete several online modules to obtain a drone certification. However, before teaching the class, he took the same test his students will face.
"This class is really geared toward people who aren't pilots," Magnin said. "I felt it was only fair if I was going to teach it, I needed to see what they were going to be up against."
For more information about the next drone certification class, call Kelly Anderson at (251) 460-7200, or email kmanderson@southalabama.edu.
---