Art and Art History Departments Hosts Spring Galleries
---
Posted on March 23, 2021
Amber Day
---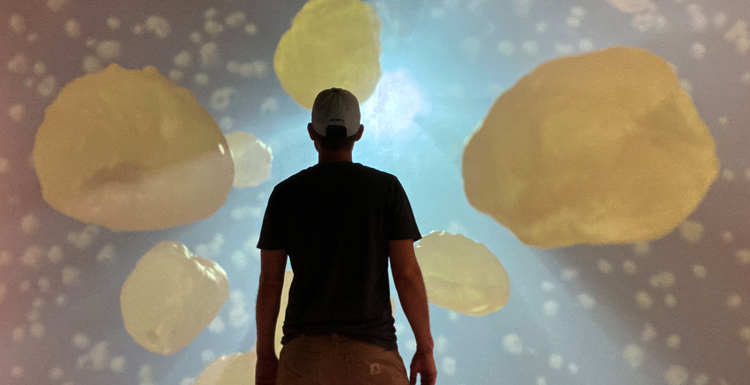 Students, faculty, staff and the public are invited to visit the University of South Alabama's spring art gallery through May 7, 2021.
---
The University of South Alabama Department of Art and Art History is gearing up to hold its spring exhibition of student galleries, which will feature the work of four Master of Fine Art students and three Bachelor of Fine Art students.
During the first four weeks, MFA students Benjamin Twingley (ceramics), Fernando Guerard (sculpture), Taylor LeBlanc (painting) and Meshelle Miller (graphic design) will have their work displayed in the Visual Arts Gallery in VAB (Visual Arts Building) Room 540 for five days each.
The galleries will continue on April 26, when BFA students Amber Flanagan (painting), Diana Dyer (glass), and Ellie Knight (glass), will have their work displayed in the gallery for five days.
The galleries will then conclude with BFA graphic design student work, which will be displayed from May 3-7.
The shows will feature various mediums and art styles, all of them meant to highlight skills and techniques the students have learned during their time at South.
Twingley says his goal for the show is to build an environment in a gallery setting while giving the viewer a glimpse into the microscopic world.
"My current body of work is a visual conversation about life cycles, evolution and adaptation," Twingley said. "It is inspired by microscopic life forms that have adapted to thrive in conditions that are unsuitable for most life forms, like at the depths of the ocean in hydrothermal vents or in boiling, acidic springs."
Gallery hours are from noon to 4 p.m. on the dates below. Students, faculty, staff and the public are invited. Schedule your visit by contacting the department secretary in VAB 172 at art@southalabama.edu or call (251) 461-1438. All visitors must sign in upon arrival at the gallery. Social distancing and masks required are required on campus and in the gallery.
DATES AND TIMES:
Benjamin Twingley (MFA) - March 22-26
Fernando Guerard (MFA) - March 29-April 2
Taylor LeBlanc (MFA) - April 5-9
Meshelle Miller (MFA) - April 12-16
Amber Flanagan, Diana Dyer, and Ellie Knight (BFA) - April 26-30
Graphic Design (BFA students) - May 3-7
The Master of Fine Arts in Creative Technologies and Practice degree program at South is currently accepting applications. GRE is not required for admission. The interdisciplinary program spans multiple concentrations, and some students take master's-level classes in business, communications and creative writing. The program does not require an undergraduate degree concentration in art, but does require the applicant to submit a portfolio of media in which the student wishes to dedicate further study.
Areas of interdisciplinary studies in the MFA program might include animation/computer science, graphic design, architectural design, painting/drawing, architectural rendering, art history and museum studies, sculpture and anthropology, sculpture and mechanical engineering, psychology and art therapy, ceramics, glass and entrepreneurship, university or junior college teaching, museums, and non-profit community groups.
For more information about undergraduate and graduate programs in the USA Department of Art and Art History, visit southalabama.edu/colleges/artsandsci/art/.
---