Pulitzer Prize-Winning Science Writer to Speak on Mass Extinction
---
Posted on March 28, 2018
Alice Jackson
---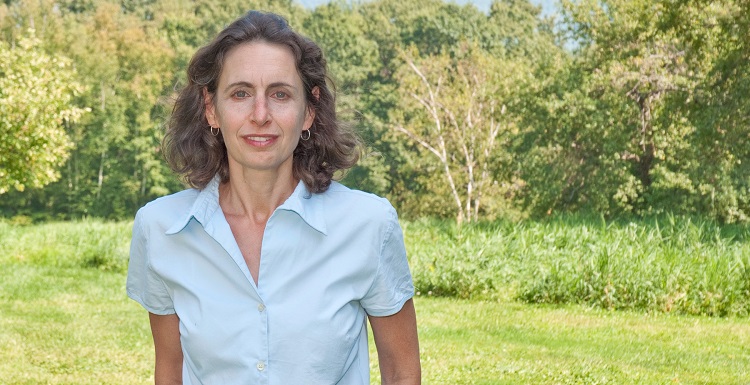 Science writer Elizabeth Kolbert is the author of "The Sixth Extinction: An Unnatural History," which won the 2015 Pulitzer Price in general nonfiction. Photo: Nicholas Whitman
---
Elizabeth Kolbert, winner of the 2015 Pulitzer Prize for her best-selling book about mass extinction, will speak at the University of South Alabama on Wednesday, April 4.
Recognized as one of America's best science writers, Kolbert will speak at 7 p.m. in the Student Center Ballroom on how mass extinction specifically relates to the Gulf Coast region. During her presentation, which is free and open to the public, she will discuss and read from "The Sixth Extinction: An Unnatural History."
A reception and book signing will follow, according to Dr. Charlotte Pence, director of the Stokes Center for Creative Writing inside the department of English at South.
"Having Elizabeth Kolbert here to speak and read is part of our continuing effort to bring world-class writers to South for our students and the community," Pence said.
Kolbert, who is also a staff writer for The New Yorker, will talk about how climate change is a part of the overall mass extinction picture, the basis for her book.
Mass extinction is defined as the extinction of a large number of species within a relatively short period of geological time and thought to be due to factors such as a catastrophic global event or widespread environmental change that occurs too rapidly for most species to adapt. Paleontologists have determined from the globe's fossil record that Earth has experienced five major mass extinctions, when more than 75 percent of species disappeared, and that each one included a major climate change. Today, many biologists suspect the planet is headed toward the sixth major mass extinction.
"The idea of mass extinction is simply a period of very high extinction rates, and many things are climbing toward very high extinction rates now. There's pollution and the draining of marsh lands. There's all sorts of ways we are changing the planet," Kolbert said during a recent telephone interview. "In the rankings of worry, there are a lot of things to be worried about, such as how many species can go extinct before the life support systems of the planet we rely on begin to collapse."
Kolbert's research included interviews with some of the world's best-known scientists and biologists, including Alabama native E.O. Wilson, considered the world's leading expert on ants.
"Doing something to minimize climate change is actually one of the easiest things we can do because we know there are steps we can take to ameliorate things. We need to change our energy systems, and we need to do that pretty rapidly," she said. "In terms of other things, that's tougher. For instance, there's microorganism changes, and there's an awful lot of very smart people working on it."
She said globalization has raised many issues that people didn't worry about several centuries ago.
"I think we're seeing more and more waves of extinctions that began after Columbus discovered the New World 500 years ago, and now global trade is ramping up, and we're getting another big wave," Kolbert added. "And, I find that audiences I speak to almost see it in their own lives. For example, you used to see a lot of Monarch butterflies, and now you don't see them as much. People get it that many beloved and widespread species are reducing in numbers."
Still, Kolbert said she does see opportunities for change before it's too late.
"Actually, what we need now isn't hope. What we need is courage. The issue is whether or not we're going to do anything at all. Or, are we going to rise to a very enormous challenge," she said. "I talk to college students the same way I talk to their parents and grandparents. This is the world you're inheriting. Unfortunately, you guys are going to have to deal with the consequences, and the consequences are cumulative. I tell them they should be pretty annoyed, and they should make some noise."
Before the evening presentation, Kolbert will meet with and answer questions from science majors interested in writing on environmentalism and activism.
In addition to the Stokes Center for Creative Writing, Kolbert's appearance is sponsored by the departments of English and biology, along with Phi Kappa Phi and the University's Sustainability Committee.
---