A Legal Mind, a Basketball IQ
---
Posted on March 27, 2020
Thomas Becnel
---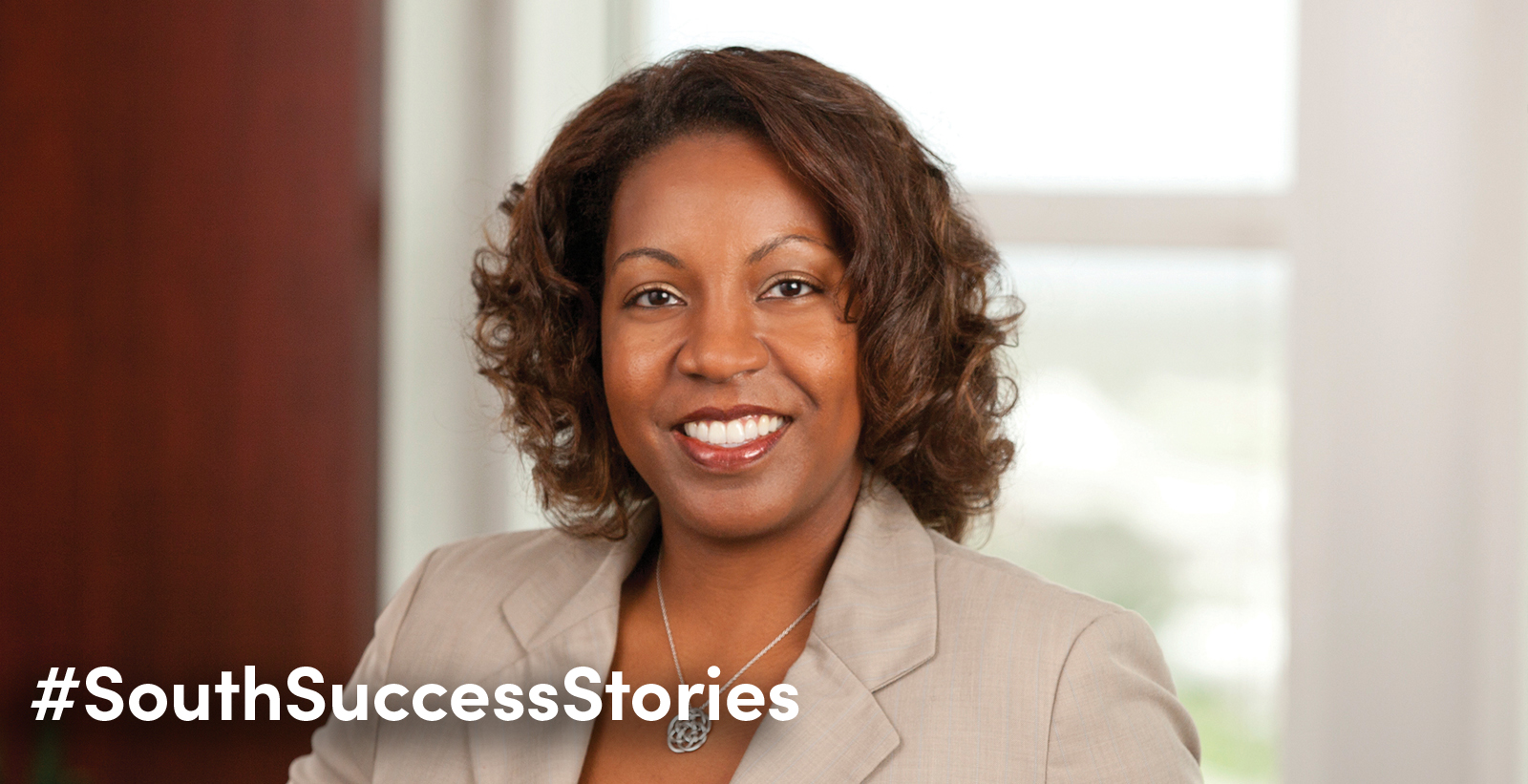 Lori Baggett, who graduated from the University of South Alabama in 1998 and played on the women's basketball team, has been named managing partner of Carlton Fields' Tampa, Fla., office.
---
#SouthSuccessStories is an ongoing series featuring University of South Alabama alumni who are life-savers, innovators, game-changers, music-makers and creative-thinkers, successful in their careers and supportive of their communities.
At the Carlton Fields law firm, Lori Baggett provides the same leadership and smarts she showed with the Jaguar women's basketball team at the University of South Alabama.
Although Baggett was never a leading scorer at South, where she graduated in 1998 with a degree in English, she was always a coach on the court.
"I was the one who'd say, 'OK, they're in a 2-3 zone, so we need to flash in the middle,'" she said. "I tell people that I have a high basketball IQ."
After graduating with honors from South and the Stetson University College of Law, Baggett began a legal career on the Gulf Coast of Florida. She specializes in labor and employment law, along with workplace safety and health issues. This year, Carlton Fields made her Tampa office managing partner, overseeing more than 100 lawyers.
"I'm still a full-time litigator, but it's a new set of responsibilities," she said. "It's an exciting time. We're getting to a point where there are many more women and people of color in these positions."
Baggett, 43, grew up in Crestview, a small town in the Florida Panhandle, where her parents were schoolteachers. She played basketball for two years at the College of Charleston before transferring to South Alabama. For her, it felt like coming home.
On campus in Mobile, Baggett admired Dr. Jean McIver, an English professor who founded the African American Studies program at South. The feeling was mutual.
"She was a phenomenal student, a leader in class, and her personality was just beautiful," McIver said. "She was the kind of person who knew how to plan and organize. She was focused. You could see that on the court, too, the way she moved and coordinated with her teammates. We were lucky to have her."
A few years later, McIver traveled to Florida for Baggett's law school graduation. When Baggett first became a law partner in Tampa, McIver gave her a personalized nameplate and pen holder for her desk.
Baggett still has that keepsake as a reminder of McIver.
"She was a great mentor who knew what I wanted to do with my career," Baggett said. "She was an amazing bright light in my life."
The 'Cool' TV Lawyers
Baggett likes to joke that a glamorous TV series – "L.A. Law" – helped her choose a career.
"I liked that show," she says, laughing, "and the lawyers seemed really cool."
In Crestview, she was always a good student. Her parents made sure she had good study habits.
"I don't procrastinate," Baggett says. "I'm a planner. I'm an early riser."
Her father was a teacher who also coached basketball. She learned the basics of the game from him, along with the finer points of strategy and teamwork, psychology and fitness.
"The main thing he taught me was how much you have to practice to be really good at something," she says. "My free throw percentage was probably 90% because I practiced every day. At anything you do, you have to perfect your craft."
Baggett earned athletic scholarships at Charleston and South Alabama. In Mobile, her family came to see most of her games. Her mom would bake her favorite dessert – a Philly Cream Cheese pound cake.
At South, she went to class, made it to practice and spent time with the Black Student Union. She remembers making civil rights field trips to Atlanta and Birmingham. She enjoyed living in a dorm suite with her teammates.
"I was a bit of a mother hen," she says. "I had a vehicle, so if we needed something at the grocery store on the weekend, I'd take everyone."
Baggett loved playing basketball, but her career at South came to a painful end. She developed plantar fasciitis and missed most of her senior year on the court.
"If you've never seen the needle they use to give you a cortisone shot, be glad," she says. "It's dreadful."
Basketball to Books
From Tampa, Baggett follows South online. "Go Jags," she says. Her co-workers hear all about her alma mater.
"I like to educate people on South Alabama," she said. "Yes, there is more than one U-S-A."
For years, Baggett played in a Tampa basketball league filled with lawyers and prosecutors. Then she injured her knee and decided that was enough of that. Now she belongs to two book clubs and goes to the theater and concerts.
The legal profession requires long hours, especially for managers at a big firm such as Carlton Fields, where she's worked for 17 years. Her promotion makes her more of a public figure in the community. She's always been comfortable as a leader working with friends and colleagues.
"I'm very team-oriented, and that's the way this firm works," she says. "It really works for me."
---