Conference on Teaching and Learning Focuses on Building Resilience & Promoting Equity
---
Posted on April 1, 2022
Joy Washington
---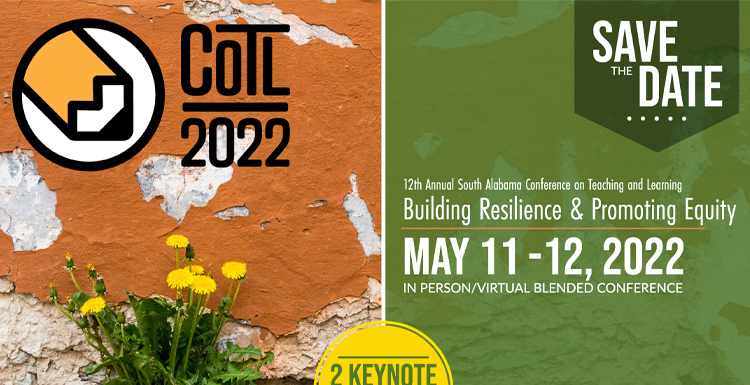 The 12th annual University of South Alabama Conference in Teaching and Learning will feature keynote speaker, Dr. Michael Wiederman, professor, director of leadership and professional development, and co-director of family medicine faculty development fellowship in the department of family and community medicine at the University of Alabama at Birmingham. for the in-person session Wednesday, May 11, 2022. He will speak on "Building Resilience for Ourselves, Our Students & Those Whom We Lead." The virtual session will be held on Thursday, May 12, and the keynote speaker will be Dr. Mary McConner, founder and principal consultant of Inclusive Excellence Consulting and an American Council on Education Fellow. She will speak on "Digital Equity & Inclusion: Narrowing the Digital Divide in Higher Education to Enhance Student Learning."
---
Refresh your enthusiasm for teaching and recharge your professional skills at the 12th annual University of South Alabama Conference in Teaching and Learning, chaired by the Innovation in Learning Center. This in-person and virtual conference will be held from 9 a.m.-2 p.m. on May 11-12.
"We are extremely excited to host the 12th annual Conference on Teaching and Learning, both in person as well as virtual this year," said Interim Provost and Senior Vice President Dr. Andrea Kent. "The theme, 'Building Resilience and Promoting Equity,' is most appropriate as we are moving forward with many lessons learned during a global pandemic. At USA, we are focusing on continuous faculty development as we make positive strides in meeting the needs of all learners."
The registration deadline is Friday, April 29. Final proposals are due on Thursday, April 7.
The keynote speaker for the in-person Wednesday, May 11, session is Dr. Michael Wiederman, professor, director of leadership and professional development, and co-director of family medicine faculty development fellowship in the department of family and community medicine at the University of Alabama at Birmingham. He will speak on "Building Resilience for Ourselves, Our Students & Those Whom We Lead."
The virtual session will be held on Thursday, May 12, and the keynote speaker will be Dr. Mary McConner, founder and principal consultant of Inclusive Excellence Consulting and an American Council on Education Fellow. She will speak on "Digital Equity & Inclusion: Narrowing the Digital Divide in Higher Education to Enhance Student Learning."
"The 2022 CoTL conference welcomes back participants and provides inclusive access by holding one in-person and one virtual session," said USA Executive Director of the Innovation and Learning Center Dr. S. Raj Chaudhury. "On May 11, Dr. Wiederman will engage faculty attendees in exploring ideas of building resilience in ourselves, our students and institutions. And, our May 12, keynote speaker Dr. McConner will bring a chief diversity officer lens to questions of promoting equity in our learning environments with a special focus on digital equity."
Chaudhury said USA is partnering with Spring Hill College, University of Mobile, and Pathway USA partners Bishop State, Coastal Alabama and the Mississippi Gulf Coast community colleges.
"We are very pleased to continue the collaborative tradition of CoTL," Chaudhury explained. "We appreciate the participation of our local colleges and universities in helping us develop this year's conference theme and their support of this CoTL conference."
The sessions will target teaching with an inclusive and student-centered mindset. There will be workshops, short talks, research talks, and a poster session, where participants can share their scholarly work at the peer-reviewed conference.
"We have selected presentation formats that make the most of in-person and online engagement opportunities, such as our virtual exhibit hall for posters, which allows for small group discussions among participants and presenters via Zoom," said Assistant Director of Faculty Development Dr. Lisa LaCross, USA Innovation in Learning Center. "We have been intentional about including space for networking and resource sharing. While this year some may not be able to submit a proposal, we still want them to attend, join in a conversation or two, and get inspired."
The conference is free to all USA faculty, staff and students. The conference is also open to the public and non-partner institutions for a $100 registration fee that covers both sessions. The online session is $50. See more details on the conference registration page.
---