Pathway USA Partners with Mississippi Gulf Coast Community College
---
Posted on April 5, 2016
Bob Lowry
---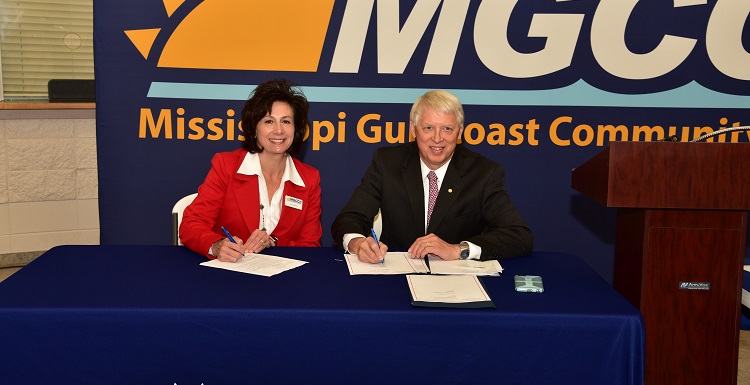 Dr. Mary Graham, Mississippi Gulf Coast Community College president, left, and Dr. Tony Waldrop, USA president, sign an agreement for the Pathway USA program.
---
The University of South Alabama today announced that Mississippi Gulf Coast Community College is now a partner in "Pathway USA," a collaborative program between the University of South Alabama and select community colleges that creates a seamless transition to USA for transfer students who earn their associates degree.
Mississippi Gulf Coast Community College is the third community college partner in the program. The academic partnership will enable more MGCCC graduates to transfer to South and earn their bachelor's degrees from USA.
"One of the pillars of the University of South Alabama's strategic plan is making higher education more affordable and accessible," said USA President Dr. Tony Waldrop. "We know that commitment is shared by our colleagues at Mississippi Gulf Coast Community College, and we look forward to working with them to provide more opportunities for students to earn a four-year degree from South."
"We are excited about the opportunities the Pathway USA partnership will afford MGCCC students who plan to continue their education after completing their associates degree with us," said Dr. Mary S. Graham, Mississippi Gulf Coast Community College president. "Student success is our institution's top priority and offering our students seamless transfer options gets them one step closer to reaching their educational goals."
The University earlier this year announced similar partnerships with Faulkner State Community College and Bishop State Community College.
Pathway USA's agreement with Mississippi Gulf Coast Community College, which will begin with the 2016 fall semester, is geared toward students who are not admitted at South as well as students who may simply prefer to begin their college education at MGCCC. These students may choose to have a copy of their USA application and supporting documents forwarded to MGCCC for admission consideration. Students already attending Mississippi Gulf Coast may also apply for Pathway USA. A unique application will be created and available for MGCCC students to complete and submit.
MGCCC students who enter the Pathway USA program will have unique benefits, such as:
Guaranteed admission to USA upon successful completion (cumulative grade-point average of 2.0 or higher) of the associate's degree
A USA academic advisor assigned to them who will meet students at MGCCC and provide individual guidance on course selection and map out degree plans
Special discounts through USA's Jaguar Productions
Complimentary admission to South Alabama home athletic events
Persons wanting additional information on Pathway USA at the University of South Alabama are urged to contact USA's Admissions Office at (251) 460-7834 or recruitment@southalabama.edu.
In addition to the Pathway USA announcement, both institutions also announced an agreement that will facilitate graduates of MGCCC's Hotel & Restaurant Management program to smoothly transition into USA's Hospitality and Tourism Management bachelor's degree program.
About the University of South Alabama
The University of South Alabama is a global teaching and research university that provides more than 16,000 students with an exceptional education in business, the liberal arts, education, engineering, computing, the sciences and health care. USA's commitment to student success includes small class sizes and hands-on research opportunities in 100 undergraduate, graduate and doctoral degree programs offered through nine academic colleges and schools. South also provides advanced and innovative health care through the USA Health System.
Mississippi Gulf Coast Community College
Mississippi Gulf Coast Community College is an educational institution that has been committed to making a positive difference in people's lives every day for 100 years. As one of the Top 100 associate degree-producing community colleges in the nation, MGCCC is proud to serve the four-county district of Jackson, George, Harrison and Stone counties. Gulf Coast ensures you an opportunity to achieve your educational goals by providing programs and services designed for students who plan to seek a four-year degree, train for immediate employment, or transition to a new career. For more information, visit www.mgccc.edu.
---