Doctoral Student Serves as STEM Advocate
---
Posted on April 7, 2016
Joy Washington
---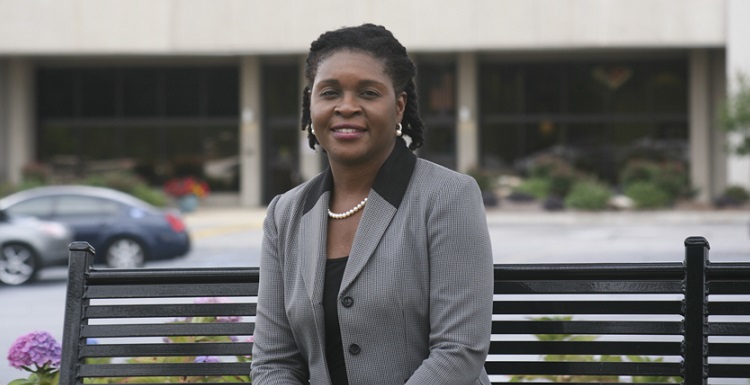 Angelia Bendolph, who is serving on the national AAUW STEM Task Force, will assist with the summer technology conference for middle school girls, which will be hosted by the University of South Alabama.
---
When Angelia Bendolph's daughter graduated from college, she told her mom to pursue her dream of earning her doctorate. Bendolph took her daughter's advice, while also finding a vehicle for expression in her lifelong commitment to empower women and young girls.
As a result, Bendolph – who is in the University's instructional design and development doctoral program – has been chosen to serve on the American Association of University Women Science, Technology, Engineering and Math, or STEM, Task Force.
"Things have come full circle for me," Bendolph said. "When I first became a member of AAUW, I received a Career Development grant while pursuing my master's degree at South Alabama, and as I work to complete my doctorate, I get to change lives and serve women and girls thanks to the national AAUW."
Bendolph, an AAUW member for nearly 20 years, has also conducted technology training workshops. During Bendolph's technology trainings, she shares the importance of introducing young and teenage girls to STEM subjects. Bendolph also introduced her daughter to STEM programs as a middle schooler along with supporting her attendance at a summer camp in Kansas.
Now, she has found a place in the national AAUW STEM Task Force that will allow her to make a difference both in the local community and in the Southeast.
"I knew working on my doctorate and serving on this national task force would be a big commitment," she said. "It has been a huge sacrifice to go from a full time career as director of Web Services for the University to being a full-time student."
Bendolph, who also had a career as an electrical engineer, knows firsthand how financially beneficial a STEM field degree can be for women. And, she also knew by serving on the AAUW STEM Task Force, this was her opportunity to help women and girls on a national level have the same opportunities to thrive in the STEM fields as professionals and students. Her dream is to start her own non-profit to help mentor, inspire and support women and girls in Mobile and surrounding areas. She also aspires to teach and do research in her field of study at a university.
According to the U.S. Department of Commerce, women currently hold fewer than 25 percent of STEM jobs, but more women are majoring in STEM fields in college. Nevertheless, women remain underrepresented, and the greatest disparities are occurring in engineering, computer science and the physical sciences. Women who work in STEM areas can earn 33 percent more income than in non-STEM careers.
Because of her passion and commitment as a member of Mobile's AAUW branch, the national board members knew Bendolph was one of the best AAUW representatives to serve.
"As a member of the AAUW STEM Task Force, Angelia has been a valued team member," said Ana Kay Yaghoubian, STEM senior manager with the national AAUW office. "She has provided research support, recommended grant reviewers and served as a resource while attending AAUW's Tech Savvy event for elementary and middle school girls held annually at Delta State University."
Dr. Gayle Davidson-Shivers, professor in instructional design and development in the USA College of Education, and Bendolph's graduate advisor, said she demonstrates a high-level of commitment and dedication to her studies along with any organization she volunteers with.
"Angelia is conscientious, dedicated and committed," Davidson-Shivers said. "I strongly believe that she has great potential to become a top scholar and professional in the ID field. I know she will do well for the national AAUW."
Leevones G. Fisher, president of the Mobile branch of AAUW, is thrilled Bendolph will work on the national level to support AAUW's initiative to break barriers for women in STEM fields.
"Angelia is a 'spark plug' for STEM," Fisher said. "She goes the extra mile to push for educational and mentoring resources that include girls and women from various backgrounds with an emphasis on gender equity."
The Mobile AAUW is collaborating with South Alabama to plan a technology conference this summer for middle school girls. USA is considering starting an AAUW branch. Upcoming interest meetings will be announced, and faculty, staff and students are welcome to attend. All events will align with the University's mission and priorities. AAUW was founded in 1881 with a mission of advancing equity for women and girls through advocacy, education, philanthropy and research.
---