USA Sponsors High School Public Speaking Contest
---
Posted on April 16, 2018
Libi Jacobs
---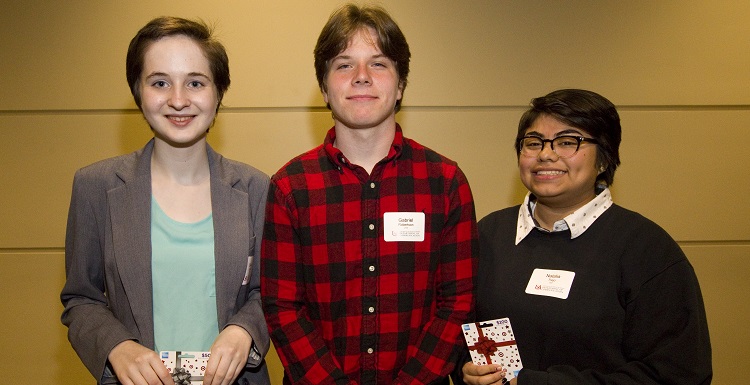 Natalia Trejo, right, received first place in the 2018 High School Public Speaking Contest. Gabriel Robertson, center, came in second, followed by Beata Casiday.
---
The University of South Alabama's department of communication, the College of Arts and Sciences and Pearson Education sponsored South's annual High School Public Speaking Contest on April 12 at the USA Student Center. This year 37 participants from five Mobile area schools competed in the contest.
Each student presented a speech centered on the question, "How does technology positively or negatively impact communication?" Each speech lasted five minutes and was judged on style of delivery, originality and source material.
"It's wonderful to see the high school students so engaged, trying so hard to give their speeches to be the best," said Dr. James Aucoin, chair of communication. "The contest has given the department a higher profile in the community. It shows the community some of what we do here."
Students competed in front of a panel of judges comprised of faculty, alumni from the USA communication department and community representatives. The first, second and third place winners received a plaque and gift card donated by Pearson Education. All contestants received a certificate of merit and achievement.
The top three winners of the competition were:
1st place: Natalia Trejo, Murphy High School
2nd place: Gabriel Robertson, Murphy High School
3rd place: Beata Casiday, Alabama School of Mathematics and Science
---