Health Care Students Get Training for Mass Casualties
---
Posted on April 20, 2018
Joy Washington
---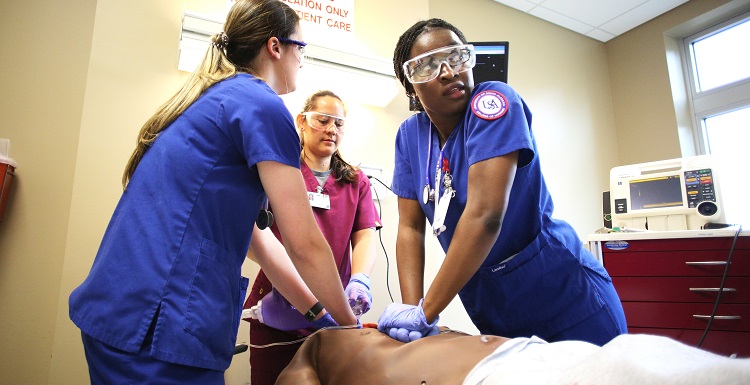 Nursing student Carole Aomo performs CPR on a simulated human patient with the assistance of nursing and physician assistant students during a real-time mass casualty drill at the University of South Alabama. Bottom photo: Mason Morris, a first-year physician assistant student, attends to an actor-patient during triage.
---
Screams, moans and cries for help pierced the air as "standardized patients" were attended to by physician assistant students and nursing students at the University of South Alabama during a real-time mass casualty drill in USA's Health Sciences Building.
Once the patients, who were actors, were initially examined, they were quickly taken to one of USA's simulation labs, where the students then treated simulated human patients with the same injuries.
Carole Aomo, a nursing student who was born in Kenya and grew up in New Jersey, wants to be a nurse because she enjoys caring for others. She said the drill really allowed her to utilize what she has learned in the classroom and in the clinical environment.
"This simulation allowed me to perform in that type environment because of the knowledge I have received throughout my nursing education at South," Aomo said. "This drill also allowed me an opportunity to hone my skills and receive feedback from professors. I feel confident that once I start my career as a nurse, if I am ever in an emergency situation, I would be able to apply the skills I have learned. In a real emergency, I want to get it right the first time."
Although there have been other mass casualty drills on campus, this was the first time the simulated human patients in the University's Human Simulation Lab had been used. The highly-trained standardized patient actors had wounds that were created with special effects, and they appeared to be real.
"This drill-type exercise focused on critical thinking and promoting teamwork," said Dr. Mike Jacobs, director and professor of the USA Simulation Program. "The drill exercise was planned more than one month ago, and the students were given a small amount of information. This was as close to a real-life emergency as we could get. We wanted them to experience the chaos and to have a real-world experience as an inter-professional health team."
During this exercise, USA physician assistant students and nursing students treated full-bodied human patient simulators with injuries ranging from minor to critical, starting with triage, which determines what type care is needed for patients based on a color-coded system, to diagnosing and treating the human patient simulators in one of four simulation labs, which are in a hospital-like setting.
Mason Morris, a native of Alabaster, Ala., is a first-year physician assistant student who wants to work in orthopedics upon graduation.
"It was interesting to see how we were able to come together as a team," Morris said. "This type training is invaluable to me as a student. As challenging as it was, we had to stay focused while treating our patients during the drill. I enjoyed being able to share my experience and get feedback from faculty during the debriefing sessions."
There were 106 students, about 20 faculty and staff from the colleges of Nursing and Allied Health Professions, and 20 standardized patient volunteers who participated in the mass casualty drill. The standardized patients are contract employees.
"The casualties played out in a well-scripted scenario. Overall, it offered training our students will need to strengthen their emergency first-responder skills in a real-life environment. This was a rare opportunity for them," said Lori Moore, instructor and assistant director of the simulation program.
The program has more than 35,000 encounters per year from students in the colleges of Medicine, Nursing and Allied Health Professions. Since South Alabama's simulation program is growing at a fast pace, the University is building a 39,000-square-foot Simulation Building with an estimated opening date of fall 2019. Currently, USA has additional simulation sites at USA Medical Center, USA Children's and Women's Hospital and the Baldwin County Campus. The new facility is being built near the Health Sciences Building.
"This will allow us to expand our classrooms, standardized patient care areas and simulation labs," Jacobs said. "We are also proud to announce that, for a contracted fee, we will be inviting other universities and private companies to use the simulation labs."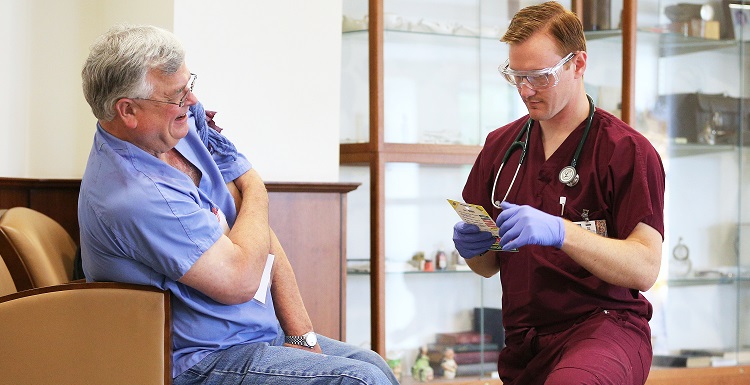 ---