Tau Beta Pi Fellowship Recipient to Receive Bachelor's in Chemical Engineering
---
Posted on May 1, 2017
Bob Lowry
---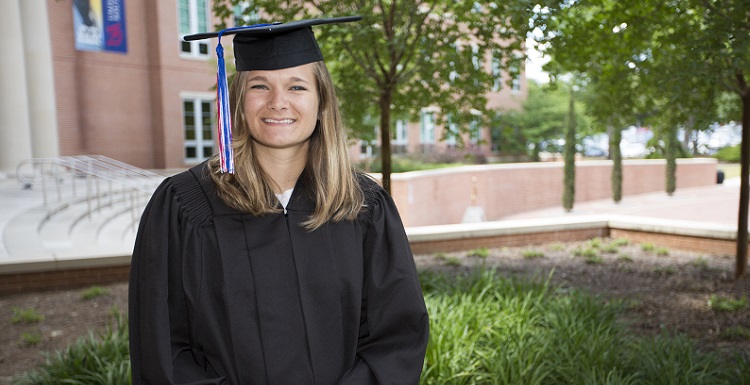 Mikayla Walters will return to South to earn a master's degree in chemical engineering: "I love learning and I am eager to learn all I can in my field."
---
Mikayla Walters enjoys recalling when her dad gave her a four-stroke motor kit for Christmas. She was 10.
"We assembled the motor together and he taught me how motors work to move automobiles. I was enthralled by what I learned, and I knew I was going to be a scientist someday."
This week, Mikayla will become a University of South Alabama graduate, crossing the stage of the Mitchell Center with her bachelor's degree in chemical engineering.
"My passion for science started at an early age," she said. "As a child, I can remember being very curious, and asking my dad all sorts of questions about the world around me.
"Then, in middle school, I went on a class trip to the local university where I talked to some biomedical engineers about what they did for a living. I was also introduced to some of the equipment they had built. At that point, I began thinking about engineering as a career path."
In high school, she was in the International Baccalaureate program and "absolutely loved" her IB Math Chemistry courses. "My senior year, I designed an experiment that used titration to investigate the change in vitamin C concentration of orange juice with respect to time. While performing the experiment, I pictured myself thoroughly enjoying doing such work as a career. I knew for sure I wanted to marry my passions for math and chemistry to study chemical engineering."
A military brat who's "lived all over" due to her father's career as an Air Force pathologist, Walters graduated from high school in Ocean Springs, Miss., and had her choice of colleges to attend, having been accepted to institutions such as Cornell and Caltech. But South won out.
"South offered me the best scholarships and gave me the opportunity to run Division I cross country and track, which I did my freshman and sophomore years," Walters said, adding that one more thing closed the deal.
"The defining moment for me was when I came to Shelby Hall for the Honors Program interview. I was thoroughly impressed with not only the stately new building but also the friendliness of the people and the beauty of the campus," she said. "South was also the closest to home out of all the schools I applied to, and I realized I wasn't ready to move far away yet so I could be involved in my little sisters' lives (they are in the 8th and 11th grades). I have really enjoyed supporting them at their track and cross country meets!"
And Mikayla's immediate plans should allow her to continue to support her little sisters for a while longer. She is staying at South to get her master's degree in chemical engineering.
"Dr. Silas Leavesley strongly encouraged me to apply for the master's program, and my eyes have been opened to my passion for research and teaching through working with Dr. Christy Wheeler West," she said. "These chemical engineering faculty, along with Dr. Thomas Rich from the College of Medicine (a colleague of Dr. Leavesley) and Dr. Sally Steadman have all encouraged me and have written countless letters of recommendation on my behalf for various programs and fellowships to make my dream a reality."
Mikayla might have needed that gentle nudge from the faculty, because she will be the first to tell you that she didn't really dream of graduate school in her future.
"I was never planning on going to graduate school until the beginning of my senior year. My husband and I got married in January of my junior year, and he is in the Air Force ROTC program at South and studies information technology," she said. "He will graduate in May of 2018, at which point we will be moving to wherever he gets orders, so I figured it was a great time to get a master's degree – while my husband is still in school and we don't have any children yet."
Balancing a family and school is not always easy, but Mikayla's academic success has also brought her some financial relief. Recently, she was awarded a Tau Beta Pi Fellowship, one of just 25 outstanding students chosen nationwide by the engineering honor society. The fellowship will help pay for graduate school.
And then there is the Benjamin A. Gilman Scholarship as well as the Phi Kappa Phi Study Abroad Grant to help cover the costs that will support her research trip this summer to Chile. Yes, Chile.
"My Spanish professor, Dr. Zoya Khan, was trying to help me find a way to link my Spanish skills (she has a Spanish minor) to my engineering degree. We found a summer internship program in Santiago, Chile, through Academic Programs International." Mikayla will leave soon to complete an eight-week research internship in an organic chemistry laboratory at the Pontifical Catholic University of Chile.
After obtaining her master's, Mikayla is open to working in a plant or a laboratory or teaching at a university while perhaps getting her doctoral degree. For someone who didn't initially plan on going to graduate school, it seems that the longer Mikayla's been at South, the more she's come to understand something special about herself.
"When I began my senior year, suddenly I had a feeling of distress and loss at the thought of being done with school forever. I came to the full realization that I love learning and I am eager to learn all I can in my field."
---