'Humbled by Her Experience'
---
Posted on May 1, 2017
Joy Washington
---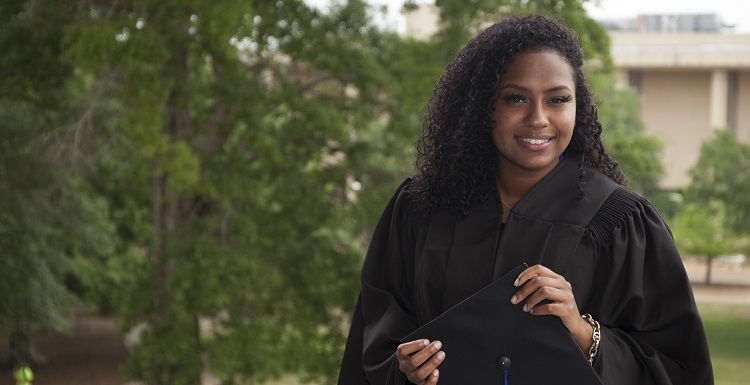 Winifred George, who will earn her bachelor's in nursing, wants to work in labor and delivery, and, in the near future, return to school for her graduate degree.
---
Watching her grandmother become ill and pass away touched Winifred George so deeply, she knew in her heart she wanted to be a nurse. She will graduate May 6 with her bachelor's degree in nursing from the University of South Alabama.
"As I got older I remembered when my grandmother was sick, the nurses were there to care for her and to explain to my family and me what was happening while she was at the hospital," George said. "They were so compassionate and helpful. Seeing my grandmother ill and grieving her death really grounded my desire to become a nurse."
George, a native of Loxley, Ala., said the journey to completing her degree has not been easy. She has had challenges and obstacles, but she stayed focused, studied diligently, and she is ready to put on her cap and gown and receive her degree.
"It has been a challenging and inspiring journey," George said. "I will take everything I have learned and be a great nurse."
George said she could not have made it through USA's nursing program without her mom, Darnell Ellis, and several others. She received a great deal of support from Shylonda Stewart, an academic counselor in USA's College of Arts and Sciences.
"When I first met Winifred," she stated, "we were waiting at a salon to get our hair done. She was considering another career choice based on her mom's expectations. But, she made it clear to me that her passion was nursing. I told her she had to be true to herself. And, her mother agreed. Winifred is a great listener, and she is humbled by her experience. We have built a great bond, and I am so pleased to have been supportive of her journey at South Alabama."
And one of her inspiring mentors has been her namesake, Aunt Winifred Johnson who is a nurse practitioner in New Orleans.
"It was a big surprise when my niece Winifred mentioned that she wanted to study nursing," she noted. "But, it's a great feeling to have been able to support her. She is really blessed. We are thrilled she will graduate with her bachelor of science degree in nursing. It was not easy, but she persevered."
George is already interviewing and ready to start her career in nursing. She hopes to work in labor and delivery. And, in the near future, she would like to go back to college to earn a graduate degree in nursing. She is excited about the nurse practitioner program along with several other graduate nursing degree options.
And, the wisdom she would share with other nursing students who are coming behind her is to never give up on their dream of being a nurse.
"Even when it looks like they are not going to make it through the program," she said. "I would tell them to keep working hard and never give up. South's nursing program is tough, but it shaped me into the young woman I am today. I leaned on my family, mentors and my faith. And, I made it."
---