Love at First Psych: Grad Pursuing Career Studying the Mind
---
Posted on May 1, 2018
Joy Washington
---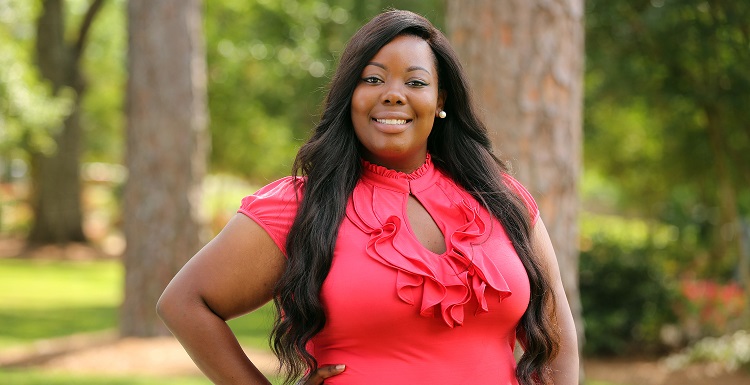 Shaniqua Hammock is considering a master's degree in forensic psychology after graduating Magna Cum Laude during Saturday's Spring Commencement.
---
A mentor and love for helping others inspired Shaniqua Hammock of Montgomery, Ala., to major in psychology and minor in sociology while studying at the University of South Alabama as an undergraduate student. On May 5, Hammock will graduate Magna Cum Laude, earning a 3.74 grade-point-average.
Hammock was first introduced to psychology by Dr. Joshua Foster, professor of behavioral and brain sciences, who also has become a mentor.
"After taking the introductory course, I was encouraged to pursue psychology," Hammock said. "And, I am so glad I did. I am fascinated about behavior and the mind. Currently, I am thinking about pursing my master's degree in forensic psychology. I love the television program 'Criminal Minds,' and I would enjoy working in a field where I would have different experiences daily. And, more importantly, I want to help people by working in a non-profit organization."
Hammock, born in Warner Robins, Ga., said while working with Foster in his lab, she studied narcissism and enjoyed her research experience discovering that research can be exciting and fulfilling. Grateful to have found a field of study that she can be passionate about, she said her college experience at South has been challenging yet rewarding.
"Whatever I choose as a career," Hammock noted, "I want to engage with people in need, and I want to learn by participating. My main concern is happiness. And, I want to work with different people to reach a common goal. When I was at Jefferson Davis High School in Montgomery, I was involved in the Health Science Academy. When I came to South, I just knew I was going to be a physician one day, but I took my first psychology class and fell in love."
"Whatever I choose as a career, I want to engage with people in need, and I want to learn by participating. I want to work with different people to reach a common goal."
Hammock has been extremely active in community service while studying at South. She credits another mentor, FeAunte' Preyear, health education and quality improvement coordinator at South, with introducing her to the Mobile Rape Crisis Center. Hammock currently volunteers as a client advocate. She said Preyear is warm and kind, and like a second mom to her.
"I have done my best to give her guidance to help her navigate her career path," Preyear noted. "We talk a lot about the importance of taking the time to pray while seeking spiritual guidance as she finds her life's purpose. No matter what she decides to do, Shaniqua will be very successful."
Preyear said Hammock stayed focused the entire time she was a student at South Alabama and that has helped her become an outstanding student.
"I met Shaniqua when she was a freshman," Preyear said. "She is very focused, hard working and determined. She sets her goals high and accomplishes them. I have watched her grow, and she is a monarch coming out of her cocoon. I am extremely proud of her."
Many of Hammock's peers have talked about her outstanding achievements as a student. She was recently named woman of the year by South's Women of Excellence organization. She served as officer of several organizations including Women of Excellence and Abeneefoo Kuo Honor Society. She is also a member of the Psi Chi Psychological Honor Society.
Hammock said her biggest support system consists of her mother and grandparents, who always knew of the greatness inside of her. Hammock's grandfather David Anderson also shared great knowledge with her.
"My grandfather has always been a voice of reason and wisdom," she said. "I can talk to him about anything, and I can trust him."
---