Born in Vietnam, He'll Protect the United States
---
Posted on May 1, 2018
Alice Jackson
---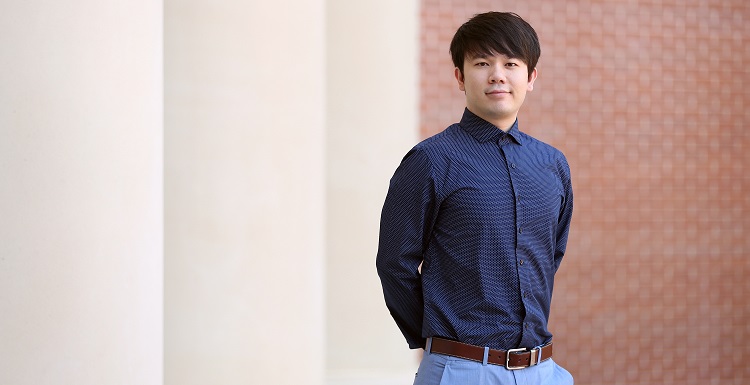 Thanh Nguyen has worked for two years as an intern at Sandia National Laboratories, where he has a job lined up after receiving his master's degree.
---
Thanh Nguyen came to the United States from his native Vietnam when he was 5 years old. On May 5, he will receive his master's degree in computer science from the University of South Alabama, then head to California for a six-figure job with the federal government.
Nguyen, one of the top graduates in the School of Computing, is receiving his master's degree in cyber security, which landed him a job at the Sandia National Laboratories in Livermore, Calif.
"I've been working there almost two years now as an intern. The area is nice, but the cost of living is higher than here," Nguyen said. "However, my beginning salary will be almost as much as Google's entry salary for software engineers. And, it's almost as much as I would have made as a doctor."
The level-headed young man is one of the School of Computing's participants in "CyberCorps: Scholarship for Service," a scholarship program financed with a $4.1 million grant from the National Science Foundation. These highly qualified students in cyber security and information assurance studies receive total scholarships for two to three years, and in return they must work in federal, state, local or tribal government agencies for a period of time equal to the duration of their scholarship. In addition to tuition, the students receive money for education-related expenses, a health insurance reimbursement allowance up to $2,000 per year, a professional development allowance, a book allowance, and funds for travel and professional certification.
Within 10 years, "I hope I will be finished with my Ph.D., and, hopefully, I'll be making tools for new ways to protect our country from cyber attacks."
For years, Nguyen thought he would become a pediatrician, but that career possibility changed during middle school.
"That's when I began teaching myself programming. Then, I learned InDesign (a desktop publishing software by Adobe) at a really young age," he explained. "Computers took my love and almost all my interest, and I've been pretty happy with my decision. Cyber security is a moving landscape. Each year, there are new threats, so you constantly have to adjust and learn to keep up. For that reason, it never gets boring for me. You're always testing the landscape and architecture."
One of the major reasons he accepted his new job was an 8 a.m. to 5 p.m. work day "in a pretty relaxing environment." He added, "And, the government benefits are really great."
He admits he had several other options than South for his higher education, but his closeness to his parents and a younger sister led him to stay closer to home. And, he believes his education prepared him as well, if not better, than any other school he considered.
"My main professor was Dr. Todd McDonald. He's basically guided me all the way with my undergraduate and master's degrees. He's been a great mentor to me," Nguyen added. That's one reason he plans to pursue a doctorate in the future.
The personable student speaks Vietnamese and Chinese in addition to English, which adds more depth to his stellar resume.
Outside the classroom, his extracurricular activities included DayZero, the School of Computing's student organization that promotes professional development in cyber security knowledge and awareness. DayZero students have participated in regional and national competitions such as the Southeast Regional Cyber Defense Competition (SECCDC), Department of Defense Cyber Crime Center's Digital Forensics Challenge (DC3), Cyber Security Awareness Week (CSAW) Capture the Flag, Defcamp Capture the Flag, Cyber 9/12 Student Challenge, and Facebook Capture the Flag (CTF) events.
"I like my computer a lot, so I do a lot of program things in my spare time, but I do have hobbies," Nguyen said. "I enjoy going to the gym and working out, kayaking and hiking."
Nguyen believes the future he has worked so hard to achieve is a bright one.
Within 10 years, "I hope I will be finished with my Ph.D., and, hopefully, I'll be making tools for new ways to protect our country from cyber attacks," he said.
---