Learning the Importance of Dedication, Sacrifice
---
Posted on May 2, 2016
Joy Washington
---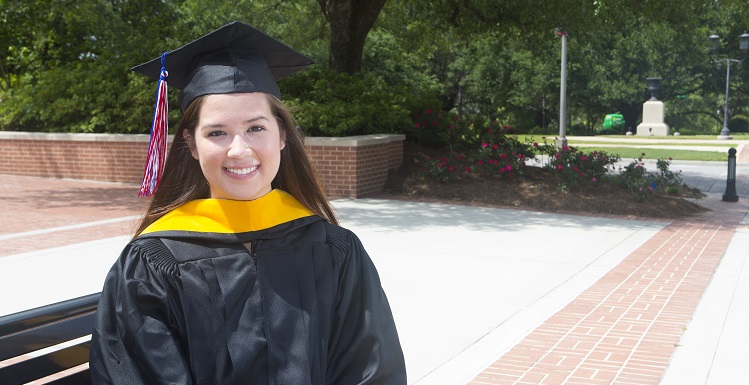 Catherine Zivanov said her Honors Program experience "led me to decide on a future in academic medicine as a physician and researcher."
---
Catherine Zivanov grew up understanding the importance of dedication and sacrifice, and because of her steadfast focus on a future in academic medicine, Zivanov will attend the Vanderbilt University School of Medicine in August.
Zivanov, 22, who has earned a 4.0 grade-point-average, had several great medical school offers, including Harvard Medical School, which offered a scholarship. But, she carefully made her decision to accept the Cornelius Vanderbilt Scholarship, which covers 75 percent of her tuition to attend the medical school.
Zivanov's parents have overcome the odds, setting a stellar example of perseverance and work ethic for their only child. Her father, Bobby, with his family, immigrated to the United States from Novi Sad, Yugoslavia, which is the present-day Republic of Serbia, and her mother, Kim, escaped with her family to the U.S. from Saigon, Vietnam, on a C-130 aircraft once communist forces took over the South Vietnamese capital.
Zivanov, a proud graduate of Mary G. Montgomery High School in Semmes, has always had the support of her parents, family and friends.
"Once I started studying at South," Zivanov explained, "I received the help I needed in the Honors Program, which led me to decide on a future in academic medicine as a physician and researcher."
With the help of her faculty mentors, Dr. David Forbes, chair of chemistry and Dr. Richard E. Honkanen, professor of biochemistry and molecular biology, she was able to conduct research in a laboratory and present her senior thesis on "Development of Protein Phosphatase Inhibitors: Potential Candidates for Therapeutic Cancer Treatments." According to Zivanov, one of the main focuses behind this research is to design, synthesize and test protein phosphatase inhibitors in hopes to eventually find therapeutic cancer treatments to help patients.
"Catherine is an outstanding student who's determined to live her dream of becoming a physician," said Dr. Michael Doran, director of South's Honors Program. "It's been a pleasure to help and support her."
Her fondest memories at South include volunteering with the Alpha Epsilon Delta Pre-Professional Honor Society, where she served as president. She was also named a prestigious Goldwater Scholar and is a Frederick P. Whiddon Scholar of the University's Honors Program.
Zivanov is humbled to have had a well-rounded college experience at South, and she's looking forward to the next chapter of her academic journey to make a difference in the lives of others.
---