South Team Developing a Smarter Surgical Drill
---
Posted on May 10, 2018
Marketing and Communications
---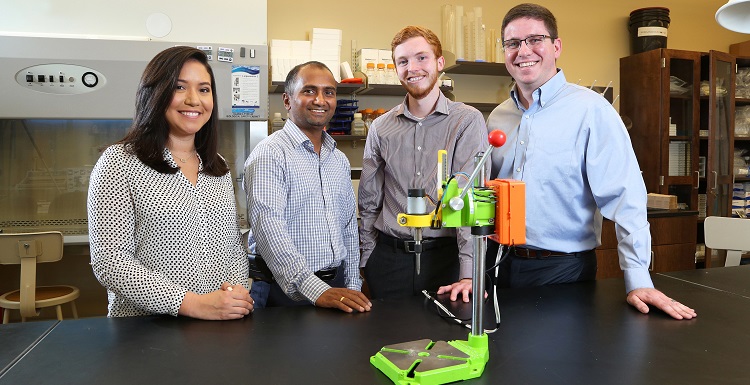 Dr. Dhananjay Tambe, second from left, an assistant professor in mechanical engineering and pharmacology, worked with engineering students, from left, Cassandra Chapman, Brandon Stokley and Quentin Morris to develop the "Tighten It" smart drill prototype. Chapman and Stokely graduated Saturday.
---
In its latest bid to propel research from the lab to the marketplace, the University of South Alabama's inaugural I-Corps program recently steered six graduating teams closer to commercialization and – with a little luck – continued federal funding for their proposed technological advances.
The National Science Foundation Innovation Corps aims to teach grantees to identify "valuable product opportunities" often buried within academic research while simultaneously honing their entrepreneurial skills via training in customer discovery and hands-on mentorship from established entrepreneurs.
South is one of 86 I-Corps sites nationwide. The plan at USA is to train roughly 20 teams per year for the grant's five-year duration with the NSF providing $100,000 annually to fund necessary travel, materials, prototypes and other miscellaneous expenses. In turn, each team is awarded as much as $2,500 to accelerate validation of commercial value for new technologies.
Moreover, teams from Spring Hill College, University of Mobile and Bishop State Community College are eligible to participate in future rounds, lending a more collaborative, regional vibe to the effort.
The program hinges on soliciting real-world input from private-sector experts and better understanding customer needs in order to pivot accordingly, said Dr. Michael Chambers, USA assistant vice president for research innovation.
Or, as Team 2's Dr. Dhananjay Tambe noted: Check your ego at the door.
"When it comes to product development, there is a clear need to keep the customer in perspective constantly," said Tambe, an assistant professor in both mechanical engineering and pharmacology, who served as academic lead for mechanical engineering seniors Cassandra Chapman, Quentin Morris and Brandon Stokley.
"I-Corps helped us realize that engineering inventions do not arise entirely from the balance of mechanical forces but that they also require us to strike a balance between needs of the end user and features of the product," Tambe added
His team developed a prototype for the "Tighten It" smart drill for use by orthopaedic surgeons to "ensure the tightness" of screws used in internal fixation while reducing the cost and time spent in surgeries as well as the chance of infection. The team believes that their technology could "revolutionize internal fixation surgeries and lead to robotic surgeries in the future."
Drills typically used by surgeons are no more complex than those found in local hardware stores, said Team Tighten It, promoting its invention as being able to quickly adapt with just the right amount of torque for the job.
Following I-Corps guidelines, the team put to test their expectations. After interviewing potential users, however, the team members were surprised to realize that established surgeons expressed little enthusiasm for a new tool. The team responded by pivoting to focus on marketing the technology to orthopaedic residents and their educators.
"We rushed to the judgment that our technology would revolutionize orthopaedic surgery, but it was the I-Corps program that helped us visualize a systematic, progressive path toward that end," Tambe said.
Chambers said Team Tighten It epitomizes the I-Corps intent.
"Team Tighten It realized quickly that their initial assumption that all orthopaedic surgeons were going to want this product was off base and that teaching institutions and hospitals might be the better entry point for this product. Now, that's not to say this is the end of the story. The research indicates people who use a device like this in procedures could be less likely to report surgery complications and infections, so that could create a compelling argument for established surgeons to adopt the technology down the road," Chambers said.
Ultimately, no one customer determines a product's market entry. There could be industrial uses for the technology that would open up an entirely new market outside of health care, said Tambe.
Meanwhile, the main focus remains on surgical uses. Team Tighten It is prepped to take its next steps with collaborator Dr. Mark Perry, a professor of orthopaedics at the College of Medicine and a foot and ankle surgeon with USA Physicians Group.
"First, we will again work with Dr. Perry, not for customer feedback, but to get initial 'field' tests of our current product. After that is the time to apply for a Partnerships for Innovation (PFI) grant, a federal resource to fund research and development efforts toward the ideas that have the potential for commercialization," Tambe said, noting the U.S. Department of Defense, NSF and the National Institutes of Health are "some of the federal agencies that will be interested in investing toward commercialization of this idea."
Chambers said the latest data indicates the odds of a faculty member securing certain types of funding after participating in I-Corps increase from 16 percent to 60 percent "because of the increased focus and private-sector input on their technology.
Completion of the program also opens a path to apply for up to $50,000 in grant money for additional discovery, he said.
The I-Corps program is open to all student and post-doctoral fellows. For more information, visit the website.
---