13 Years Later, a Well-Earned Degree
---
Posted on May 10, 2018
Joy Washington
---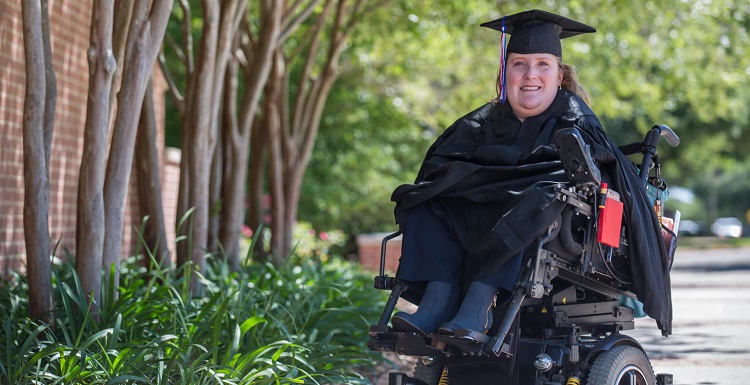 Jennifer Oveson attended the University of South Alabama part-time and overcame obstacles due to spina bifida to earn her bachelor's degree. "Giving up is not an option," her parents told her.
---
"I was born with spina bifida," said Jennifer Oveson. "I have had numerous challenges throughout my life, but my parents, Dianne and Gerald, reminded me that I could achieve anything I wanted to do. They said 'giving up is not an option.' And, they were right. I have learned I enjoy achieving my goals."
After 13 years and never giving up as a part-time college student, Oveson, a 30-year-old Mobilian who goes by "Jenny," graduated last week with a bachelor's degree in interdisciplinary studies with a concentration in human services from the College of Education and Professional Studies at the University of South Alabama.
Oveson, a wheelchair user, has had a full college experience. She has not allowed her physical and health challenges to keep her from enjoying life as a South student.
"My mom has spent many hours driving me to my college classes or to my social events. My parents and I have attended many basketball games together. We are season ticket holders, and we enjoy cheering on the Jags," she explained. "I have made many friends while attending South."
Buoyed by the support of her friends, Oveson is giving back. "I decided to create a support group called the 'Pink Lemonade Ladies.' We are here to support developmentally disabled students graduating from high school. We want to help them connect with people and much-needed resources or options for higher education. Social connection is important. Loneliness can be devastating."
Oveson said the Pink Lemonade Ladies not only support developmentally disabled students but the elderly as well. She says in American society, many people in those categories can feel totally isolated from life or a community. Her support group connects on Facebook.
While studying at South Alabama, Oveson was also an active member of Comrades of Courage, an organization created to bring awareness of accessibility issues for disabled students; UKirk, a Christian student organization supported by her church, Spring Hill Presbyterian; and she was a member of the National Society of Leadership and Success.
"I have had challenges due to my lack of mobility and health issues," she said. "I totally depend on my parents. I joke with my mom by saying she must have been an English teacher in her past life, because she has helped me with all my writing assignments. And, my dad has helped me with my math. Studying for this degree has not been easy, but with the help of my parents, I was able to finish my degree."
Oveson's mom said her daughter has been a blessing to the family.
"We knew that Jenny was going to be born with spina bifida while I was pregnant," Dianne Oveson explained. "We had time to prepare. When Jenny was three hours old she had to have surgery to repair an opening in her spine. My husband and I were determined we would always advocate for her and help her live a life of no limitations. We are so proud of her steadfast commitment, and we are honored to be 'the wind beneath her wings.' But, she has done the work and achieved this goal."
Oveson's dad is proud that his daughter has learned to be a great problem solver.
"She has persevered through all the obstacles placed before her," Gerald Oveson said. "And, as a young woman in a power wheelchair who has no feeling waist down, she has not stopped. She has excelled and achieved great things in life, and expanded her capacity to think beyond herself."
Now that Oveson has earned her degree, she wants to work with and support developmentally disabled people and those who have traumatic brain injuries, through the non-profit, "Family Support," where her father is the director.
Oveson is also thankful to several faculty members who mentored her while attending South Alabama. Two of them are Dr. April Dupree Taylor, assistant professor of communication, and Laurie Haas, instructor in sociology and anthropology. She said Haas is like a second mom, and she loved Dupree Taylor so much that she registered for two of her classes.
"Jennifer is one of the most remarkable students I have taught during my tenure at USA," Dupree Taylor said. "Her determination to do well motivated the other students in my class to push a little harder. I was fortunate to have her in my class."
Oveson has learned so much while studying at South, but what's most memorable to her is how she has matured.
"My emotions are all over the place," Oveson expressed. "I have been going non-stop since elementary school. I have grown into a very mature person now and made some great friends, navigated South's campus and earned my degree. Thanks, mom and dad!"
---