Hanks Honored for Community Service
---
Posted on May 11, 2018
Alice Jackson
---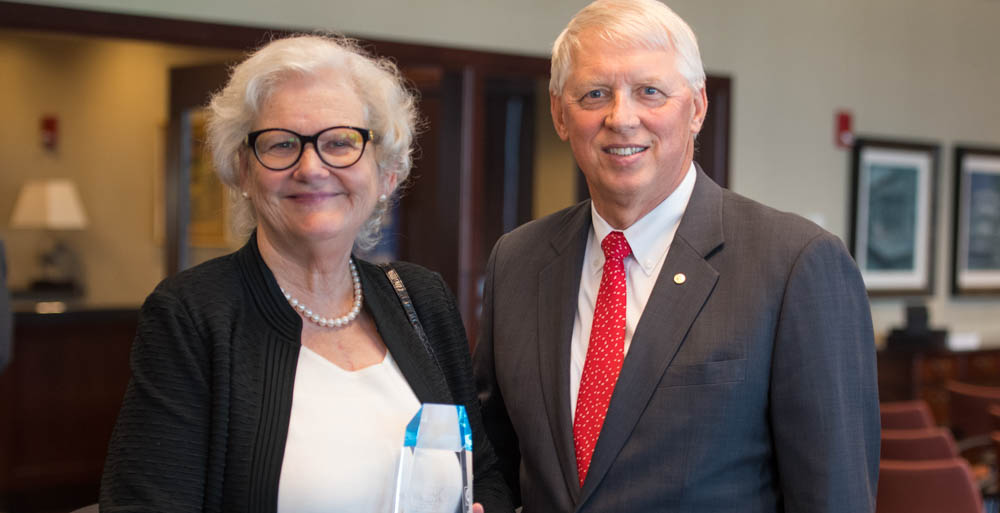 Dr. Roma Hanks, professor and chair of sociology, anthropology and social work, recently received the Heart of Gold Volunteer Award from the United Way of Southwest Alabama. She is joined by Dr. Tony Waldrop, USA president.
---
Dr. Roma Hanks, professor and chair of sociology, anthropology and social work at the University of South Alabama, is the 2018 recipient of the Heart of Gold Volunteer Award for Mobile County presented by the United Way of Southwest Alabama.
The award recognized Hanks for her dedication and hard work to improve health and wellness education for seniors and their families, plus her efforts to connect 120 South students to internships that will lead them to careers in health care and gerontology.
"She is described as brilliant, kind, unique and determined to ensure there is a future workforce that is educated and trained to service older adults," said Walter Brandt, chair of the United Way's Mobile County Committee for Community Impact, as he presented the award. "Her research and grant writing efforts with Via (Health, Fitness and Enrichment Center/Senior Citizens Services of Mobile) resulted in a grant award from the National Institutes of Health and the Gulf States Health Policy Center to study policy issues that affect Mobile's ability to maintain an age-friendly community that supports people of all ages, backgrounds and circumstances."
The Gulf States Health Policy Center is a comprehensive community, education and research center focused on improving health outcomes in the Gulf States Region, including Bayou La Batre, where Hanks is involved with the local coalition.
Brandt added that Hanks' work for the grant led to policies on transportation, health care, healthy food acquisition, and safety and security that have been presented to 600 local business and community leaders for incorporation into future community planning initiatives.
"This was a tremendous honor for me," Hanks said. "Everything I do, including the activities that may have led to me being nominated for this award, depends on the community and the activities that have potential benefits for the community."
Hanks is also co-director of community engagement for the Center for Healthy Communities in the USA College of Medicine.
Hanks, whose research focus includes intergenerational relationships, invited two graduate students to accompany her to the awards reception "because I wanted people of the community who would be there to see the faces of the future, and those students met a lot of people, so that was a bonus in addition to receiving the award."
Barbara Estes, director of resource development at Via, nominated Hanks, who is also a member of their board, for the award.
"I have had the privilege of working with Roma for many years during her service as a Via Senior Center Board Member and through projects with the Center for Generational Studies. The CGS was Dr. Hanks' creation in 2011, a way to bring intergenerational thinking and programs to the forefront. She has used this as a vehicle for implementing programs and securing grant funding that has impacted the 20,000 seniors Via serves annually," Estes said. "She is a true visionary and has a passion for bringing together youth and older adults to ensure that the 'greatest generation' has a pipeline of individuals to nurture and care for them in the future."
---