USA Alumna Named Alabama Teacher of the Year
---
Posted on May 12, 2017
Joy Washington
---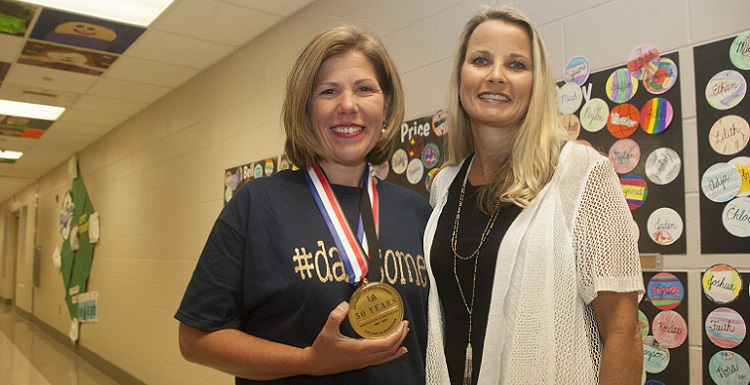 Newly-named Alabama Teacher of the Year Chasity Collier, left, receives a special 50th Anniversary medallion from Dr. Andrea Kent, dean of the University of South Alabama College of Education, during a surprise celebration pep rally at Dawes Intermediate School. Earlier this year, South Alabama's College of Education celebrated 50 years. Collier teaches fifth-grade science at Dawes Intermediate School.
---
University of South Alabama graduate and 5th grade science teacher Chasity Collier has been named the 2017-18 Alabama Teacher of the Year.
"I love coming to work," said Collier, an educator at Dawes Intermediate School in Mobile County. "I love what I do every single day, and I love these kids. Teaching does so much for me, and it allows me to inspire and empower my students. It balances me. It synergizes me."
Collier earned her bachelor's degree in elementary education in 1998 from South. The last time a teacher from Mobile won top teacher of the state was in 1994.
Dr. Andrea Kent, dean of the USA College of Education, said Collier has been an outstanding educator, and the University is pleased to applaud her for this prestigious recognition. During a surprise pep rally held at Dawes Intermediate with the theme of "Super Hero," Kent presented Collier with the College of Education's 50th Anniversary medallion. South Alabama's College of Education celebrated 50 years with a reception earlier this year and presented outstanding educators with medallions. Kent and faculty in the College agreed to present her with the medallion during her special celebration.
"Congratulations to an educator among educators, Chasity Collier," Kent said. "We are honored that she carries part of the USA College of Education with her in the classroom each day and now as an ambassador for the state. She's known as a dedicated, dynamic, well-prepared and caring educator. We are very proud of Chasity."
During the surprise celebration, it was announced that the science lab at Dawes Intermediate would be named in Collier's honor.
Collier served as an Alabama Math, Science, and Technology Initiative coach for seven years prior to returning to the classroom in 2015. By being named Alabama's Teacher of the Year, she is automatically nominated for the National Teacher of the Year.
"This job comes with many responsibilities and opportunities to influence others positively," Collier expressed. "Teachers are special people who have a calling in their lives to make all things possible for those with whom they have the opportunity to work. Their significant impact on children defines how their students feel about themselves and what they are capable of achieving."
She will serve as the official spokesperson and the state's ambassador for public education and the teaching profession throughout the upcoming school year. As Alabama Teacher of the Year, Collier will also spend the upcoming school year presenting workshops to various groups.
She was chosen for the award from a group of 16 finalists, who were selected from more than 140 applicants for the coveted honor, which is one of the oldest and most prestigious award programs for teachers.
---