Design/Build/Fly – And Learn
---
Posted on May 16, 2016
Bob Lowry
---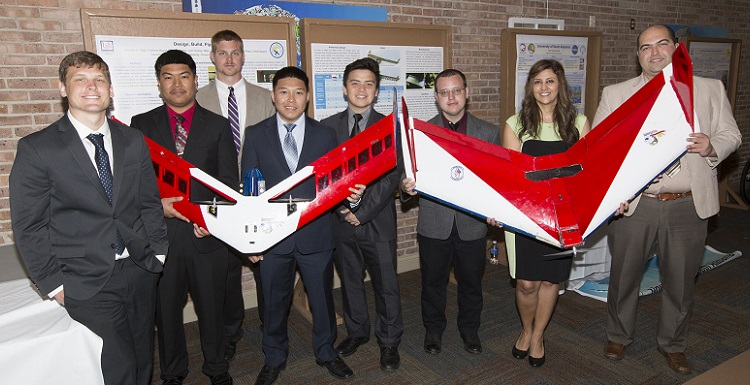 Marcus Houtzager, Lien Hoang, Caleb Cochran, Minh Lu, Michael Pham, David Sauers, Marzieh Atigh and Fariborz Bayat show off the aircraft they built for the Design/Build/Fly competition.
---
A student team from the University's College of Engineering spent the better part of this academic year learning to fly. Not in an airplane, but creating one.
It was a project called "Design/Build/Fly," or DBF, and engineering colleges all around the country participated. In DBF, college student teams create radio-controlled aircraft, and their work culminates with a national DBF competition. This year's event, only the second one ever entered by a University of South Alabama team, was held recently in Kansas.
USA finished 51st out of the 145 teams that originally entered. And while the team's ultimate goal may not have been reached, the real benefit was to learn. As the team's faculty advisor, Dr. Carlos Montalvo, put it, "The students learned a more valuable lesson the hard way than any classroom could provide."
The "hard way" included an airplane that flew in practice but crashed on the runway in competition, was put back together and again flew in practice, but then was unable to successfully lift off during the final competition. But to put the entire exercise in the proper perspective, one needs to go back to the project's beginnings.
"I was originally from Vietnam and was born in a town called Ca Mau. I moved to America when I was 3 years old," said Minh Lu, a senior in mechanical engineering and unofficial Team Leader.
"I came to South Alabama to play football," said Caleb Cochran, a mechanical engineering senior from Andalusia, Ala.
"I was a freelance journalist in the Middle East before I came to South," said Marzieh Atigh, who is also a mechanical engineering senior graduating this spring.
These students and several others came together from vastly different backgrounds to attend USA and were drawn to DBF to learn and experience something new, while preparing themselves for their careers.
"I was a computer science major before I switched to mechanical engineering," said Fariborz Bayat, who came to South in 2010 from his native Iran. "Why did I switch? Because I was personally interested in airplanes." Bayat, who counts a brother and two cousins as USA alumni, has been interning at Airbus and hopes to work there when he graduates this spring.
This year's DBF required students to build not one, but two, aircraft. The first aircraft's mission was to carry an energy drink around a pre-determined aerial track. But that was just the beginning. This aircraft was then required to be broken down into the minimum number of pieces possible and put inside another aircraft. The second aircraft was then required to accept the smaller aircraft and transport it around the same aerial course as the first. Points at the DBF national event were awarded on various elements of the exercise.
The eight seniors who became a part of this mission, working in two groups of four with each group designing one aircraft and sharing other responsibilities, began working on the project before the 2015 fall semester began. "They started on it even before they knew they would be accepted into the DBF competition," said Montalvo, an assistant professor of mechanical engineering and director of aerial systems and technology.
In addition to coming up with a design for the two aircraft, the students also had to submit a preliminary design report that basically is used to weed out some of the weaker teams. "South's report was exceptional," Montalvo said, adding that the report guaranteed the USA team a place in the national competition. Already, the project had achieved success.
With their report accepted, the students further divided responsibilities. Cochran, for instance, was the Marketing Leader. "It was my job to find sponsors who would get behind us and support our project," said Cochran. Among his recruits were Airbus and Hobby Town USA. Good training for Cochran, who is particularly interested in process engineering and working to enhance communication.
In the design phase, given that the project required one airplane to fit inside the other, the students chose a "flying wing" design ("the most aerodynamically efficient aircraft," said Montalvo).
The next challenge was how to physically fit the smaller aircraft into the larger airplane, given the fact that the smaller airplane had propellers and landing gear. "The student team's solution was to actually embed the propellers inside the wing, a concept that I found both genius and creative," Montalvo noted.
Following that, the students developed CAD (computer-aided design) drawings to compute electronics, engine and battery placement. They also developed a strong working relationship with Star Aviation's Bill Culberson, who donated his time and talent to assist the USA student team.
Some of the work was painstaking. "The design of both aircraft required over 100 balsa, lite-ply and carbon fiber parts to be cut for each airplane," Montalvo said. And the hours were long. "Mr. Culberson and the students spent the better half of March and into April constructing both airplanes from 8 p.m. to 'O' dark thirty.'"
The students hardly noticed. "I loved it," Bayat said. "It was satisfying, I learned a lot and I met a lot of great people."
The first test flight, using the smaller airplane, was conducted in South Mobile County about a week before the DBF competition. The takeoff was good and the plane successfully flew at the appropriate altitude. The landing? "Landing and takeoff are the most dangerous part of flying given the precision maneuvers the pilot must complete," Montalvo reminded.
Because the flying wing was not a conventional design with a long fuselage and tail, there was no rear landing gear to catch the aircraft on its approach. Thus, the aircraft plummeted about three feet into the ground while traveling at the stall speed of about eight miles per hour. And, when it hit the ground, it broke in half.
Still, this was technically a successful flight because the airplane did, in fact, fly. A few days later, the larger aircraft also successfully took off and flew, and also crash-landed. Thankfully, it stayed in one piece. So, with both aircraft having achieved the necessary requirement of actually flying, the student team was off to Kansas. However, there were more challenges ahead.
"Without getting into too much technical jargon, the center of gravity for the larger plane was too far back," said Lu, the team leader, which caused the plane to be tail heavy and too unstable for flight. "So, during the competition, our plane crashed a few times, causing us to spend hours fixing it. In the end, we were unable to complete a successful mission with the larger aircraft."
The larger aircraft had to complete its missions before the smaller aircraft was allowed to fly. So the smaller aircraft did not fly, either. The team, while disheartened, took a lot of positives out of their DBF experience.
"At the competition, aesthetically, our plane was one of the better looking and better built planes out there," said Lu. "We were also one of the few teams that did not have an aerospace engineering program at their university, so overall, we did very well for a group of mechanical engineers with no experience building planes."
And it was for the experience that the students deemed their first DBF competition a success. "I picked this project because I heard about it and wanted exposure to other aspects of engineering," Atigh said.
"I obtained a lot of aerospace knowledge from doing this senior design," Lu said. "I have learned about the basics of airplane structures, the physics behind how an airplane works, and how they are designed. I also obtained a lot of project management and organization skills, learned how to manage my resources (team members, supplies, outside sources) with a limited time frame, and also learned how to work with people in a team environment. All of these things will help me in obtaining a future job."
Montalvo pointed out the successes. "The DBF team created two aircraft that both flew. The smaller airplane had a completely successful test flight, albeit, a difficult landing, while the second aircraft was two center-of-gravity shifts away from flying perfectly."
"Next year's team will be better," Lu predicted. "We took four undergrads with us to the competition. They have been helping off and on during the year, so with their knowledge and experience at the DBF competition, their team next year will do much better." And this year's team will have the satisfaction of being the successful foundation on which next year's team can build.
Members of the University's DBF team were these eight mechanical engineering seniors:
Marzieh Atigh, Mobile; Fariborz Bayat, Mobile; Caleb Cochran, Dozier, Ala.; Lien Hoang, Gulfport, Miss.; Marcus Houtzager, Mobile; Minh Lu, Mobile; Michael Pham, Foley, Ala.; and David Sauers, Chunchula, Ala.
---