South Alum Goes to the Dogs and Finds New Homes for Area Canines
---
Posted on May 21, 2018
Alice Jackson
---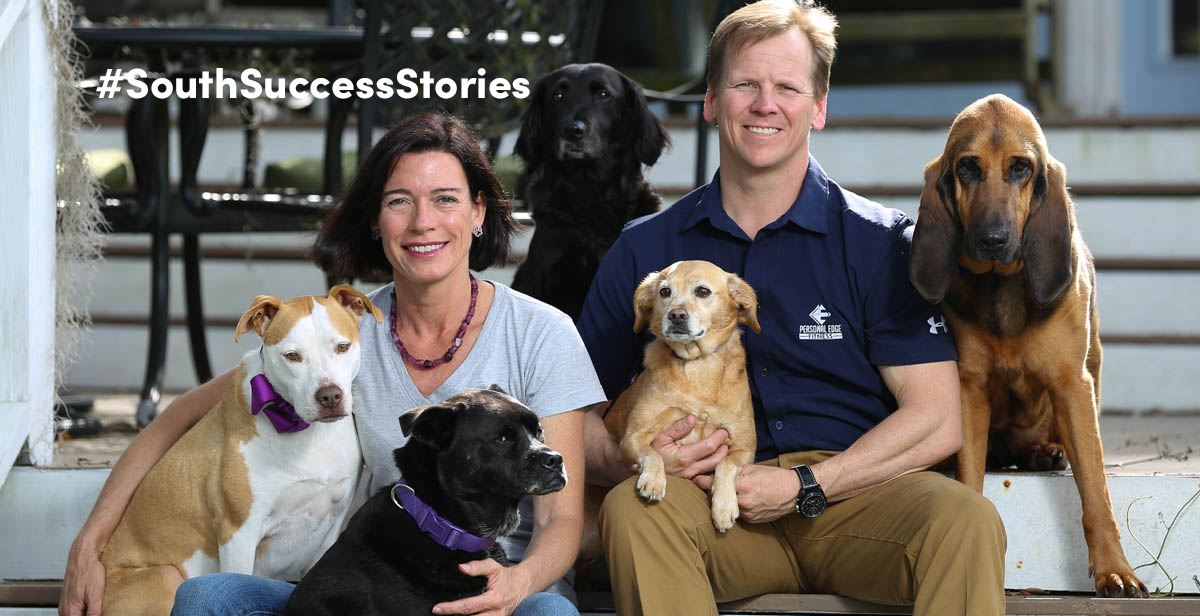 Stephanie Eads-Williamson has made it her life's work to save stray animals, and some of those end up at her home on Dog River, where she lives with her husband, Garrett Williamson.
---
#SouthSuccessStories is an ongoing series featuring University of South Alabama alumni who are life-savers, innovators, game-changers, music-makers and creative-thinkers, successful in their careers and supportive of their communities.
The world of Stephanie Eads-Williamson has literally gone to the dogs…and, the cats…and, really, any stray animal that crosses her path.
"It is true that years ago I once rescued a duck by waddling it home from where I'd found it near a well-known restaurant in Daphne," Eads-Williamson said.
She grew up in northeast Alabama in an unincorporated community known as Dog Town, located in Walker County, something that she said adds to her love of dogs.
"I've done animal rescue since I was about 8 years old," Eads-Williamson shared. "Where I grew up was a popular dumping ground for dogs, and my family always took care of them. It's just the way I was made."
After graduating from the University of South Alabama in 1992 with a major in marine biology and a minor in chemistry, she worked in pharmaceutical sales for 15 years before she left in late 2012 to devote most of her time to saving animals through her nonprofit, "Save a Stray." Her decision came as the issue of animal rescue was emerging as a popular cause in America and around the world.
"Rescuing strays, then adopting them out, rather than breeding animals for sale, is really hitting the mainstream now, and one of the reasons it has taken off is because more and more celebrities are becoming involved in animal rescue, which has drawn a lot of attention to it," Eads-Williamson said. "I think we are in the middle of a whole cultural change, particularly as it relates to dogs, and we're seeing a change in how dogs are treated. For many people now, their dogs are part of their everyday life. Also, as a result of that, there are more pet-friendly places where you can take your dog now."
Eads-Williamson and her husband, Garrett Williamson, live on Dog River in south Mobile County where their house is headquarters for Save a Stray. "The word 'dog' does keep following me everywhere I go," Eads-Williamson said, laughing.
She and her husband, who has taken classes at South and who owns and runs Personal Edge Fitness in Mobile, are both upbeat people with a quick quip and positive outlook, an attitude that helps when you're rescuing needy animals that seem to increase in numbers daily.
"We are 'Fertile Myrtle' here in the South where the breeding season doesn't really end, and that's one of the biggest issues rescue programs face," Eads-Williamson said. "But, we are seeing more and more low-cost spaying and neutering. In fact, once a year around Spay Day, Save a Stray offers free spaying and neutering to those in need."
One thing that sets Save a Stray apart is its transport program. Once a month, 30 to 60 dogs ride aboard specially equipped trailers with kennels on an overnight trip from Mobile to upstate New York. Waiting at the end of the line, each dog meets their "forever family" that takes them to a new home.
Accompanying each dog is a bag with lesson plans geared toward children 10-to-11 years old, sharing how they can help their new pet adapt to his new family and environment. Those plans are written by young volunteers.
"I believe cultural change can be influenced through our children," Eads-Williamson said.
"We have been doing the transport for about five years. We hire a couple who owns the travel kennels, and we're very lucky to have them. With this program, we've probably transported about 3,000 dogs," Eads-Williamson said. "Later, after the dogs have joined their new families, we ask them for updates. That's when you see real changes in the dog you saved. Seeing those follow-ups from the families is really what makes all the work worth it."
And, the work is way more than one or two people can handle.
"We have people who help with the website, post on our Facebook page, volunteers who come and bathe new dogs. We've had groups of USA student volunteers come out and help us with that," she added.
The couple supports USA in a big way.
"You can definitely say we're big fans," Williamson said. "We're lifetime alumni as well as excited about all the athletic programs in general and real excited about the growth of the football program. My business has a great connection with the health, kinesiology and sports department. I've had interns work with me, and I've hired quite a few graduates."
There's also the huge list of "fosters" who give the animals a temporary home until permanent homes are found.
"Those people are wonderful because Save a Stray wouldn't work without them," Eads-Williamson said.
Eads-Williamson spends more time on Save a Stray than she would working for someone else at a full-time job. In fact, husband Garrett loves to share stories about how the couple can't get away from saving animals, even when they are on vacation in the U.S. or abroad. In fact, when traveling in the U.S., the couple, who have no children of their own, usually travel with their five dogs, who they consider as their family. Still, there's always room for one more.
"She saw a dog in the median on an interstate in Arkansas. We turned around, she got him on a leash and into the car, and he was elated to see a human and be saved. He was all over me! He was a big dog, too. We found a vet clinic and dropped him off before continuing on our way. Of course, we stopped and picked him up on the way back to Mobile," Williamson said. "Then, there was the time in Cozumel with a cat. My wife suspected the cat had a kitten, and she quickly found the kitten. Somehow, she found a moped to get both of them to a vet where she had them both altered. Afterward, she convinced the hotel's public relations woman how good it was to keep the cats to keep rodents away. She saved the cat and kitten, got them fixed and healthy and found them a home all in three days!"
Eads-Williamson added, "When you have your life's calling and your life's passion, and you get to see the reactions of the animals and what you brought into the peoples' lives, it is worth everything we do."
---