A New Working Reality
---
Posted on May 21, 2021
Lance Crawford
---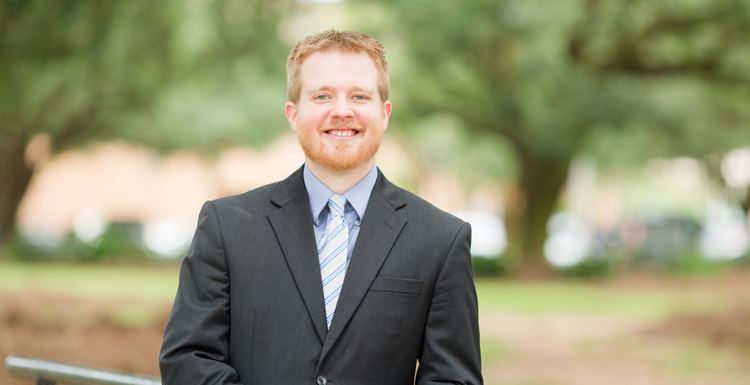 South assistant professor Matt Howard has been researching the use of virtual reality in workplace training since he was in grad school. He has two soon-to-be published articles he believes will have a significant impact in that space.
---
The speed of technological advances is quickly changing the way society operates. Virtual reality in the workplace is no exception. Crude virtual reality devices were developed decades ago and used to train pilots, paratroopers and other military personnel where standard training was deemed risky or simply dangerous. Now gamers can buy virtual reality head-mounted display unit online.
Virtual reality is also being used in a wide array of workplace applications, from training surgeons to engineers.
"Virtual reality has large potential for organizations, as it can significantly improve training programs and enable employees to more effectively learn new skills," said Dr. Matt C. Howard, assistant professor marketing and quantitative methods at USA's Mitchell College of Business.
Howard has researched virtual reality since he was in graduate school. An expert in the field, he was recently quoted in a New York Times article on the use of virtual reality in physical therapy.
His research will be published in two upcoming articles he believes will have a significant impact. The first, "A Meta-Analysis of Virtual Reality Training Programs" has been accepted by Computers in Human Behavior. It demonstrates that virtual reality is effective for training and educational purposes across an array of contexts and outperformed relative comparisons i.e., control groups.
"The most consistent influence of virtual reality training program success was the task-technology fit of the training program, Howard said.
But virtual reality has its drawbacks. The most significant is virtual reality sickness, which is far more likely to affect women than men. Howard tackles that subject in his second article which was accepted by the publication Virtual Reality.
"This article demonstrates that certain users are more likely to experience virtual reality sickness, which are feelings of illness that may arise when interacting with virtual reality," Howard said. "It could produce disparate treatment in organizations if concerns virtual reality sickness is not preemptively addressed."
The problem is a major hurdle when it comes to workplace training.
"It would be astoundingly unethical to implement a training program that would benefit one gender beyond another," he explained. "There is an immediate need for organizations to demonstrate that their programs produce minimal virtual reality sickness."
With the speed in which the technology is advancing, Howard believes it won't be long before this problem is solved.
"Such an achievement could significantly advance research and practice on virtual reality," he said.
---