A 'Journey of Hope,' on Two Wheels
---
Posted on June 1, 2017
Joy Washington
---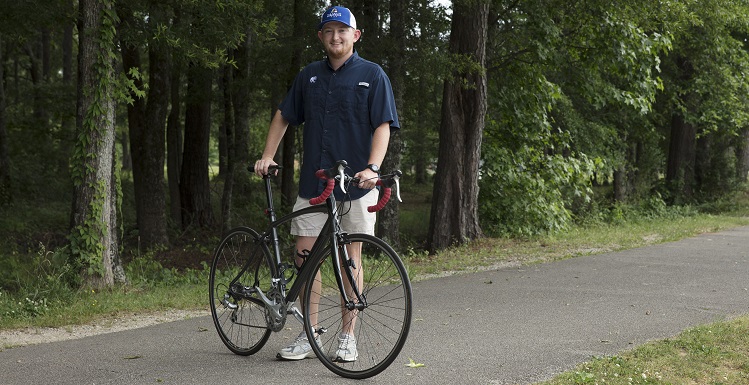 Nick Barton, a junior finance major from Alabaster, will spend part of his summer raising money for people with disabilities during Pi Kappa Phi Fraternity's national philanthropy, "Journey of Hope."
---
A few years ago, Nick Barton rode a bike and raised thousands of dollars for people with disabilities during a Pi Kappa Phi Fraternity philanthropy event in Florida.
This year, Barton, a junior finance major at the University of South Alabama, will manage and take care of more than 20 cyclists and crew who will participate in a 4,430-mile ride as part of Pi Kappa Phi's "Journey of Hope." As they travel from Seattle, Wash., to Washington D.C., beginning June 6 and ending Aug. 12, the cyclists and crew will spend the nights in churches, high schools and community centers.
Barton has pledged to raise $2,500 for the cause. The cyclists will try to raise $5,500 each while they travel to a new city almost every day and participate in community outreach efforts. Nationally, Journey of Hope raises more than $600,000 annually.
"This event is planned by The Ability Experience, which is Pi Kappa Phi's national philanthropy that supports and spreads awareness for those with mental and physical disabilities," Barton explained. "Throughout the trip, we stop daily at community centers and nonprofit organizations that support and assist people with disabilities. We dance with the clients during their parties and work on arts and crafts or just interact and spend quality time with them."
During the summer of 2015, Barton cycled 900 miles throughout the state of Florida for two weeks on behalf of The Ability Experience in another event called "Gear Up Florida," which has a similar purpose as Journey of Hope. But this year, he will serve as a crew chief and will be the number two person in charge of the support team.
"I went through about a month-long process of interviews before I was offered the position as crew chief," he said. "I will take care of six or seven van loads of crew members as well as 20-plus cyclists. This is a large endeavor being taken on by undergraduate fraternity men who really care about helping others. This is service beyond self."
Barton, a native of Alabaster, Ala., said this cross country cycling event started in 1988 and is growing larger every year. USA's Title IX Coordinator and Associate Dean of Students Dr. Krista Harrell said Barton is committed to this cause.
"Nick epitomizes a student leader taking philanthropic action and giving back with a significant and inspiring positive impact," Harrell said. "He's taking his passion and touching lives across the country."
---