Mitchell College Student Warms His Toes in the Clothing Business
---
Posted on May 26, 2022
Thomas Becnel
---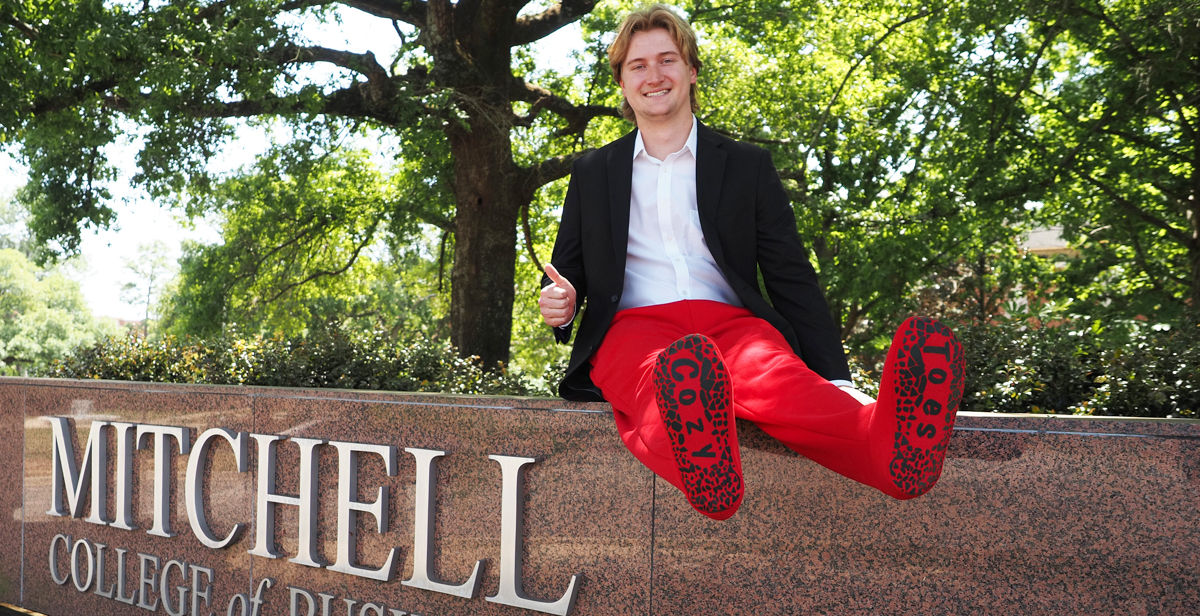 Quin Frazier, a finance senior in the Mitchell College of Business, said cold feet inspired the idea for Cozy Toes. When he's not in class or managing his new business, he's trading stocks and looking for his next hot venture.
---
Quin Frazier's best business idea started with cold feet.
He was lounging around the house and started tucking his toes into his sweat pants. His brother joked that he needed an adult half-onesie.
Frazier, a senior in the Mitchell College of Business, took that idea and ran with it around the world.
He and his brother began designing sweat pants with built-in socks that keep your feet warm. They scouted manufacturers and contracted with the YiWu Pretty Clothing Co. of Zhejiang, China. They started selling online and did more than $100,000 in sales last year.
"I've always been a big dreamer," said Frazier, who's majoring in finance at the University of South Alabama. "I've always wanted to shoot for the stars, and if you don't make that, wind up somewhere in the atmosphere. That's what I live by."
Cozy Toes is just part of his portfolio as student entrepreneur. He just started a full-time job as night clerk for a commodities trading firm in Mobile. During the day, when he's not in class, he's trading stocks and looking for his next venture.
Some of his business plans have not done so well. He's lost money on a few projects. A real estate investment also proved disappointing.
Frazier calls them humbling experiences and lessons learned.
"You need your ego to get knocked back down ever so often," he said. "I needed that."
Frazier, 22, never tells people his age during business conversations. He doesn't want them to think they can take advantage of his youth and inexperience.
For more than two years, he communicated online with an apparel manufacturer, the YiWu Pretty Clothing Co. Only recently did the suppliers get a chance to see him during a FaceTime meeting.
"They were astounded," Frazier said, laughing. "They were like, 'No way. How old are you?'"
As a finance student at South, Frazier joined the Jaguar Investment Fund, where students buy and sell real stocks with real money. He took part in programs at the Melton Center for Entrepreneurship and Innovation. He participated in an Innovation Corps project funded by the National Science Foundation.
Jay Hunt, a management instructor in the Mitchell College of Business, taught Frazier in several classes.
"He's a great student," Hunt said. "From the first time I met him, I knew he was going to be an innovator and set his own path. He's a mover and goer."
Frazier never lacked confidence at South. He was always talking about markets and opportunities.
Hunt remembers the Mitchell College senior teasing him about money he'd made trading a stock during one of his classes. He got a kick out of Frazier calling him Jay, rather than Dr. Hunt. "Oh, he's a live wire," the professor said.
As treasurer for the Pi Kappa Alpha fraternity, Frazier worked closely with Ric Savadra, the chapter adviser at South, who became one of his mentors.
"He's an exceptional guy," Savadra said. "I've seen hundreds of students come and go, over the last 30 years, and he stands out. He could go out and make a splash in the world."
The fraternity adviser supports many of Frazier's efforts. He's also a Cozy Toes customer.
"I bought a pair," Savadra said. "They're very comfortable."
Wheeling and Dealing and Hunting
Frazier ­– Quin is short for Quinton – grew up in Huntsville, where both of his parents are engineers. His father works for the Army, while his mother has a job with a NASA subcontractor.
Their son was different. He never wanted a traditional career. Independence was more important than security.
"I realized that from the start," he said. "I knew I didn't want to work for someone else."
At Sparkman High School, he played on the basketball team while trying different jobs and money-making ventures.
Lots of young men in North Alabama hunt deer for sport and food. Frazier turned the animals he killed into spicy deer jerky that he sold to classmates for $5 a bag.
"Nobody told me how to do it," he said. "It was just trial and error."
Frazier bought and sold products on Amazon and other sites. These included everything from ethernet modems to bone-conduction headphones.
After graduation, he joined his older brother Zane at the University of South Alabama, where he began studying business and finance. Frazier enjoys the Jaguar Investment Fund, where MCOB students buy and trade stocks. The fund often outperforms the stock market and is now worth more than $1 million.
"That's the best thing this school has ever done," he said. "You're doing this with real money. It's more like a real-world experience."
The Pi Kappa Alpha fraternity has been its own learning experience.
As treasurer, Frazier has financial responsibilities, which include collecting dues from his classmates. During the coronavirus pandemic, when membership dipped, he had to negotiate rent payments with the University.
Fleecy Feet, Cozy Toes
For a casual day of classes and trading on his computer, Frazier wears a T-shirts, jeans and a backwards baseball cap. Dressing up is for meetings and interviews.
He just a started a new job as night clerk for a trading firm in downtown Mobile. His hours are 3 to 11 p.m. His task is to monitor financial markets and mitigate investor positions as conditions change, which might be less complicated than it sounds.
"It's a really simple job," he said, "but if you don't know what you're doing, it's like a foreign language."
The story of Cozy Toes begins with the Frazier brothers. Quinn was feeling chilly one day, so he tucked his feet into the bottom of his sweatpants. Zane told him he needed to buy a pair of adult half-onesies.
The more they thought about it, the better they liked the idea. Athleisure is a growing market. They might find a niche.
"I'm always eager for new entrepreneurial opportunities," Quinn said, "so my blood was boiling."
When he began market research, he discovered a California company called Feejays that sells sweatshirts with mitts and sweatpants with socks. It now has more than $4 million in annual revenues.
Frazier thought there was room for competition. He scouted around for textile manufacturers before dealing with YiWu Pretty Clothing. He decided upon a simple design that would sell for about $15 less than the industry leader. He started thinking about the best name for sweatpants with fleecy feet.
"I sat there for days, thinking about Cozy Feet, Comfy Toes or whatever," he said. "Then my brother said it: 'Cozy Toes.' And I said that's it, and we were both jumping around and screaming."
The company does most of its sales on Amazon, but Frazier would like to see that change. Challenges include supply chain issues that have troubled so many businesses in recent years. He's hired South classmates to work with him at different trade shows.
Last year, at the Daphne Christmas Extravaganza, he sold $1,800 worth of Cozy Toes in a single day. This year, he hopes to sell a lot more at the Southern Christmas Show, Nov. 10-20, in Charlotte, North Carolina.
Frazier has no problem meeting customers and convincing them to buy his sweatpants. He's a natural salesman. He's always interested in marketing ideas, investment opportunities and what could become his next venture.
"I'm a super-extrovert," he said. "I love to talk. I love to make connections – you can never make too many connections in business."
---