Jags to Jobs: Capt. Sean Scarcliff
---
Posted on June 6, 2017
Marketing and Communications
---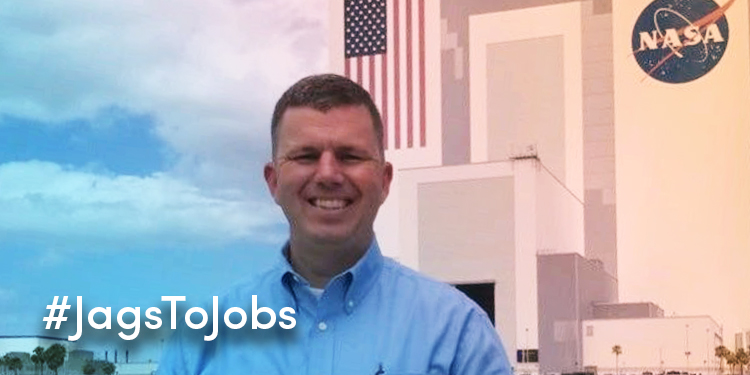 "Do not give up, and keep your focus," said Capt. Sean Scarcliff. "You will get frustrated; you may feel lost and alone; you may feel as directionless as a sailing vessel without a rudder; do not give up."
---
Jags to Jobs is a LinkedIn series that features University of South Alabama alumni, their careers and how they got to where they are today.
Capt. Sean Scarcliff, a space operations officer for the U.S. Army, earned his master's degree in history from the University of South Alabama in 2010 after majoring in history and minoring in military science at the University. He was an active member of the Army ROTC program while at South, where he attended after serving in the Air Force Reserve and the National Guard. Scarcliff lives on Florida's east coast with his wife and two Great Danes; the couple is expecting a son.
1. What do you do in your role as a space operations officer?
I am just beginning in an Army program called Training With Industry. It is a 12-month program, and I will be working with a company called a.i. solutions at Kennedy Space Center, where I will be learning about space launch, mission planning, mission operations, and overall company operations from a private sector perspective. With everything that is happening in the space industry at the present time it is exciting, and I'm exhilarated to be a part of it.
2. What drove your passion to be a part of the U.S. Army?
That's a tough one. I was no stranger to the service or to deployments when I made the switch to the Army. I could wax eloquently about patriotism (I am very patriotic), God, country, etc., but I think the better answer is that I felt called to it. It truly is a calling as it is not just a career, it is a lifestyle. It is something that is not for everyone and should not be undertaken lightly.
3. How have your degrees from South Alabama helped you develop your career?
The study of history has helped me in a number of ways: first, it helped me to better understand the world in proper context, not the short, incomplete version we see in the news, movies, or in television specials; second, it really taught me how to write (you read and write a lot while studying history); third, it helped me to better understand the people and places where I would eventually find myself (Iraq, Afghanistan, and Europe to name a few); and finally, studying where we have been has helped me think about where we need to go, or to better understand problems to find better solutions.
4. What inspired you to help start the Veterans Student Association at South?
Well, it was one of my friend's ideas. We were both veterans with deployment time under our belts and we noticed that there were no student organizations for veterans. We decided to do something about it. We started asking around and talking to other students we knew who were also veterans to see if they thought this was a good idea. The response was overwhelmingly positive.
5. How did creating this organization help connect veterans and students?
Well, from my recollection, it really did not take off very quickly and it was more after I had graduated and moved on that it finally gained more momentum. At first, it served more as a networking function for students who were veterans to be able to find others who had shared some of the same experiences. Some of the veterans worked in the Veterans Affairs Office; this allowed us to help point veterans toward resources (academic, financial, medical, etc.) that could help them during their time at the University.
6. What advice do you have for current veteran students and students in general?
Do not give up, and keep your focus. You will get frustrated; you may feel lost and alone; you may feel as directionless as a sailing vessel without a rudder; do not give up. Reach out to the other vets out there; you won't be left behind. The same goes to non-veteran students.
7. Has learning another language helped your career?
It did, just not the way I expected it would. I took German in high school and college, which helped me while I was in Europe, and I learned Latin on my own during my travels. I think I learned more about language and grammar in general from studying those two languages, which in turn helped prepare me or assisted in my limited learning of Arabic (which I learned and used during my time in Iraq) and Dari (which I learned and used during my last trip to Afghanistan).
8. What has been your most memorable experience working in the US Army?
I have to pick one? There are so many. I think the most memorable personal experience, that I can openly discuss, was the day that I commissioned as a second lieutenant in the U.S. Army. I had been in the service for almost 10 years at that point with multiple deployments behind me, I had been through many personal ordeals, and I had come out ahead. It was the start of so much that was to come, and I haven't looked back since. Would I do it again? Absolutely.
---