Library Director Preserves the Past Through Jewish Mobile Oral History Project
---
Posted on June 6, 2022
Thomas Becnel
---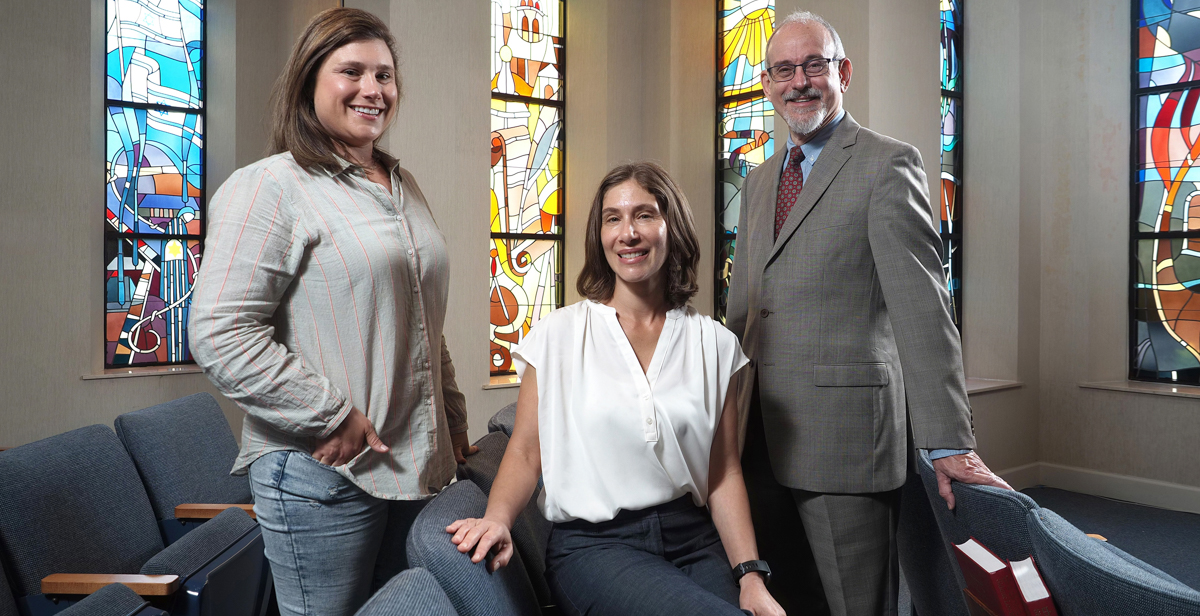 Deborah Gurt, center, interim director of the McCall Rare Book and Manuscript Library at the University of South Alabama, created the Jewish Mobile Oral History Project with the help of people such as Abby Grodnick Kennedy and Rabbi Steven Silberman of Ahavas Chesed Synagogue.
---
Two years ago, Deborah Gurt set out to interview members of the Jewish community of Mobile.
She wanted to talk about nationwide anxiety over a wave of antisemitic attacks that included the 2018 murder of 11 people at the Tree of Life synagogue in Pittsburgh, Pennsylvania.
The people she approached had different ideas.
What they really wanted to talk about was the history of Jewish people in Mobile. They feared that their stories would be lost to time.
Gurt, a faculty fellow for Community Engagement at the University of South Alabama, turned that sentiment and those stories into the Jewish Mobile Oral History Project.
"In the 1920s, '30s and '40s, people were downtown, Jewish organizations were downtown, and people had everyday contact, so there was a real solidarity and sense of community," said Gurt, interim director of the McCall Rare Book and Manuscript Library. "That kind of dissipated as people moved out to the suburbs and the economic hub of downtown changed. There was this sense of reorientation, with some positives and a lot of negatives, I think. Lots of change."
Gurt began her program with a grant from the Alabama Humanities Foundation. Another grant, this one from the National Endowment for the Humanities, has allowed her to hire an oral historian and community engagement coordinator for a year.
Finding people to interview has not been a problem.
"I was honored to be part of the Jewish oral history project," said Abby Grodnick Kennedy. "As a sixth-generation Mobilian, our family's history runs deep here. As many smaller Jewish communities have seen the migration of people to bigger cities, keeping the stories of Mobile alive is important to our overall history. As I raise my family in Mobile, I want my kids to be proud of their past, enjoy being part of the present, and continue our tradition into the future."
In November, during the restrictions of the coronavirus pandemic, the McCall library hosted an event to celebrate the Jewish Mobile Oral History Project collection. The guest speaker was Dr. Josh Parshall, director of history for the Institute of Southern Jewish Life in Jackson, Mississippi. Guests were served baked goods such as babka, rugelach and schnecken.
Displays for the exhibit focused on the city center, community elders and philanthropy. Gurt hired Honors College students to stand beside the displays and talk with visitors about the topics and their own communities and experiences.
"We wanted to make connections with people," she said. "We wanted to make these stories not be weird, right? The whole purpose of community engagement is to help people see others as human beings, even if their experiences are kind of different from yours."
Communities and Histories
The Office of Community Engagement at South is now part of the Office of Diversity, Equity and Inclusion.
Dr. Krista Mehari, an assistant professor of psychology, is a faculty member in residence with the office. She led a recent Zoom meeting of Faculty Fellows for Community Development.
"The main goal is making sure our work is relevant to the community and meaningful to the community," Mehari said. "A lot of the faculty fellows are incorporating community engagement into their courses."
In the fall, the office will be accepting applications for a dozen Faculty Fellows for Community Development in 2022-23. Professors will receive a small stipend for their year in the program.
Even after that time, many instructors continue working on projects involving partners and communities off campus.
"We want this program to be a catalyst," Mehari said, "for community engagement that continues with professors and their courses."
Dr. Ryan Morini, a graduate of the Samuel Proctor Oral History Program at the University of Florida, was hired to work on the Jewish Mobile Oral History Project and other programs at South.
He's already done interviews with local musicians for a library exhibit on the Excelsior Band, which has marched the streets of downtown Mobile for more than a century. He's also begun work as part of South research on the "Down the Bay" neighborhood that could be impacted by construction plans for a new I-10 bridge across Mobile Bay.
For Morini, the voices of people always add something to the political, economic and social stories of a community.
"Part of it is the difference in hearing about history as people lived it," he said. "Sometimes we filter out that kind of perspective. All of the things that people have seen. And you never know until you sit down and talk with people."
Family and Musical History
Gurt grew up in a family of classical musicians in Ypsilanti, Michigan, but she chose academia and Judaic studies. She and her family lived in Hattiesburg, Mississippi, before moving to Mobile five years ago.
She serves on the board of directors for the Mobile Area Jewish Federation and is president of Congregation Ahavas Chesed.
Her research in Mobile includes the story of Joseph Bloch, a German-Jewish immigrant who moved to Mobile in 1848. He played in local orchestras and became a beloved teacher of music.
For the Jewish Mobile Oral History Project, 30 different people were interviewed.
Steven Silberman, the longest-serving rabbi in the state of Alabama, urged her to begin the Mobile oral history project. "We need to get these stories while we still can," he told Gurt.
Carrie Krauss, Tamara Fulford and Phyllis Feibelman discussed what it was like for women in the Jewish community. Their family trees help trace the history of Mobile. There is great pride in a distinct tradition and unique contribution to the development of the city.
"When someone expresses an authentic perspective, it's a really powerful thing to hear, when it comes from the gut, so to speak," Gurt said. "That's why I do oral history."
Donald Zivitz talked about his father's store on Davis Avenue, which is now Martin Luther King Jr. Avenue. He shared a photo of Jackie Robinson, the first black player in the Major Leagues, visiting the family business in 1951.
"Donald had all these stories and a photographic memory for names, dates and places," Gurt said. "It was amazing."
Businessman Bert Meisler, one of her first interviews, described the Jewish tradition of philanthropy in Mobile. His personal philanthropy includes establishing Meisler Hall at the University of South Alabama, the Fanny Meisler Trauma Center at USA Health University Hospital and support of Jewish studies at South. His interests range from higher education to the Eye Bank Association of America, which collects corneas and enables transplants that have provided sight for 2 million people.
"He was so enthusiastic about everything and it was really beautiful," Gurt said. "So I asked why do you do this, why do you get involved in all these projects? And he said, 'It feels good. It feels good to give.' And I thought, yeah, that's a powerful statement."
---