With A Little Help From Her Friends
---
Posted on June 7, 2023
Lance Crawford
---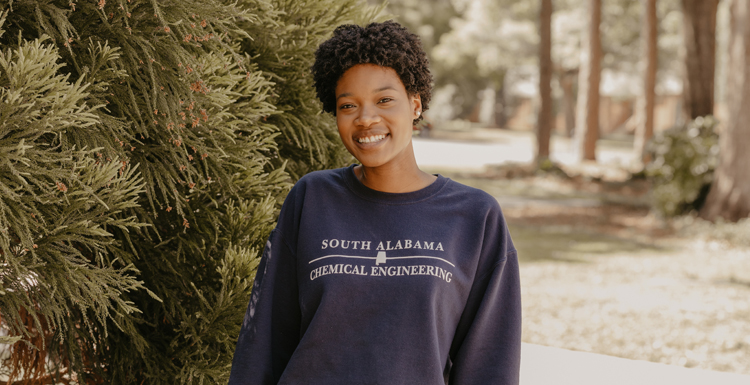 Britney Mack received her bachelors degree in chemical engineering in May. As a first-generation college student, she relied on the faculty and staff at the University of South Alabama for helping her through the entire process from incoming freshman to graduate.
---
Britney Mack first stepped onto the University of South Alabama campus during a high school robotics competition. She left after earning a degree in chemical engineering.
Her tenacity earned Mack a number of supporters whom she said helped her along the way.
"When I met Britney, she told me that she wanted to be a chemical engineer," said Dr. Tres Stefurak, associate dean in the College of Education and Professional Studies, who met Mack through his daughter as both girls competed for Davidson High School's robotics team. "As I kept in touch with her, I continued to hear the same goal, same mission. Her unwavering focus and commitment to her goals always stood out and has served her well."
Mack earned her bachelor's degree in May and is now pursuing a Ph.D. "I was very moved by the idea that people who were once complete strangers cared so much for me," she said. "That was my 'I did it!' moment."
That support began in high school when Mack had to traverse the college application process, which includes applying for scholarships. She considered other universities, but South seemed like a natural fit.
"No one in my family had any higher level of education," she said. "My dad has always been my biggest supporter, but unfortunately became legally blind during my junior year of high school. There was no one to assist me financially or know what resources to connect me with."
Mack turned to Stefurak for guidance.
"I was thoroughly impressed with Britney's leadership skills," said Tres Stefurak. "As she began exploring colleges, she asked for my help getting information about South.
Stefurak began to marshal resources to help Mack through the application process. She was able to successfully apply for a scholarship through the J.L. Bedsole Scholars Program to help cover the costs of her education.
Along the way, Stefurak connected Mack with Dr. Joél Billingsley, South's vice president for diversity and community engagement.
"Britney represents perseverance, courage, and strength. She will reach great heights, standing alongside her colleagues, all the while committed to reaching back to help others," Billingsley said. "I am excited about her future and all those she will inspire during her journey to greatness."
It was a journey that began to take shape when she first stepped on campus during that robotics competition.
"To this day, I remember Dr. Stefurak telling me the faculty and staff at South genuinely wanted to be a part of my journey and see me succeed," Mack said. "I can confirm that is true. The strong sense of family and community at South was what convinced me to attend."
---