New Concentration Offered in Business Analytics
---
Posted on June 9, 2021
Lance Crawford
---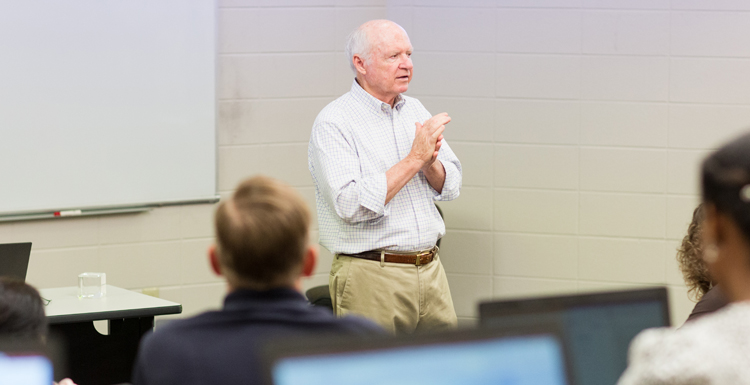 South looks to remain on the cutting edge as it becomes one of only a handful of academic institutions to offer a true business analytics concentration in its Ph.D. program.
---
Faculty in the University of South Alabama's Mitchell College of Business are constantly monitoring innovative developments to determine how to respond. During one of their market trends strategy sessions, they identified the emerging application of data analytics to improve business decision making.
"Our response was, we need to develop a new concentration to serve this emerging market, so we did," said Dr. Joe Hair, director of the Mitchell College of Business Ph.D. program.
Business analytics is an interdisciplinary field of business studies combining data mining, statistical programming, applied statistics, optimization and data science to extract valuable information from business data and guide managerial decisions.
"The interdisciplinary nature of the program is fascinating," said Dr. Ermanno Affuso, associate professor of economics and finance. "Applying computer science and statistics to extract valuable information from business data is very innovative and will significantly impact the business decision-making process."
Because the field is relatively new, only a handful of universities nationwide offer this kind of program.
"We identified fewer than 10 Ph.D. programs with a concentration in business analytics, and most of the other program do not focus exclusively on business analytics," Hair said. "Instead, they emphasize data analytics that not only includes business applications, but also information systems, computer science, engineering, mathematics, and so forth. We wanted to focus exclusively business applications."
When the program was announced, the Mitchell College of Business received more than 150 inquiries but accepted just nine individuals for the first cohort, allowing for a closer student-professor experience.
"I emailed the South Ph.D. program late one Saturday night and was not expecting a response until Monday or later," said Terrence Griffin, a student in the program and current director of cybersecurity for a technical college in Lawrenceville, Georgia. "So, it was to my surprise that I received an email from Dr. Hair within 5 minutes. Answering my question so fast showed me that Dr. Hair was passionate about the program and looking to make themselves available to potential future and current students."
The first cohort of the Business Administration Ph.D. program with a business analytics concentration began in May. It's a non-traditional program, meaning students are only required to be on campus about once a month for a long weekend to receive their in-person coursework. This allows them to continue their current jobs while pursuing a Ph.D.
Cathy Gray is enrolled in the program. She spent 18 years as a certified public accountant in Nashville before accepting a teaching position at Spring Hill College last year.
"I want to be on the cutting edge of business and education and provide value through my research and my interactions with students," Gray said. "A doctoral program with a focus in business analytics will give me the edge I desire."
---