Baseball Injury Leads to PT Career in Birmingham
---
Posted on June 13, 2022
Thomas Becnel
---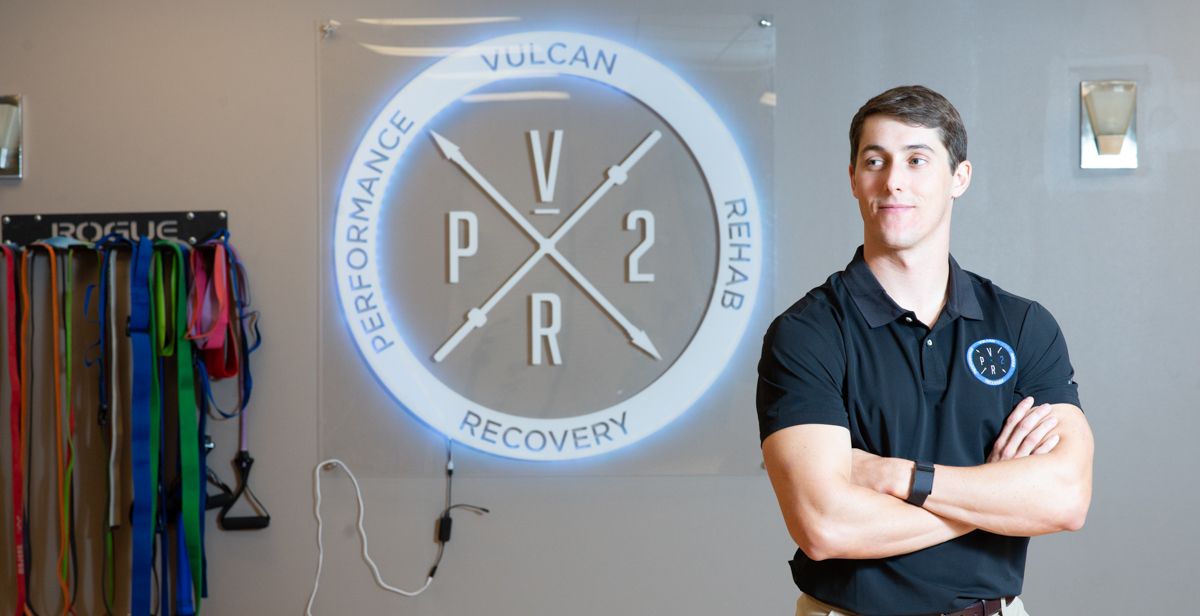 Jay Copeland started work at Vulcan Performance Rehabilitation and Recovery after graduating from the University of South Alabama.
---
#MyFirstJob is a series focused on University of South Alabama graduates who are beginning their careers.
On the Monday after graduation from the University of South Alabama, where he earned a doctorate in physical therapy, Jay Copeland started work at Vulcan Performance Rehabilitation and Recovery in Birmingham.
He hadn't found a place to live near work, so he was commuting from his hometown of Gadsden.
It's an hour-long drive each way.
"I listen to podcast lectures for my physical therapy board exams," said Copeland, 26. "I don't want to have any wasted time."
His clients in Birmingham include everyone from high school athletes recovering from injuries to older people working on strength, range of motion and cardiovascular fitness.
"My first patient was a guy who had a stroke, recovered well, and was training to throw out the first pitch at a Birmingham Barons baseball game," he said. "So I got to teach him how to throw a baseball. He was hit or miss when we started, but he improved and was able to throw a strike in front of thousands of people."
This kind of training was perfect for Copeland, who has his own baseball history.
He played several sports at Gadsden City High School, including baseball, before dislocating his elbow when a baserunner ran into his arm. His time in rehabilitation led to his career choice.
"The first place I went, I had an awful experience," he said. "I was discharged and I couldn't even straighten my arm. Then I went to another clinic and worked with a different physical therapist. He took the time to work with me, make my training sport-specific, and get me back to baseball."
After his recovery, Copeland played baseball for two years at Calhoun Community College in Decatur, Alabama. Then he was an infielder for two years at the University of Alabama in Huntsville, where he earned a bachelor's degree in kinesiology and exercise science.
Before starting graduate school at the University of South Alabama, Copeland took a gap year to play professional baseball in Germany. His team was the Cologne Cardinals in the Baseball-Bundesliga. Games were on weekends, so he had plenty of time to travel Europe and enjoy his time there.
"It's more laid back because soccer is the main sport over there," he said. "Baseball for the fans is just like a Saturday or Sunday for them to come out. It's less intense, less stress, just everybody having fun."
Most of the German players spoke English, so they used all of the American baseball terms and slang. Copeland did learn some German, including how to chant "Let's go:" "Auf geht's."
He returned to Alabama just in time to start graduate school in Mobile. To save money, he drove an old car and shared a small apartment with just enough room for a bed and desk.
Now he's working, making money, but has the same car and same attitude.
"I'm a cheapskate and proud of it," he said. "I will spend money on outdoor equipment. Not yet, but I will probably buy a nice bike or snowboard some day soon."
His girlfriend owns a gym in West Mobile. He's helped her prepare for elite events such as the CrossFit Games. Training a partner can be tricky, but they manage.
"We started out as workout partners and friends," he said. "She may want to kill me during workouts, but she gets over it."
At South, Copeland spent three years completing the doctoral program in physical therapy. He did research with Dr. Barry Dale, the former department head. Lab and classroom work led to internships in Flagstaff, Arizona, and Knoxville, Tennessee.
"I was definitely better at the clinical side, the people side," he said. "The book stuff, I had to put in the work to get the benefit of it. I had ups and downs, but I was going to finish, no matter what."
When he wasn't studying or training, Copeland played rugby, did triathlons and enjoyed mountain biking – until the time he tumbled over the handlebars and broke his clavicle.
The physical therapy department was filled with athletes and competitors.
"We played hard-core intramurals at South," he said. "We lost in the finals of flag football. We won a championship in softball and lost to the champs in beach volleyball."
Now Copeland is working at Vulcan Performance.
He and Sean Hiller, owner of the rehab center, have a lot in common. Both are graduates of the University of South Alabama. Both are CrossFit competitors and coaches.
One day, Copeland would like to open his own clinic. The Flagstaff internship made him think he might like living out West one day.
In Birmingham, he makes his own schedule. Some senior athletes come in to maximize their performance levels. Others are recovering from COVID-19 and need to work on their conditioning and cardiovascular fitness.
No two people are the same. Neither are their rehab plans.
"We're one-on-one and individualized for people," Copeland said. "You're not getting the cookie-cutter approach. It's specific interventions that match your goals."
---