Inspiring Educators to Create Bright Futures
---
Posted on June 17, 2016
Joy Washington
---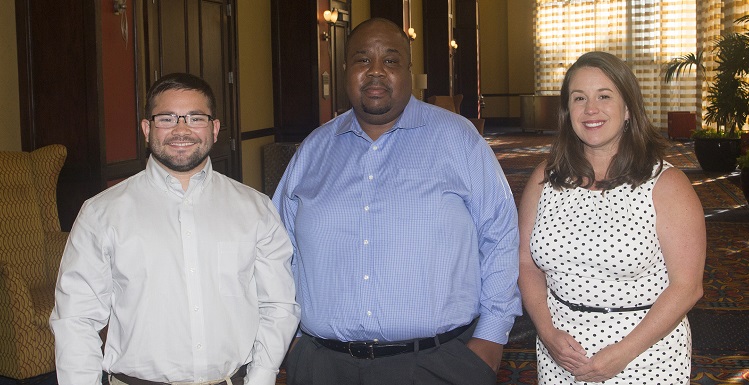 Kaleb Williamson, University of South Alabama Noyce Scholar; Dr. Andre Green, interim associate dean, chair and professor in the department of leadership and teacher education in the USA College of Education; and Tami May, graduate of South's Noyce Scholars program celebrate the success of the first annual Robert Noyce Regional Conference.
---
"We want every educator to help each child see education as hope for a bright future."
With those words of inspiration, Dr. Andre Green summarized the College of Education's commitment to K-12 education, highlighted with the University's recent Southeast Regional Robert Noyce Connections Conference in Mobile.
The conference featured three days of connecting, networking and gaining more STEM field knowledge for math and science educators of the Robert Noyce Program.
"STEM-based education is an opportunity for all of our young people to find equal challenges and reward during their educational journey," said Green, interim associate dean and professor in South's College of Education, where he serves as chair of Leadership and Teacher Education.
The Robert Noyce Teacher Scholarship Program, a National Science Foundation Program, responds to the critical need for K-12 teachers of science, technology, engineering, and mathematics, STEM, by encouraging talented STEM students and professionals to pursue teaching careers in elementary and secondary schools.
Green is focused on inspiring K-12 educators to see possibilities in every child. He was recently awarded an $842,982 grant by the National Science Foundation to help with the planning and hosting of this conference for two years.
The goals of the first Regional Noyce Conference were achieved, and they are the following:
Built a community of learners.
Provided an environment where Noyce personnel could connect and learn from one another.
Provided an environment where Noyce Scholars could collaborate and share experiences.
Provided professional development.
Increased cultural awareness and competence.
There were about 160 attendees at the conference, which included workshops presented by top educators speaking about everything from "Are We Teaching How Learning Works?: Language, Cognition and the Culture of Healthy Learning I and II," to"Making Bricks Without Straw: Making the Most With Limited Resources," just to name a few.
But, one of the most moving and inspiring docudrama presentations was facilitated by Brooke Haycock, a playwright-researcher with The Education Trust. She's the author of Ed Trust's "Echoes From the Gap" series. She is also a former urban high school dropout. But in time, Haycock was able to earn her high school diploma. She also earned her bachelor's degree from the University of California-Santa Barbara and a master's degree from Johns Hopkins University.
Haycock, also an actress, performed a one-woman skit based on interviews with students and educators. The research is transformed into a heart-touching performance that illustrates the real-life stories of students in the classrooms. It shares the data and brings up the debate around the importance of equity in schools for all students.
One of the 2012 South Alabama Noyce Scholar graduates, Tami May was compelled to attend the conference to connect with her mentors and fellow teachers, and support the University. But, it would be Haycock's performance that would be one of the highlights of the conference for May.
"I was surprisingly moved by Brooke Haycock's performance where she depicted two students from different school environments," May noted. "While as students, when treated differently, one supported, and one not, they had different outcomes and experiences as early adults."
May said it should not have been a shock to her that students could be treated differently at the schools. But, as a 7th-grade teacher at Semmes Middle School for the past five years, she understands that teaching is highly engaging and many times emotional.
Kaleb Williamson is a Robert Noyce Scholar who is pursuing his alternative master's degree in general science in the Pathway to Science program at South. The University also has a Pathway to Mathematics program. Williamson enjoyed the presentations as well, with his favorite session being "Survival of the Fittest."
"The speaker shared information about how to handle certain situations as new teachers, and presented different technology that can be used in the classroom," he said.
Williamson said attending the Noyce Conference afforded him an opportunity to meet other educators and Noyce Scholars who are in the program and others who have gone through the program.
"I learned various techniques and strategies that can be used to convey the information being covered in class," Williamson explained. "This experience was very beneficial."
Green had a vision back in 2009. As the principal investigator, he wrote and received grants to create the Pathway to Science and Mathematics programs under the Robert Noyce Scholarship Program, funded by the National Science Foundation.
The purpose of the program is to take professionals who have worked in math and science fields, and prepare them to be teachers.
The Noyce Regional Conference ended with achieving its goals. Many of the attendees, who traveled from other areas of Alabama, Mississippi, Louisiana, Florida, Georgia, Tennessee, North Carolina, South Carolina, and Virginia, also enjoyed visiting Mobile and dining on the Gulf Coast cuisine.
Now that the first conference has been slated a success by those who attended, Green and his committee of faculty and staff will take a brief break and begin planning the next conference to be held summer of 2017.
---