Nurse Survives Cancer, Earns Doctorate
---
Posted on June 22, 2023
Thomas Becnel
---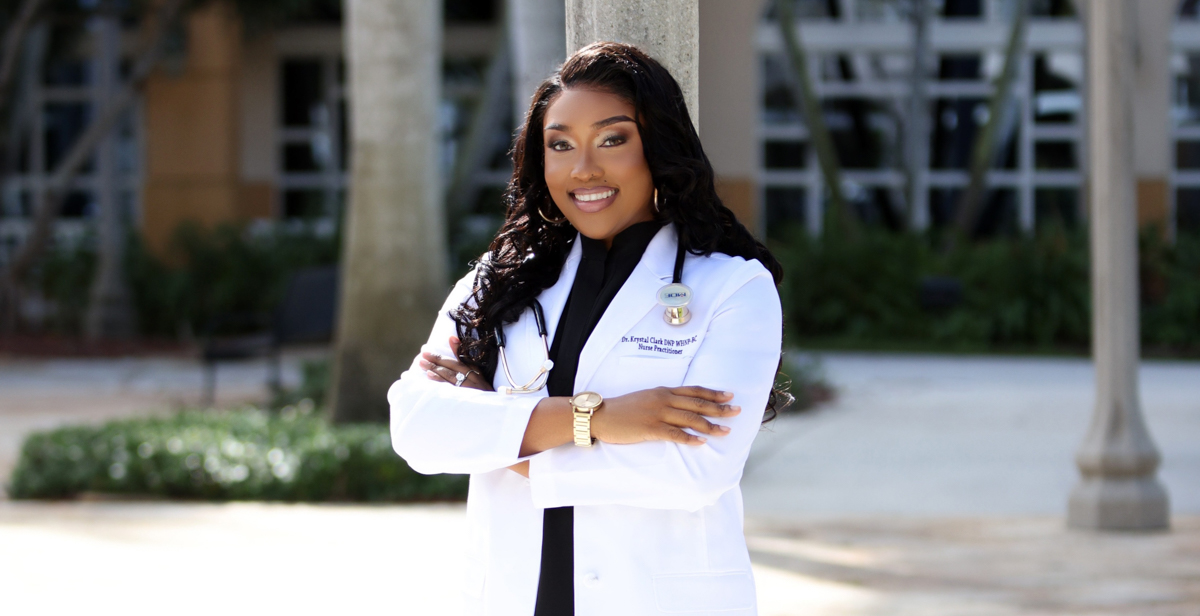 Krystal Clark earned a master's degree in 2021 from the University of South Alabama and immediately started online courses for her Doctor of Nursing Practice. She is a nurse practitioner at Women to Women OB GYN Care in her hometown of Hollywood, Florida. Photo courtesy of Clark and Just B. Still Photography Inc.
---
#MyFirstJob is a series focused on recent graduates of the University of South Alabama.
Krystal Clark, who earned a Doctor of Nursing Practice from the University of South Alabama this May, has been interested in women's health since she was a little girl.
She watched her mother give birth to her baby brother when she was 9 years old.
"My mom asked if I wanted to see, and I said yes," Clark said. "I knew where babies came from. The only thing I didn't understand is why my mother was in so much pain. Once my brother was crowning, the doctor said, 'There he is.' Since then, that's been my whole career."
Clark, 35, is a nurse practitioner at Women to Women OB GYN Care in her hometown of Hollywood, Florida, between Fort Lauderdale and Miami. Next year, she and a physician partner plan to open their own practice.
She decided to begin graduate school while working as a clinical nursing manager at Memorial Regional Hospital in Hollywood. She felt unappreciated, underpaid, and wanted to advance her career. She considered hybrid nursing education at universities such as Georgetown, then chose the online graduate program at the University of South Alabama.
"I wanted a program that had a women's health focus and specialty," she said. "When I looked at the requirements and core curriculum, I found it very impressive."
Distance learning at South suited Clark. She and her husband have a 6-year-old daughter.
Her strengths include time management, discipline and determination.
"I absolutely loved it," she said. "My learning style is very tactile, hands-on, so it's best if I can study things and then put them right to use. Sitting in a classroom, that's not me."
Clark's final test came last year when she was diagnosed with thyroid cancer. Her treatment included weeks of radiation treatment, and she is now cancer-free. She recalls a difficult time in her personal, professional and academic lives.
"The hardest part," she said, "was staying away from our little girl."
Dr. Terrie Platt, one of her women's health professors at South, said Clark worked straight through her cancer diagnosis and treatment. She never wavered from her commitment to her education and to herself.
"She was so determined to complete the program," Platt said. "She never approached me for any kind of accommodation, which I would have been happy to give. She even went through a hurricane during her time as a student, and never missed a beat. I was so impressed with her."
Quality of Life for Women
Clark grew up in Hollywood and attended Archbishop McCarthy High School. She went to college at Florida A&M University, earned a bachelor's degree and became a registered nurse. At Memorial Regional Hospital, she rose to nursing manager.
At South, she earned a master's degree in 2021 and immediately began work on her DNP.
The title of her doctoral thesis: "Utilizing the Polycystic Ovary Syndrome Questionnaire for Increased Provider Awareness, Early Treatment, and Quality of Life Improvement in Women with PCOS."
Clark worked on the polycystic ovary syndrome project with Dr. Shrusan Gray, her supervisor at Women to Women, along with Platt at South.
"She was very focused and dedicated to her project, her quality improvement project," Platt said. "She saw a need for better identification of symptoms and improved quality of life. That was her purpose and she did quite well."
A family trip to her graduation ceremony in Mobile included her husband, parents and grandparents. Her daughter Shyann gave her a hand-drawn card.
"It said, 'I Love You, Mommy,'" Clark said. "She says she wants to be a doctor nurse just like me."
After graduation, she went ahead and bought the velvet-and-silk regalia she wore for the ceremony at South. It felt right. The formal attire represents all of her work and sacrifice.
"I thought it was something I should keep," she said.
Clark doesn't have much free time as a working mother and budding entrepreneur, but she enjoys reading everything from medical journals to romance novels. Her arts and crafts projects include candle making.
While planning her own healthcare practice, she continues to work at the Women to Women clinic. She's used to working in women's health care. She's not used to people calling her Dr. Clark.
"Not yet," she said, laughing. "It's still weird, but it's an honor to have the title."
---