South Artist Becomes Downtown Collaborator at Mobile Museum
---
Posted on June 29, 2022
Thomas Becnel
---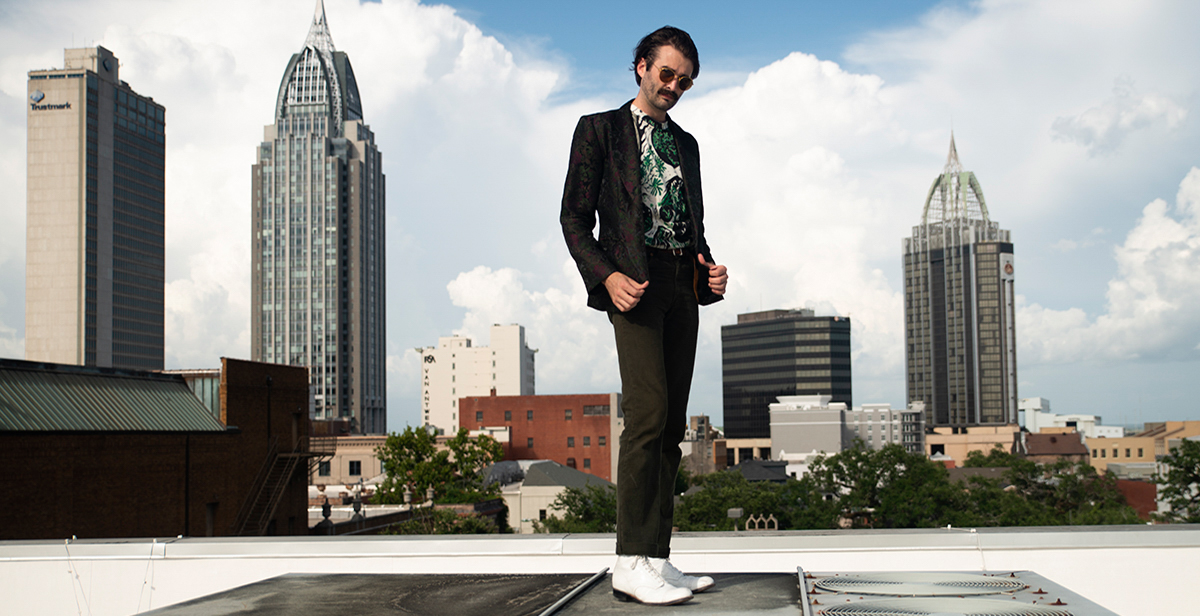 Micah Mermilliod took this self portrait from on top the Alabama Contemporary Art Center, where he took a job as an assistant curator.
---
#MyFirstJob is a series focused on University of South Alabama graduates who are beginning their careers.
During the loneliest days of the coronavirus epidemic, Micah Mermilliod wandered the streets of Mobile, turning his observations into a photography project called "Quarantine Walks."
He used Polaroid-style instant cameras to capture images that he painstakingly arranged in grids to create portraits and landscapes. These collages offered a novel look at everything from backyards and supermarkets to abandoned houses and boat docks.
Hardship became an opportunity for his art.
"I was in the same boat as a lot of people, just floundering, and I started going on these long walks," said Mermilliod. "But there was always something interesting happening, and I started to realize, 'Hey, this is actually something, kind of a timeline of my experience and the community experience.'"
"Quarantine Walks" and other projects helped him land solo museum shows and earn a Master of Fine Arts from the University of South Alabama. Galleries of his work can be seen at micahmermilliod.com.
After graduation in May, he moved from part-time intern to full-time assistant curator at the Alabama Contemporary Art Center. His work has a new emphasis. Instead of finding inspiration and creating art on his own, he's collaborating with artists and gallerists to stage shows and create programs for the public in downtown Mobile.
Already he's learned the importance of building relationships and earning a reputation for reliability and dedication, along with vision and creativity. The art community is a small world. His duties include managing exhibitions, shipping and hanging works of art, and communicating with guest curators and visiting artists.
"The more I've gotten involved," he said, "the more I've realized how interconnected everything is."
On a Tour at the Art Center
Mermilliod looks the part of art curator, with a retro wardrobe assembled at some of the finest thrift shops in Mobile. For a tour of the Contemporary Art Center, the 31-year-old wears white boots, lavender trousers and a graphic T-shirt, along with a wood-print blazer that he borrowed from a colleague.
He starts with a baseball exhibit called "Flashing the Leather," which is baseball slang for making a great defensive play. The display is less sporty than sociological. There are artistic takes on baseball cards as well as heroes and anti-heroes such as Pete Rose and Dock Ellis.
Mermilliod circles the gallery, telling stories and pointing out some of his favorite artists. He has the easy patter of someone skilled in making art accessible for different audiences.
"These are by Raymond Pettitbon," he says, stopping in front of a pair of drawings. "He's kind of famous for doing punk album art for Black Flag and Sonic Youth."
The next gallery features an exhibit called "The Ancestral Light Series" by Tony Bingham, a Birmingham artist. The multimedia work includes cast metal sculptures, a stop-motion animated film and Mobile photographs taken with a pinhole camera built with discarded wood.
Mermilliod talks about Bingham, the Black history behind his art, and the challenges of doing wall-sized prints of his photographs.
"It's his work, but it's always fun to say you helped make it possible," he said. "My boss says you know you're a good curator when no one knows you exist. When you're coming from the artistic side, curating is kind of what's behind the curtain, and you only see the end result. I was curious about what it takes to put a show together."
Art, Coffee and LP records
Mermilliod grew up in Woolmarket, Mississippi, near Biloxi. He wanted to become a physician and majored in biomedical sciences at the University of South Alabama.
All of his electives were in art, though, which suggested a different interest.
"Halfway through my sophomore year, I realized I was spending all of my time on drawing and not enough time on organic chemistry," he said. "The next semester, I took my first photography class, and the rest is history. It was a magical experience in the darkroom, seeing those images develop."
As an undergraduate, Mermilliod found mentors in Margarita Skiadas, assistant professor of photography, and Rachel Wright, a professor with a focus on glass, ceramics and photography. They continued to influence his graduate school work in Creative Technologies and Practice.
In between degrees, he worked at a downtown Mobile coffee shop. He became a roastmaster, which he described as a sous chef for coffee preparation.
"I'm still the biggest coffee snob you've ever met," he joked. "I'm big into Ethiopian varietals, Guji and Yirgacheffe."
Mermilliod lives in Midtown and often bikes or walks to work downtown. Running helps clear his mind.
In his spare time, he enjoys all kinds of music, especially on old-fashioned LP records and cassette tapes. Friends call him "The Thing King," because he's always collecting something. He keeps headphones and a boom box next to his desk at the Art Center.
His photography has been exhibited by the Mobile Arts Council and at the Troy University International Art Center. This summer, he will be part of the Wiregrass Biennial art show in Dothan, Alabama.
At the Contemporary Art Center, which has a small staff, Mermilliod plays a large role in everything from event planning to preparing art for display.
"People think being a curator is coming in and partying with artists, but it's very logistical, with paperwork, spreadsheets and organization," he said. "You have to be a little bit of a jack of all trades."
As an artist, Mermilliod is now interested in laser engraving and kiln-formed glass, but he usually has a camera nearby. He still enjoys making collages of instant camera photos. He still enjoys creating new works of art from decades-old technology.
"The cameras are basically toys," he said, "but you can do a lot if you know what you're doing."
---