Beating the Summer Reading Slump
---
Posted on June 27, 2016
Joy Washington
---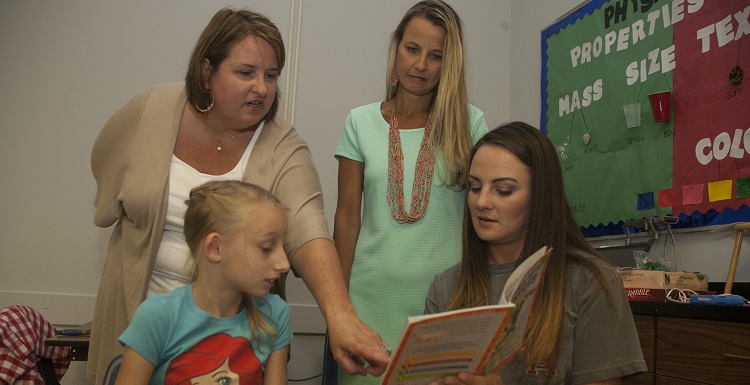 The Literacy Center at the University of South Alabama College of Education opens with two camps this summer. Joan Holland, center director, top left, and Dr. Andrea Kent, dean of the College of Education, top right, observe Hillary McNeal, elementary and special education major at South, help Calista Swope from Collier Elementary School with a reading assignment.
---
Illiteracy is a personal struggle and a public problem, so the University of South Alabama's College of Education has created a solution where children won't grow up not being able to graduate from high school because they can't read well.
"As a literacy educator, it has been a dream to be able to not only open a literacy center again, but to extend the outreach through a new vision," said Dr. Andrea Kent, dean of the College of Education. "The Literacy Center offers the College of Education an opportunity to provide services to the community by literacy professionals and those preparing to teach in our schools."
Kent says the University provided a literacy center years ago, and she wanted to reinstate it as a community outreach program. South's Literacy Center has officially opened for kids in the 1st-6th grades, with a two-week Literacy Camp; one underway through June 24 and the second one to be held July 11-15.
"There will be two weeks of fun to include interactive camps for elementary-aged students," Kent said. "It is designed to promote a love for literacy."
Kent said the center is also offering tutoring in reading for students in 1st through 12th grades. She is hopeful they will expand the center's offerings in the near future.
Joan Holland, instructor and director for South's Literacy Center, said some of their main goals are to provide community engagement, research, graduate education and professional development. The center will operate 15-20 hours a week during the academic year, and will have increased hours during the summer semester for camps and tutoring sessions.
"We want youth to build critical learning skills," Holland noted. "And we want them to realize their literacy potential from some of the best future teachers and current professors. We want local children to 'beat the summer reading slump.'"
Children can attend the camp for $125 for a half-day or $225 for the morning and afternoon sessions for the week. Tutoring is also being offered Monday-Thursday through July 28, from 8:30 a.m.-11:30 a.m. The tutoring sessions are limited to a first-come, first-served basis. The tutoring fee is $75 for registration and initial assessment fees, and $40 for the individual session and $25 for the group session.
Hillary McNeal, a senior elementary and special education major and native of Florala, Ala., is excited to have the experience to serve as one of the teachers at the Literacy Center.
"It has been great to have this teaching role while studying at South," McNeal said. "The children are doing well and interacting during the reading sessions.
Parents can register children by completing an online registration form. For additional information, email Holland at jmholland@southalabama.edu or call (251) 380-2891.
---