South Grad at Forefront of Maritime Sustainability
---
Posted on June 27, 2019
Alice Jackson
---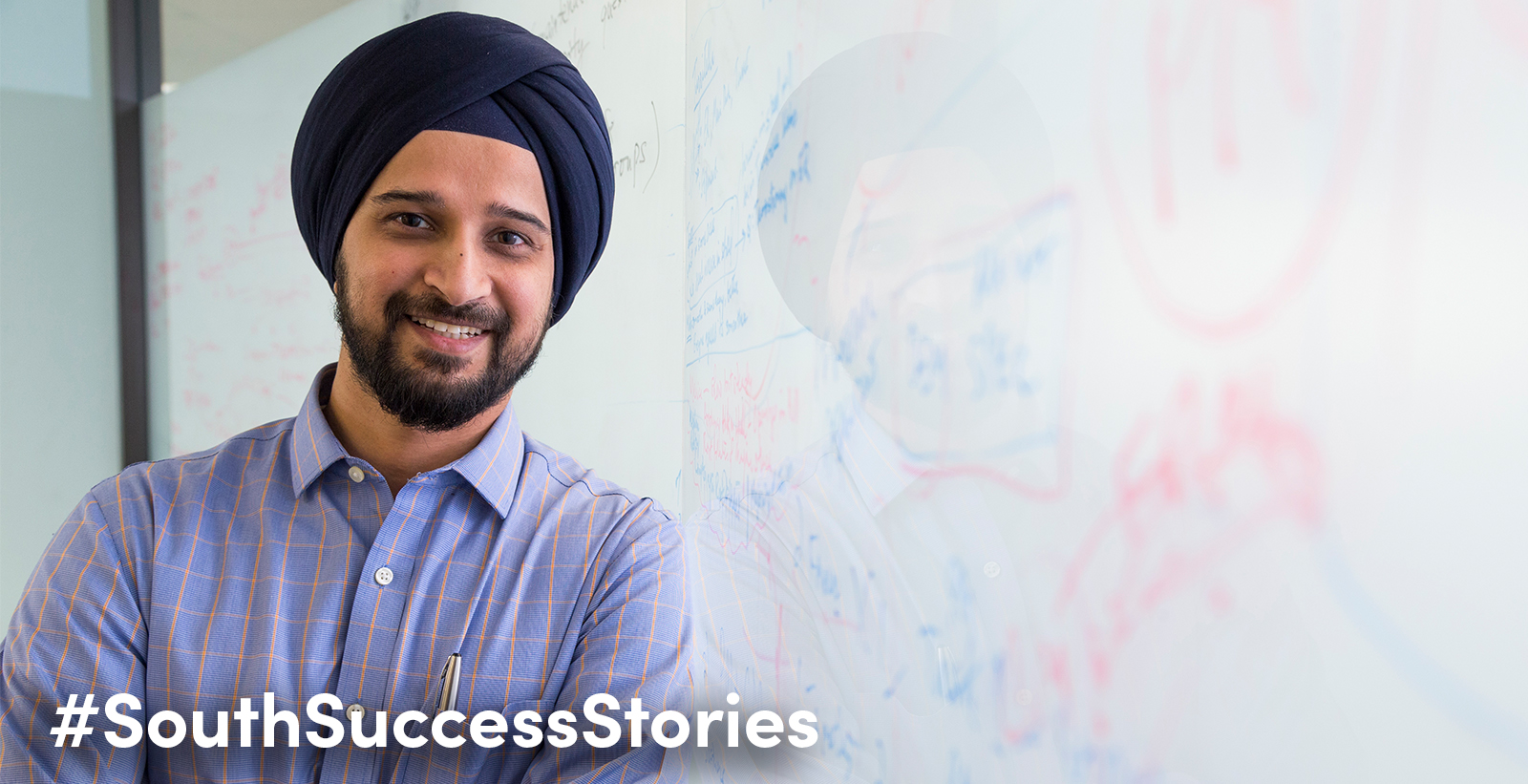 Gurinder Singh, a graduate of the USA College of Engineering, is director of global sustainability for the American Bureau of Shipping. "Today's world is quickly changing, and the shipping industry is navigating a complex regulatory landscape and rapid technology changes," he said.
---
#SouthSuccessStories is an ongoing series featuring University of South Alabama alumni who are life-savers, innovators, game-changers, music-makers and creative-thinkers, successful in their careers and supportive of their communities.
Sometimes, all things being equal, students come to the University of South Alabama because of the weather. The warm, subtropical climate and proximity to Gulf beaches is very inviting, and so it was for Gurinder Singh. Although, he had a different take on it.
"The weather reports looked similar to Dubai, mostly summer and mild winters. Definitely cooler than Dubai," Singh said. It's not often that Mobile gets high marks for "cooler" weather, but that was a consideration for Singh. Born in India and raised in Dubai, a Middle Eastern country where the average summertime high temperature is 106 degrees, Singh was in high school there when he turned his focus to engineering and to South. "I had a friend who had enrolled a year earlier and gave high marks for level of education for a great value," Singh said.
Singh, who said "I generally did well in engineering school," graduated magna cum laude in 2001 with a bachelor's degree in mechanical engineering. "The education and experience at South Alabama shaped my thinking about working in teams, gaining consensus and making things work, not only as an engineering student but also in my service as senator in the Student Government Association for the College of Engineering."
Today, he works in the Singapore office of the American Bureau of Shipping, a Houston-based organization that establishes and maintains technical standards for the construction and operation of ships and offshore structures worldwide. ABS, as it is commonly known, this spring launched a new global sustainability center in Singapore to help maritime transition to a lower emissions industry, and Singh was named ABS' first director of global sustainability.
"Today's world is quickly changing, and the shipping industry is navigating a complex regulatory landscape and rapid technology changes," Singh explained. The International Maritime Organization, or IMO, agreed last year to cut greenhouse gas emissions 50 percent by 2050.
"The IMO greenhouse gas reduction targets will present an unprecedented challenge to the industry, as the targets cannot be achieved with today's technology," Singh pointed out. "The ABS Global Sustainability Center has a vital role to play in helping the industry manage the transition safely. I want to make the Center a home for innovation and creativity that brings together industry and academia working hand-in-hand toward a sustainable future.
Managing environmental sustainability for a worldwide shipping industry leader is a long way from the University of South Alabama College of Engineering. But it's a trip Singh is willing to have made.
"Well, landing a job in the U.S. after finishing engineering school at South was an expected outcome. ABS is the third company I have worked for and, until coming to ABS, I did not think I would be on international assignments," said Singh, who was working for ABS in Houston when the Singapore position came open. "ABS has a global footprint and, depending on what you end up doing and a personal willingness to move, it is quite possible one gets to see another part of the world."
Clearly, from India to Dubai to Mobile to Houston to Singapore, Singh is doing his part to see the world. He also sees how his education at South Alabama was the key that unlocked the door to additional learning and achievement.
"Over the years, one gets tested in the real world to deliver at a consistent level by continuously learning and adapting. Finishing a course or a project is the goal but getting there and figuring things out, sometimes on your own and many other times in teams, really builds the foundation on what is needed to tackle the kind of situations that test your aptitude and attitude to getting to the goal," he said.
"The journey counts as much as the result."
---