Donation Doubles McCall Photo Archives
---
Posted on June 8, 2021
Thomas Becnel
---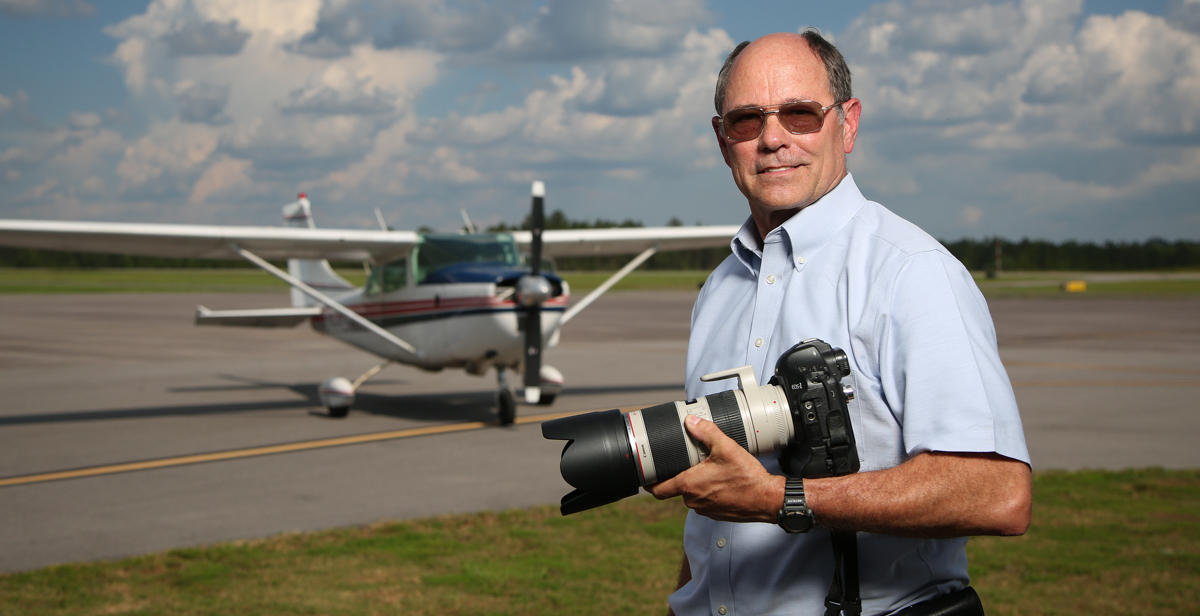 Alec Thigpen, who with his father, Roy Thigpen, operated Mobile's Thigpen Photography, stands in front of his Cessna 182 at the Bay Minette Municipal Airport in Baldwin County. One of the Thigpens' niches was aerial photography. The Thigpen Photography Collection was recently donated to the University of South Alabama.
---
The Thigpen Photography Collection, which moved into the Marx Library in May, features everything from black-and-white history to colorful Mardi Gras scenes, along with aerial images from Mobile Bay and the Gulf Coast.
More than a million photographic images from the collection are now part of the Doy Leale McCall Rare Book and Manuscript Library at the University of South Alabama.
Roy Thigpen, a photographer and pilot, founded a Mobile studio after serving in the Navy during World War II. His son Alec, also a photographer and pilot, later took over the family business. Their collection is a legacy that dates from 1947 to 2017.
"Seventy years," said Alec Thigpen, who's now semi-retired. "A lot of my dad's best stuff was in black and white. He had photographs of Bayou La Batre when it was just live oaks and shrimp boats. He was more artistic, while I'd try to be more dramatic, with color and a little more pop to it. I did aerial photos of so many things that happened in Mobile, from the building of the interstate to the Wallace Tunnel and the RSA Tower."
The McCall library also owns the photo collection of Erik Overbey, a Norwegian immigrant who became a Mobile commercial photographer from 1903 to 1958. The Thigpen Collection covers the second half of the 20th century, with aerial and architectural photography to go along with business and advertising images.
"It's really a wide range," said Deborah Gurt, interim director of the library. "And it's wonderfully rich. It shows the development of Mobile, the landscape and history of Mobile, and some of the images are really beautiful."
The negatives for the Thigpen Collection were donated to South in custom mahogany cabinets built by Robert Reid, a Mobile furniture maker. Black binders with handwritten notes cross-reference photographs by name, date and category.
"They did a fantastic job of cataloging the images," said Gurt. "It's such a great thing when you get a collection that's well organized. It makes it so much easier for people to find what they're looking for."
The McCall library is still planning access to the enormous new photo collection. For now, visitors must ask archive staff to pull images of certain subjects at certain times. Several of the photos are posted to the University's Facebook page.
There are many academic uses for images in the Thigpen Collection. For instance, researchers of Africatown, the historic black community just north of Mobile, might consult aerial photos of the huge paper mills that surrounded the area during the 1960s. There are also aerial maps of logging in the Mobile-Tensaw Delta.
Other photos show the changing skyline of downtown Mobile and chart the dramatic growth of West Mobile, including the South campus, and the Eastern Shore.
"We'd love to get more students in here," Gurt said. "It doesn't happen enough."
Father-and-son Fliers
Roy Thigpen was born in Georgia and grew up in Virginia. He joined the Navy during World War II and was trained as an aerial photographer. He did aerial mapping in Greenland and South America.
Later, became a pilot.
After the war, he worked briefly as a photographer in San Francisco and decided to open his own shop. He traveled the Gulf Coast and finally settled in Mobile.
Alec Thigpen grew up in Spring Hill and studied music at the University of South Alabama during the 1970s. At the time, he recalls, the music department was in the basement of the Whiddon Administrative Building.
Now he and his wife Karen, who earned a master's degree in communications from South, live in Spanish Fort. He flies his Cessna 182 out of a small airport in Bay Minette.
Through decades of flying, often several times a week, Thigpen said he never had to make an emergency landing. His wife Karen can think of at least one flight that left her flustered.
"Well," she said, "I was in the plane with you when we lost all electrical. So we could hear the radio, but we could not talk, so how will we land, how will we tell the tower we want to land? But he just knows, you know, that you go to a certain corner of the airport and fly in circles. All he said was that the landing might be a little rough, because we might not have flaps. He has the perfect mind to be a pilot, because he doesn't get shook."
Thigpen grew up flying with his father, which was sometimes a queasy experience.
"He'd take me up on a hot summer day, smoking a cigar, and doing tight turns around a site," he said. "He'd be hanging out the window taking photos. I'd be in the back seat shooting verticals through a hole in the floor, while the plane bumped from the thermals. I hated it."
Thigpen enjoyed flying much more when he became the pilot.
"Once I took the controls," he said, "I told him, 'If you want to smoke, you have to step outside.'"
Scenes from the Jubilee
Thigpen has won awards for his color photographs. Most of his work is commercial. It often appears on the cover of annual reports for businesses and corporations.
His clients include the Port of Mobile and Austal USA shipbuilders.
For years, Thigpen photographed everything from Mardi Gras balls to football stars visiting town for the Senior Bowl. Also new roads, new buildings and new development in Mobile.
His father's old black-and-white photos include everything from historic homes to iconic railroad bridges and humble fishing scenes. Some appeared in the Mobile Register newspaper. Others found a larger audience.
Roy Thigpen's persona was captured in a May 7, 1972, feature in The New York Times: "If You Blink, You May Miss the Alabama Jubilee."
The rollicking story begins with Thigpen getting a 1 a.m. phone call to grab his camera and rush to the Eastern Shore. Conditions seem right for the rare hour when wind and tide deplete oxygen in the water. This forces fish and crab into the shallows, where savvy locals scoop them up with buckets.
While he and buddies wait for the perfect place and time, Thigpen enjoys a Scotch and soda at Manci's Antique Club tavern in Daphne.
After a good bit of bar talk about the Jubilee, and when, where and how it happens, the tavern gets a tip and everyone rushes to the Grand Hotel in Point Clear. The Times story describes all sorts of people pulling up all sorts of seafood:
"Thigpen's first shot is of a middle-aged woman in curlers and a nightgown scooping up a panful of addled shrimp. She wheels around. "You didn't take my picture looking like this, did you?"
"No, ma'am. Just the shrimp."
Thigpen and others move down to a cluster of cypress stumps. Live crabs are perched on branches, some dangling by their claws.
The woman in the curlers and nightgown shudders. "Look at those beady little eyes, will you."
"Crabs climbing trees. I've seen it all now."
"It's a scene out of perdition, that's what it is. A scene out of perdition."
Gurt, the McCall library director, hopes to record oral histories with Alec and Karen Thigpen to go along with photographs from the Thigpen Collection. Local stories would help frame these scenes from Mobile history.
"These are among our most beautiful and most requested images," she said. "People love these photographs."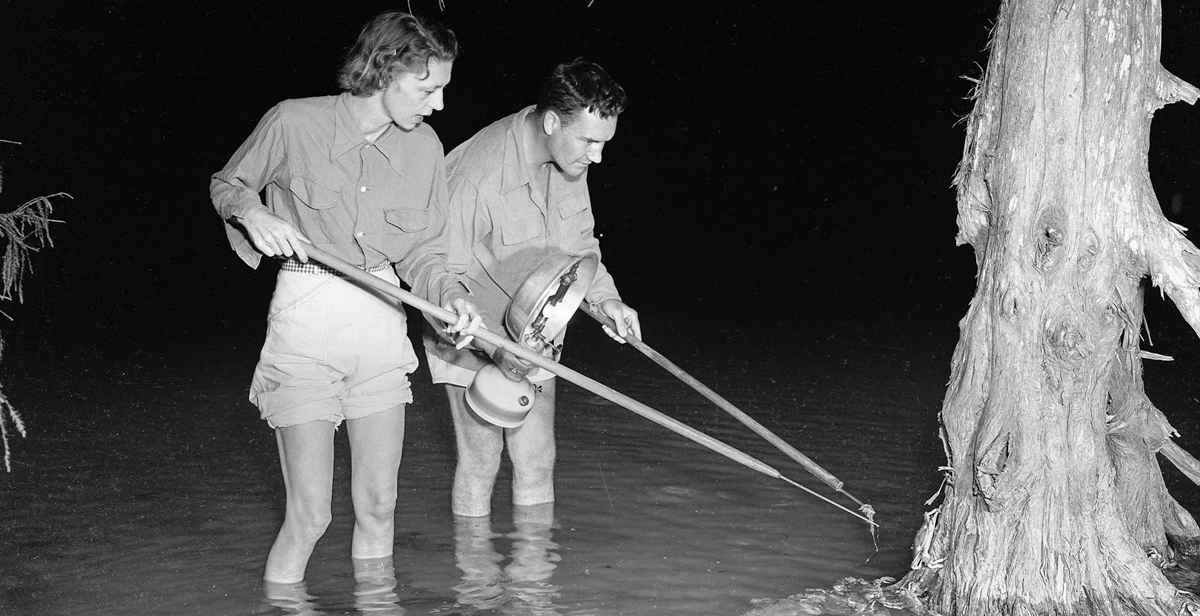 Residents hunt for seafood during a Jubilee in this 1950 photo that is part of the Thigpen Photography Collection.
---