#MyFirstJob: Lacey Bolden
---
Posted on July 2, 2019
Joy Washington
---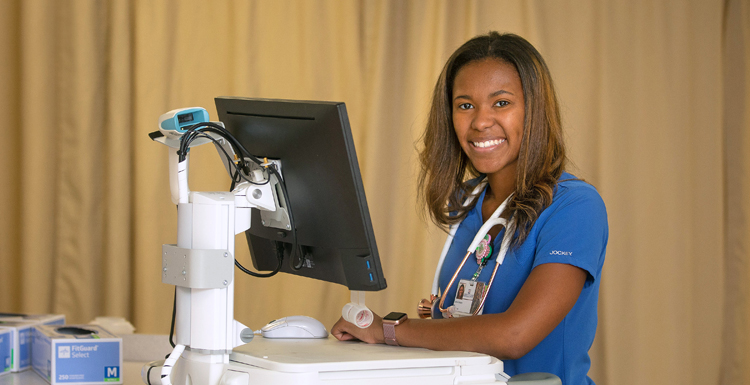 Lacey Bolden '19 is a nurse at the Trauma Center at USA Health University Hospital.
---
#MyFirstJob is a series focused on University of South Alabama Class of 2019 graduates who are beginning their careers.
Lacey Bolden entered the University of South Alabama's College of Nursing Early Acceptance Program as a sophomore. Now she's living her self-described "best life" as a 2019 graduate with a bachelor's degree in nursing and a job at USA Health University Hospital.
Bolden started work last week as a registered nurse at the hospital's Trauma Center, which has the highest designation as the region's only Level I trauma center. She also recently passed her National Council Licensure Examination, known as the NCLEX, which helps determine if a new nurse is ready to practice nursing.
As she starts her dream career as an emergency room nurse, Bolden, 22, a native of Madison, Ala., said she is thankful she took the advice of one of her mentors, Caroline Hakata, a registered nurse at University Hospital's emergency room and a clinical instructor at South Alabama's College of Nursing.
"I was in her clinical class in the fall of 2018, and I would not have thought about working in the emergency room as a nurse without her guidance," Bolden said. "I love caring for those in need. Working in the emergency room will give me an opportunity to care for my patients with diverse medical issues. I am learning so much, and I know I will continue to grow and be a well-rounded nurse with this great opportunity."
As Bolden settles into her new job, she gets to work with her mentor, Hakata, who recognized early on that Bolden is passionate about nursing.
"Lacey is right for the ER, because she learns quickly and pays attention to details," Hakata noted. "She is also very enthusiastic and caring. She truly wants to be a nurse."
Prior to being hired at University Hospital, Hakata recommended that Bolden do a practicum in the emergency room since she was not able to do her clinical rotation there as a student nurse.
"Again, I took Nurse Hakata's advice, and I am so happy I did," she said. "I did my practicum in the ER, and I knew it was the area I wanted to work in and care for patients. I am currently working the 7 p.m. to 7 a.m. shift for now. I am learning so much."
Bolden also is looking forward to the opening of the expanded and enhanced Fanny Meisler Trauma Center at University Hospital next year.
"I'm excited about the new construction and renovation of the trauma center expansion, which will modernize the current space for patients," she said.
As an emergency room nurse, Bolden assists with quickly triaging patients based on their medical emergency needs.
"I'm doing assessments, drawing labs and assisting the physicians with medical procedures. I have helped with conscious sedation, which is a combination of medications to help the patient relax and block pain," Bolden explained. "I work as part of a team with physicians, other nurses and medical professionals.
"In an emergency department environment, you don't know what's going to happen from one moment to the next," she added. "The medical professionals, including the physicians, have been very supportive and helpful. I have never been afraid of asking questions, and I do so now when needed. I am excited to be working at this teaching hospital with a capable and supportive team."
Bolden is the first person in her family to enter the medical profession. Her mother, India, dad, Jeffery, and brother, Jeff, have degrees in different areas of engineering, but they supported Bolden in following her own career path.
"I told my parents, I love learning about the human body and that I wanted to care and give compassion as a nurse to those who are sick, and they supported my decision by showing me love and support," she said. "My parents are a big influence in my life."
---