Biomedical Sciences Student Wins American Heart Association Summer Fellowship
---
Posted on July 2, 2020
Lance Crawford
---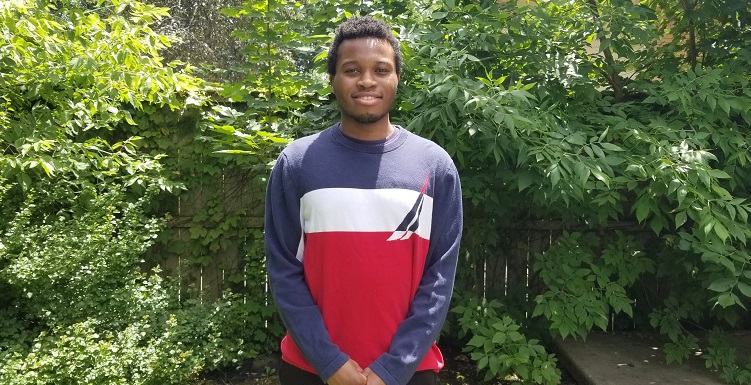 Ted Amadi returned to his hometown of Chicago to participate in the American Heart Association's Supporting Undergraduate Research Experience.
---
University of South Alabama biomedical sciences student Ted Amadi is back in his hometown of Chicago this summer, but it has been no vacation. The senior received a prestigious fellowship from the American Heart Association. The $6,000 grant is part of the Heart Association's Supporting Undergraduate Research Experiences program for student from underrepresented racial and ethnic groups in science.
Amadi is soft-spoken, but those who know him also know his drive to succeed.
"Behind his reserve, Ted is a strong, reliable gentleman. It is no surprise at all that he received an AHA fellowship," said Robin Mockett, an associate professor of biomedical sciences in the Pat Capps Covey College of Allied Health Professions.
The American Heart Association program gives students an opportunity to gain experience under the guided mentorship of experts in the field of cardiovascular research. Amadi was able to shadow Dr. Ike Okwuosa, an advanced heart failure and transplant cardiologist in the Chicago area.
The shadowing ended prematurely because of the COVID-19 pandemic, but the experience had a positive impact on Amadi. "Dr. Okwousa has been very influential. He and I come from similar cultures and experiences," he said.
The pandemic, as it has with other students, has changed Amadi's habits. Studying at home has been an adjustment for a student who typically sets time aside for the library. "My house is crowded," he said "There are five people including me, which makes it harder to study for my Medical College Admissions Test."
Despite the distractions, he has also been busy watching online lectures to help with his research for a genetics presentation he will give in August before heading back to South for fall semester.
Medical school is in Amadi's future, but he says he might decide to take a gap year first. Right now, he just wants to complete his summer work and, like many others, return to a familiar routine. "I'm looking forward to returning to campus, getting back on track and have all the resources available to me there," Amadi said.
---