Mitchell College of Business Receives Accreditation for an Additional Five Years
---
Posted on July 3, 2018
Emmy Rieske
---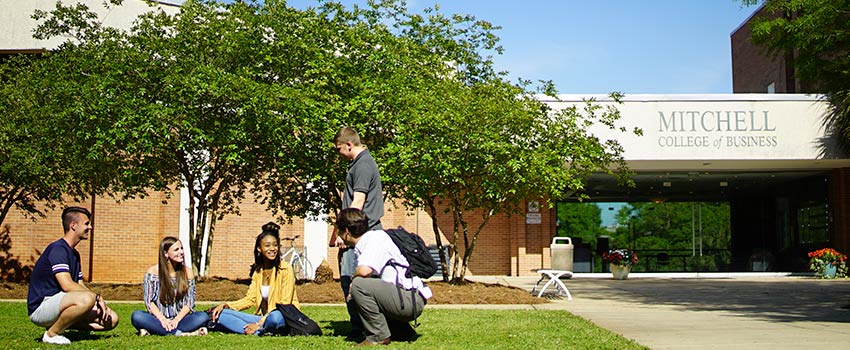 The Mitchell College of Business is committed to the University's focus on excellence, lifelong learning, and the education of the whole person.
---
The Mitchell College of Business at the University of South Alabama has been reaccredited by the leading accrediting body for business education, maintaining a distinction held by only five percent of business schools in the world.
The university's business programs have been reaccredited by the Association to Advance Collegiate Schools of Business, also known as AACSB International, for an additional five years. Founded in 1916, AACSB International is the world's largest business education network and the longest-serving accrediting body for business schools with undergraduate, master's and doctoral degrees in business and accounting.
"AACSB accreditation is the highest marker of excellence in business education, said Dr. Bob Wood, dean of USA's Mitchell College of Business. "The accreditation standards require quality in management, innovation, learning, teaching and professional engagement."
To achieve accreditation, each institution must undergo an improvement review process in addition to developing and implementing a plan that meets the AACSB accreditation standards.
"AACSB commends USA's Mitchell College of Business for its exemplary work in maintaining the highest honor in business school accreditation," said Stephanie M. Bryant, executive vice president and chief accreditation officer of AACSB International. "During this rigorous peer-review process, schools must demonstrate alignment with AACSB's global accreditation standards, as well as how they encourage engagement, innovation and impact across the communities they serve. Congratulations!"
The USA Mitchell College of Business offers undergraduate, masters, and doctoral degrees in business. For more, visit www.southalabama.edu/colleges/mcob/.
For more information about AACSB International, visit www.aacsb.edu.
The University of South Alabama is a community of leaders and learners who support and challenge one another through academic experiences, research and service that advance the Gulf Coast region and the world. For more, visit www.southalabama.edu.
---