A South Education From a West Coast Location
---
Posted on July 5, 2017
Joy Washington
---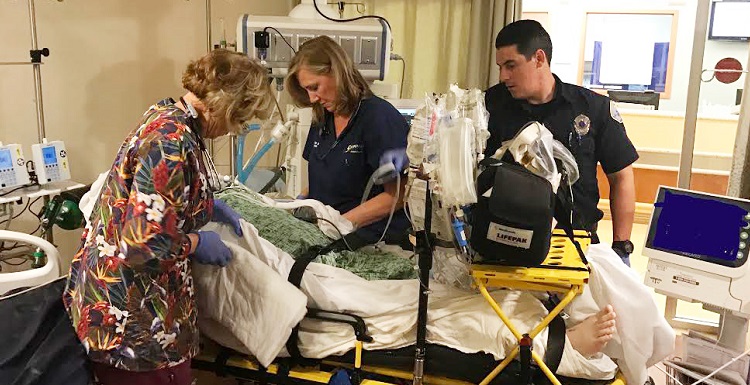 USA College of Nursing alumna Dawn Downs, center, a critical care nurse, recently graduated with her nurse practitioner degree from South, which has given her more experience and preparation for her future professional work. Photo courtesy of Dawn Downs.
---
After surviving a life-threatening genetic heart disease in her early 20s, Critical Care Registered Nurse Dawn Downs of San Diego, Calif., felt the calling of medicine and wanted to become a nurse and provide care and healing to her patients, just as she had received during her health crisis.
"The heart issue that I had required an AICD (a type of defibrillator) implant, and many procedures and hospitalizations," said Downs, who recently completed her nurse practitioner degree and certifications from the USA College of Nursing's online program. "From being in the hospital multiple times, I fell in love with nursing and decided I wanted to help other people as I have been helped."
Prior to deciding on a university to pursue her graduate degree in nursing, Downs said, she did her research.
"I saw USA was listed in a news article as one of the top 10 hybrid nursing programs in the United States," she explained. "I researched all of the schools on the list and decided I wanted to study online at South Alabama for the diversity it would offer me based on its dual role program."
Downs, a native of Murrieta, Calif., currently works in the surgical intensive care unit at Sharp Memorial Hospital in San Diego. She also works as a critical care transport nurse for Symons Ambulance.
Working as a critical care nurse can be rewarding yet very challenging, Downs said, and it's a complex specialty area of nursing. She decided to pursue her nurse practitioner degree at South Alabama to gain more experience and prepare for a long future in a profession she loves.
"I decided to pursue a nurse practitioner degree because as you get older in this profession, it gets more physically challenging to help patients at the bedside," she noted. "When I was deciding on pursuing the degree, I wanted to be able to practice as a nurse and achieve additional education and work for a long time. It seemed like a natural progression for me."
USA online programs include the R.N. to B.S.N. track in B.S.N. Nursing Program (for Associate Degree & Diploma Nurses), M.S.N. and D.N.P. in Nursing. In addition, the Post-Graduate Certificate Program is online. The college's online programs have graduates in all 50 states and the District of Columbia, and more than 6,000 students have earned online degrees in nursing since the program launched in 2003. Also, 79 percent of the online graduates are from outside the state of Alabama, reflecting the nationwide impact of the College of Nursing.
"South's program is perfect for nurses who are working full-time and want an advanced degree," said Dr. Kalmette Cambray, adjunct professor and Downs' faculty facilitator. "Our online program is structured to support them and help them achieve their academic goals."
Cambray said the dual role track in South's nursing graduate program offers a great opportunity for nurses to continue their education and earn certifications as a family nurse practitioner and an adult gerontological acute care nurse practitioner, which provides the most opportunities after graduation and successful certification.
"Many who choose to complete this role have had a background in some form of acute care or critical care roles as registered nurses," Cambray said. "The stress, challenges and fast-paced environments aid in preparing one for this rigorous program and eventually as future nurse practitioners. One must make a serious commitment. The program is not for the fainthearted, but the sense of accomplishment when completed is a feeling one will remember their whole life."
Downs, a mother of three adult children, also understands the importance of serving others, enjoys being a mentor and helping patients in other countries.
"I have traveled on two mission trips to Haiti and one to the Philippines, and it was a memorable experience. I also do my best to serve as a mentor to nursing students and new nurses who are hired to work in the ICU," she said. "My philosophy is to follow the CPR motto, which is customer service, professionalism and right of care. If I am following that motto, then I am providing the best, evidence-based care for my patients."
---