Cataloging the Past for Future Growth
---
Posted on July 18, 2018
Joy Washington
---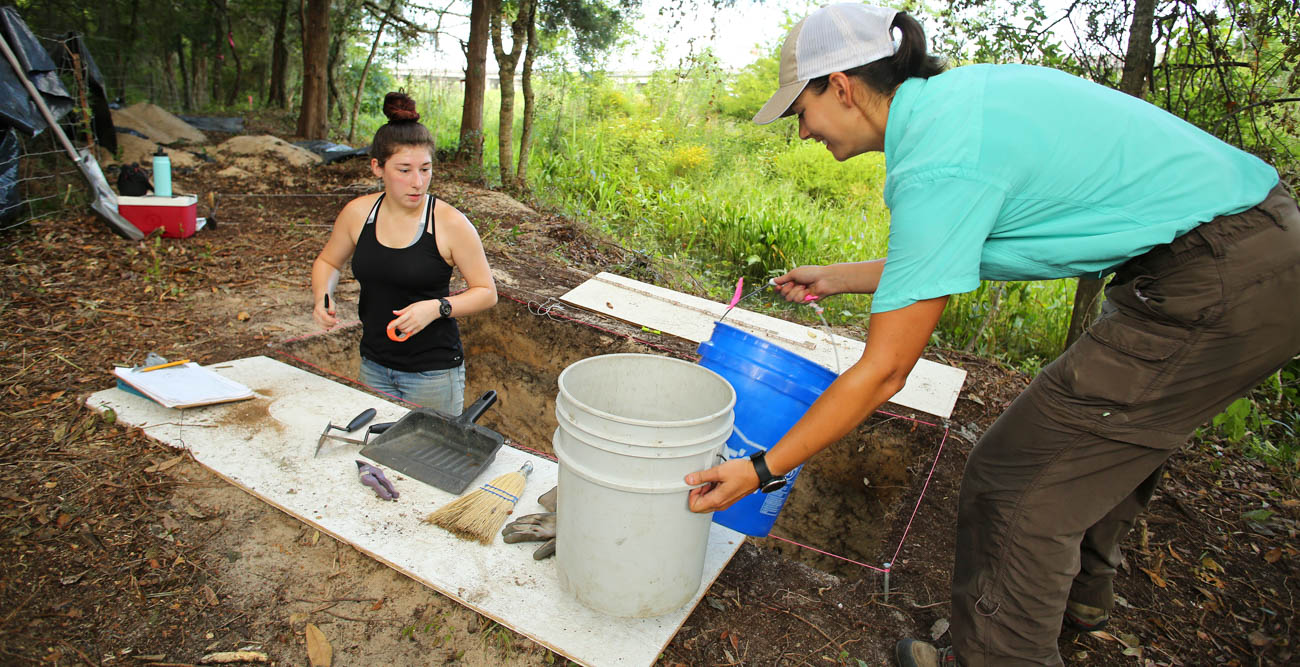 Anne Doreland, right, a USA graduate student, works with Jordan Temples, who recently earned a bachelor's degree in anthropology, on preliminary archaeological field work at the site where an Interstate 10 Mobile River bridge and Bayway expansion is proposed.
---
There's nothing like discovering and examining the history of days gone by to make way for something big. Plans for an Interstate 10 Mobile River Bridge and Bayway project are underway, and it's important that preliminary archaeological field work is done before the construction of the bridge begins.
Those collaborating on the preliminary work are the University of South Alabama Center for Archaeological Studies and the Alabama Department of Transportation, or ALDOT. The collected information will be reported to ALDOT and the Mobile River Bridge and Bayway Project Team in an environmental impact statement.
The Center for Archaeological Studies is excavating specific areas in downtown Mobile and at the end of the I-10 Bayway in Baldwin County, which will be the expected route of the Mobile River Bridge and expanded Bayway. And, the digs have been quite successful.
Students, faculty and alumni are excavating and researching 1,000-year-old Native American pottery and other artifacts. ALDOT approached South Alabama and asked the archaeological center to manage the preliminary work.
According to Dr. Phil Carr, the Chief Calvin McGhee Endowed Professor of Native American Studies and professor of anthropology at South, the staff and students are doing a great job unearthing remnants to help tell the stories of life many years ago.
"This is a significant opportunity for our current students and recent graduates because the majority of archaeologists in the U.S. are employed in Cultural Resource Management," Carr said. "This project provides the kind of experience necessary to be successful in the CRM industry. We are working to provide these crew members with various opportunities, including conducting excavations, processing materials in the lab, conducting analysis and writing reports. This project also provides them the opportunity to work on sites of various time periods from thousands of years ago to colonial times to the 20th century."
The student crew members are all in agreement that working on the excavation sites and making discoveries is like making history every day. While carefully and patiently peering through layers of soil, Jeremy Pruit, anthropology major from Tuscumbia, Ala. and a graduate of Colbert Heights High School, recalled loving archaeology at the age of five.
"Both my grandparents loved history," he smiled and said. "And, they shared their passion with me. I have traveled to many museums and historic places with them. I am a former Eagle Scout and I am learning so much by working on this project with Dr. Carr and the crew. We are receiving real-world experience."
Emily Overmyer of Saucier, Miss., an anthropology major at South, also became fascinated with archaeology at a young age while being home-schooled. While standing in one of the units which is filled with soil and artifacts, Overmyer shared why she wants a career in medical archaeology, and knows this project will help her gain more experience.
"I enjoy working in nature and making discoveries," she noted. "Archaeological work is a slow and tedious process, but when you find an artifact, it's all worth it. My goal is to pursue a dual degree and earn my Ph.D. in medical anthropology and public health. I would like a career with a humanitarian aid organization. I know the work I am doing on this project will help me as I pursue my doctoral degree and begin my career."
Anne Dorland of Mobile is serving as the field site manager at the Bayway excavation site. She is pursuing her master's degree in the College of Education and Professional Studies at South. She is focusing on archaeology and outdoor education programs and working as a graduate assistant with Carr.
As an alligator slowly cruised by in the creek nearby, Dorland explained the excavation process.
"While working in the several squares of excavation units that range in size, we get to see a couple of alligators floating by while we work," Dorland noted. "Inside the units, there are layers of soil. We are looking deep within the unit at the stratigraphy, which shows us that the older artifacts are below the newer ones."
Once collected, the artifacts are transported to the archaeology lab on USA's campus.
ALDOT and South Alabama have worked on numerous projects together, and the pre-construction surveys and reports will be vital to the Mobile River Bridge and Bayway project.
"We were pleased to be able to work with South Alabama on this important project," said William Turner, archaeologist and assistant environmental coordinator for the environmental section of ALDOT. "The work done by Dr. Phil Carr and his crew is outstanding and needed at this phase of the project. We have had a great working relationship over the years, and we are looking forward to the information they will provide us."
Each student who is a crew member understands their role in exploring to find the artifacts with the guidance of South anthropology faculty and the staff of the South Alabama Center for Archaeology Studies.
"Dr. Carr and other faculty in anthropology have been great mentors to me and all students," Overmyer said. "I am excited to be a member of the crew on this project. The work we are doing puts me in a place of discovery, and I love that feeling. With this work, you have to focus on the details, be patient and understand the process. Then, you find a piece of history."
---