Keeping Up With the World's Fastest Human
---
Posted on July 14, 2017
Marketing and Communications
---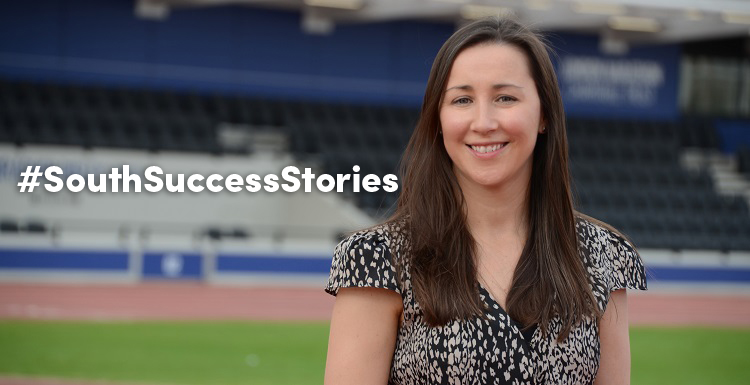 Gráinne O'Dea attended the University of South Alabama on a track and field scholarship and graduated with two degrees before taking a job at Pace Sports Management in London. Bottom photo: Pace Sports Management representatives, including Gráinne O'Dea, celebrate with Usain Bolt after his win in the 100m at the IAAF World Championships in Moscow in 2013. Photos courtesy of Gráinne O'Dea.
---
#SouthSuccessStories is an ongoing series featuring University of South Alabama alumni who are life-savers, innovators, game-changers, music-makers and creative-thinkers, successful in their careers and supportive of their communities.
Gráinne O'Dea goes through passports the way her clients go through shoes. She keeps running out of space for visa stamps from the countries she visits. "They fill up quite quickly with all my travels," she said.
O'Dea, who pronounces her first name "GRON-yuh," came from Raphoe, Ireland (population about 1,150), to the University of South Alabama on a track and field athletic scholarship in 1998. She left in 2006, with a bachelor's degree in physical education and a master's in exercise science, to take a summer job with Pace Sports Management in London.
She's still at Pace, helping to manage the careers of more than 50 of the world's top track and field athletes — including the most famous of them all, star sprinter Usain Bolt. "I love the industry, and I love what I'm doing," she said. "I love the company I work for because it's quite a small, close-knit group. We all get along very, very well."
From her base in London, she goes wherever her clients go, to competitions in Monaco, Greece and elsewhere across Europe, in Rio de Janeiro, in Qatar, in Beijing and Shanghai, in New York and Boston, and everywhere else the global sport of track and field takes her. "There's not a lot of opportunity for walking around all these places," she said, "but you do have a little bit of time to get a little bit of a taste of the world that we live in."
Sightseeing takes a back seat to helping her athletes. "You're there just to make everything else easy for them so they can concentrate on what they're there to do," O'Dea said from her hotel room in Boston, where she had traveled for the adidas Boost Boston Games. "Like today, I've got the phone numbers of family members so the athlete can focus on the race, and I've got their tickets for their mom and their dad and their uncle and their brother and whatever."
Everyone on the Pace staff is a former (or, in one case, current) competitive track and field athlete. At South, O'Dea ran 800-meter, 1,500-meter and cross-country races. Current USA Head Coach Paul Brueske was a teammate, competing in the hammer throw and shot put.
O'Dea treasured her seven years at South. "I was enjoying being a part of the University, so I wasn't rushing through to get out of there," she said. Dr. Joel Erdmann helped give her an idea of where her life path might lead.
Erdmann, now South's athletics director, was a member of the Health, Physical Education and Leisure Studies Department (now Health, Kinesiology and Sport) from 1995 to 2002 as an assistant and then associate professor. "He was really passionate about sports administration," O'Dea said. She got interested, too. "I came away from that still not really realizing where I was going or what field I would get into, but certainly there was the passion there that really resonated with me."
Erdmann remembers her as a student and has kept in contact. "The impression she made on me was that she was an incredibly bright young lady who had all those intangible characteristics that you look for in a young adult that will likely lead them to success," he said. "She had tremendous relationship skills with her peers, her teammates and her classmates. Always an upbeat and positive attitude."
In O'Dea's last year at South, an old friend called. She and Ricky Simms came from the same area and ran as youths for the Finn Valley Athletics Club in Stranoriar, County Donegal, Ireland. Simms had become a sports agent and a director at Pace. Two of his clients, athletes from Kenya, were running that year in Mobile's Azalea Trail Run, a top U.S. 10K road race. Could she find them an apartment near a supermarket, a park (for workouts) and a church?
"When I managed to do all that," O'Dea said, "Ricky sent me an email and said, 'Thanks a million for your help. That was superb. And what are your plans now?'" He offered her the summer job at Pace that launched her career.
O'Dea markets her athletes. On their behalf, she fishes for endorsement deals and such perks as free use of a car and free access to a gym during events. She works with race organizers, negotiating appearance fees and trying to place her clients in races. Pace represents athletes from Jamaica, Kenya, Uganda, the United Kingdom and the United States.
The client roster includes such stars as Matthew Centrowitz of the United States, the 2016 Olympics 1,500 meter champion, and Somali-born Sir Mo Farah of the United Kingdom, the 2016 Olympics 5,000 meter and 10,000 meter champion. None is more in demand than Bolt, 100-meter and 200-meter world record holder and exuberant lover of life.
"He's actually very well-liked in the sport, whether it's among his peers or the organizers or everyone," O'Dea said. "He's really a genuinely very nice guy. Very polite. Very mannerly. Good respect for women. He's honestly a true gentleman."
At photo shoots, she said, she makes sure to bring a soccer ball, a PlayStation video game console, maybe some dominoes so Bolt can stay loose during the downtimes. "He just likes to have a fun life," she said. "Doesn't want things to be too serious or too stressful."
Even when she's not hanging out with the world's fastest human, O'Dea finds her job so fascinating that she can't imagine doing anything else. "It's really nice," she said, "to get up every day and really enjoy what you do."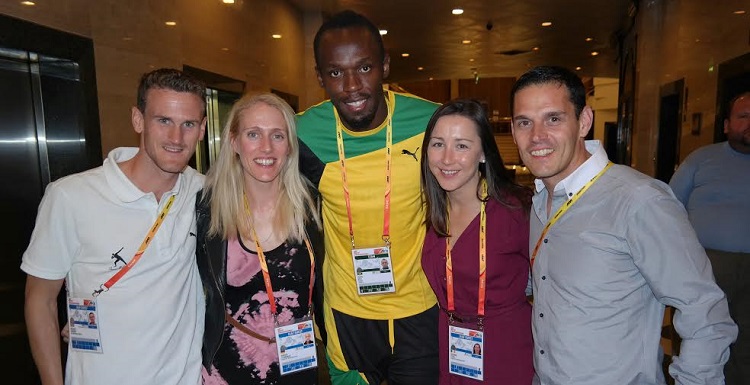 ---