Mitchell Family Internationally Recognized for Philanthropy Benefiting the University of South Alabama
---
Posted on July 16, 2018
Julie Jackson
---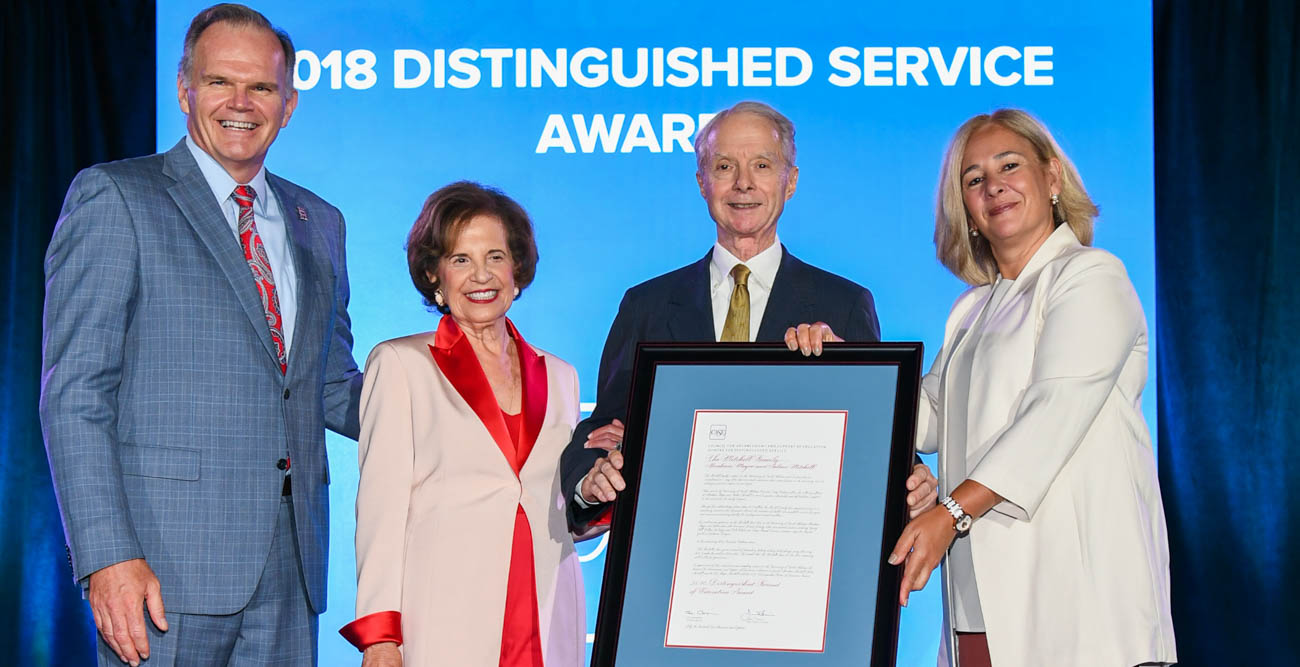 Arlene Mitchell, center left, and Abraham "Abe" Mitchell, center right, were recognized, along with the late Mayer Mitchell, for their philanthropy during a Monday awards ceremony by the Council for Advancement and Support of Education. On stage with them are James T. Harris, president of the University of San Diego and chair of the CASE Board of Trustees, and Sue Cunningham, president and CEO of CASE.
---
The late Mayer Mitchell, his wife, Arlene Mitchell and his brother, Abraham "Abe" Mitchell, were recognized Monday with one of the highest honors given by the Council for Advancement and Support of Education (CASE) at an event in New York City.
CASE is an international membership association serving educational institutions and the advancement professionals who work on their behalf. Their annual Distinguished Friend of Education Award honors an individual(s) whose volunteer service has helped to advance education at an educational institution—even though he or she is not a graduate of that institution.
For more than 40 years, the Mitchells have served as trusted leaders, visionaries, advocates, advisers and benefactors of the University of South Alabama. They have had a transformational impact on both the University and the USA Health system, giving of their time, talent and treasures. Over the course of more than four decades, Mayer, Arlene and Abe Mitchell have made charitable contributions to USA totaling more than $108 million. In 2013, Abe Mitchell announced a $50 million commitment – the largest gift in University history – to the Mitchell College of Business and the Mitchell-Moulton Scholarship Initiative to increase access to University education. He dedicated half of this gift as a matching challenge to raise an additional $25 million for undergraduate scholarships. Through this challenge almost 5,900 gifts have been received, nearly 200 new scholarships have been endowed and 168 existing funds have expanded. "Abe has transformed opportunities for our undergraduate students and he continues to advocate on behalf of the University," said USA President Dr. Tony Waldrop.
The Mitchells' service to the University goes back to 1975, when Mayer Mitchell was appointed by the governor of Alabama to serve on the USA Board of Trustees. During his 32-year tenure on the board, including three years as chair pro tempore, Mitchell, co-founder, with his brother Abe, of the real estate development firm The Mitchell Company, was instrumental in providing the leadership and vision to move the University forward academically and as an economic engine for the region. "Through Mayer's dedicated work in Montgomery and Washington, the University was able to construct Shelby Hall, our state-of-the-art building that houses the College of Engineering and School of Computing," said Waldrop. "The type of leadership that
Mayer provided is so valuable to an institution such as ours, and his legacy looms large."
Diagnosed with Hodgkin's disease at age 36, Mayer was passionate about ensuring that all cancer patients, regardless of resources and socioeconomic status, would be able to receive outstanding care close to home. He effectively advocated elected officials at the local, state and federal levels to secure almost $50 million to establish the only academic cancer research and treatment facility in the region. In 2006, the Mitchell family provided a $22 million gift resulting in the naming of the USA Mitchell Cancer Institute.
Although Mayer did not live to see the completion of the USA Mitchell Cancer Institute, the Mitchell family continues to honor his commitment to cancer research through two endowed chairs including the Arlene and Mayer Mitchell Endowed Chair in Medical Oncology and the Abraham A. Mitchell Endowed Chair currently held by the Institute's director. Additionally, the Mayer Mitchell Award for Research Excellence and the Abraham A. Mitchell Cancer Research Scholars provide for the advancement of scientific knowledge.
Abe Mitchell continues to serve as a friend and adviser to University leadership. He has served on the leadership teams of two comprehensive fundraising campaigns and is a member of the USA Mitchell College of Business advisory council and the USA Mitchell Cancer Institute development council. He regularly engages with students to encourage academic success and professional development.
Arlene Mitchell, upon Mayer's death in 2007, accepted appointment to the USA Board of Trustees, where she continues to serve and lead. She led USA through the successful conclusion of its first comprehensive fundraising campaign, a presidential search and transition, and the preparation and launch of a second major fundraising campaign in 2015. Arlene continues to serve on the development councils for the Mitchell Cancer Institute and Children's and Women's Hospital and is a volunteer in the neonatal intensive care unit at USA Children's & Women's Hospital. "Arlene has provided tremendous service at the highest levels of University life, but it is what she does for the most vulnerable members of our community—the babies in our neonatal intensive care unit—that is perhaps the best reflection of her character and kindness," said USA Board of Trustees Chair pro tempore Kenneth O. Simon.
"The Mitchells' remarkable financial commitments to the University only tell part of the story," said Waldrop. "Their advocacy, influence and wise counsel have enabled us to accomplish so much more. The example the Mitchells have set for this community will be felt for generations."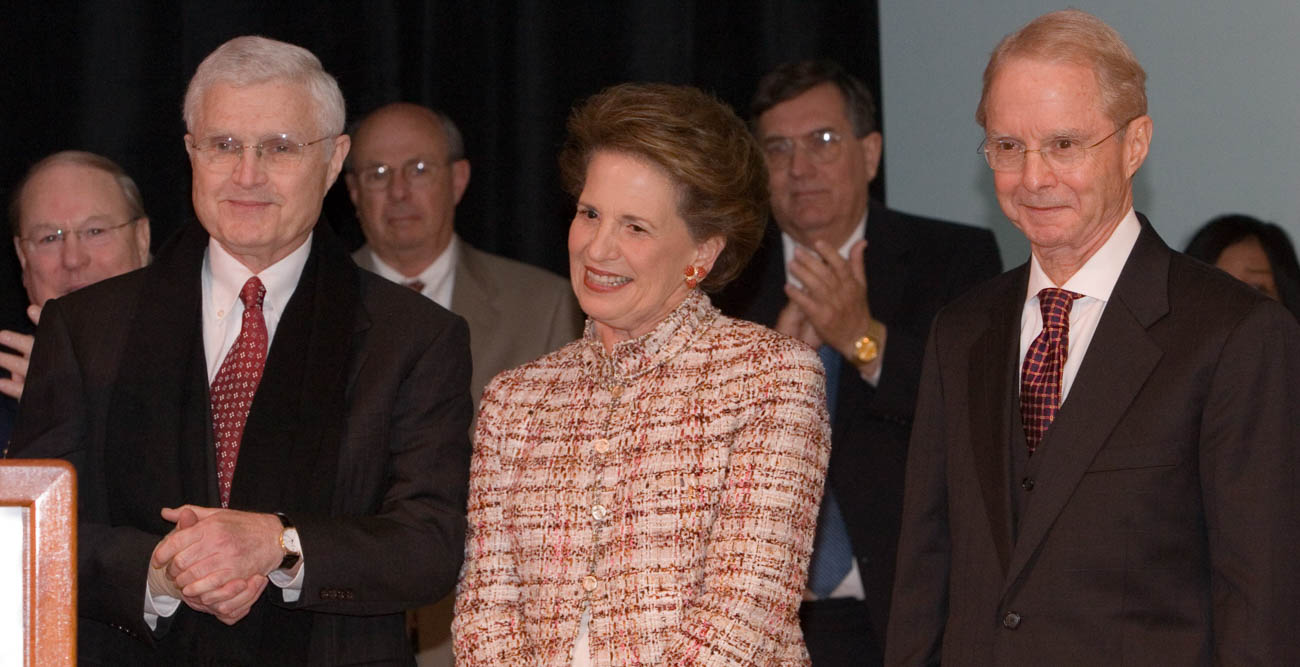 The late Mayer Mitchell, left, his wife, Arlene Mitchell, and his brother, Abraham "Abe" Mitchell, were recognized Monday by the Council for Advancement and Support of Education. In this photo, from 2006, the family helped kick off USA's first fundraising campaign with a $22 million commitment.
---