South Awarded $3.8 Million for Ionic Liquid Research
---
Posted on July 19, 2019
Alice Jackson
---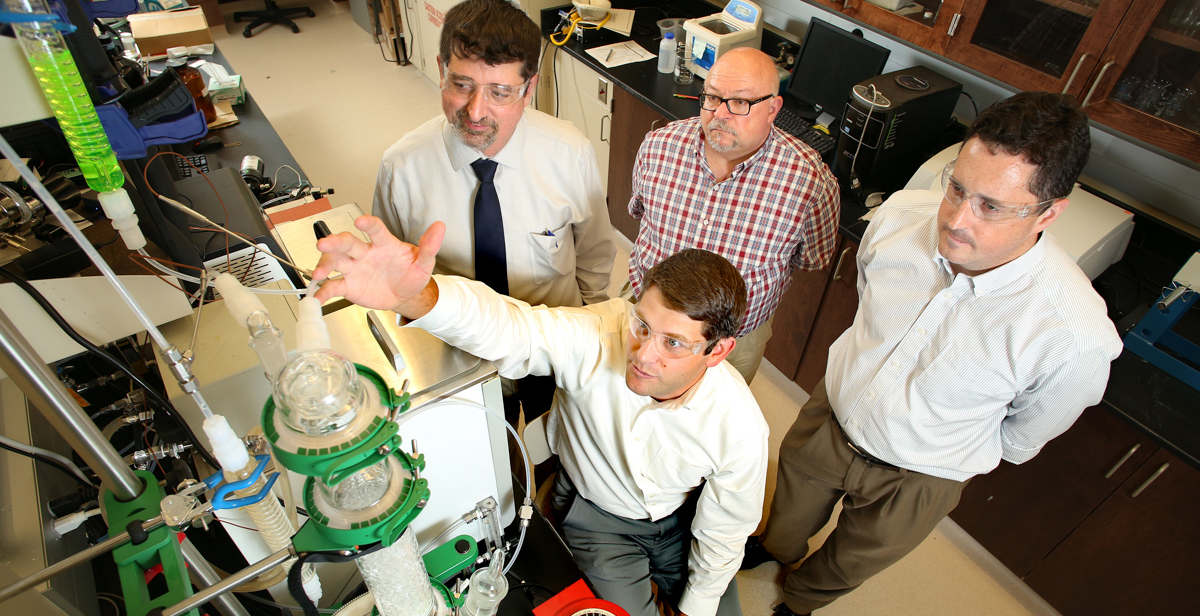 Dr. T. Grant Glover, seated, demonstrates an early-stage prototype of the next-generation carbon dioxide scrubber being developed for the International Space Station. Colleagues Dr. Matthew Reichert, from left, standing, Dr. James Davis and Dr. Kevin West are colleagues on the research project, which is financed by a $1.1 million grant from NASA.
---
Ionic liquid researchers at the University of South Alabama are reaching for the stars with a NASA grant of $1.1 million, while keeping their focus earthbound with a $2.7 million grant from the Department of Energy. The two grants total almost $4 million, the largest funding awards for ionic liquid research in the University's history.
The NASA grant is for the use of ionic liquids in development of the next-generation carbon dioxide scrubber for the International Space Station, as well as for future space travel to Mars. The DOE grant focuses on developing more energy efficient technologies for use on earth.
Ionic liquids are salts in a liquid state, and they are frequently referred to as "solvents of the future," or "designer solvents" because of their potential to replace environmentally unfriendly liquids used to dissolve other substances.
The two grants mark a significant milestone in the recognition of research conducted at South, according to Dr. Matthew Reichert, assistant vice president for research and associate professor of chemistry.
"This means that South is becoming a nexus for ionic research," Reichert explained. "Our research track record and the talent we have attracted here in the field of ionic liquids has led to these grants."
Dr. James Davis, professor of chemistry, agreed, saying "We believe that South has the highest concentration of tenure track people working on ionic liquids of any university in this country." He added that the DOE grant "will have a much broader scope" than the NASA scrubber grant and, hopefully, a positive impact on the planet's energy use.
"For example, much of the energy we presently use is for separating chemical compounds, such as with refining, which uses enormous energy. We hope that by using ionic liquids we can do it without so much energy expenditure," Davis said.
Davis and Reichert are researchers on both grants, along with Dr. Kevin West, professor of chemical and biomolecular engineering. Dr. T. Grant Glover, associate professor of chemical and biomolecular engineering will join them on the NASA grant research. Dr. Christy West, associate professor of chemical and biomolecular engineering, and Dr. Brooks Rabideau, assistant professor of chemical and biomechanical engineering, will work with them on the DOE grant research.
Aboard the International Space Station, the existing carbon dioxide scrubber, which is about five-and-one-half feet tall, takes up a great deal of precious space. But, without it, the astronauts would die from the carbon dioxide they exhale. NASA wants a much smaller and more efficient unit that not only scrubs carbon dioxide, but breaks the carbon compounds down more efficiently to be used in other ways, such as feedstock.
Besides the space station, the new scrubber could also have applications in other closed environments, such as submarines.
"We still have a lot of fundamentals to do as well as test evaluations, but I think we are confident in our technology," said West.
The research project will bring new learning opportunities for both undergraduate and graduate students. Several students in one of Glover's classes have already developed an early-stage prototype.
"It will be a completely different approach to air revitalization," Glover said.
---