Mitchell College Graduate Turns Internship into First Job
---
Posted on July 20, 2022
Thomas Becnel
---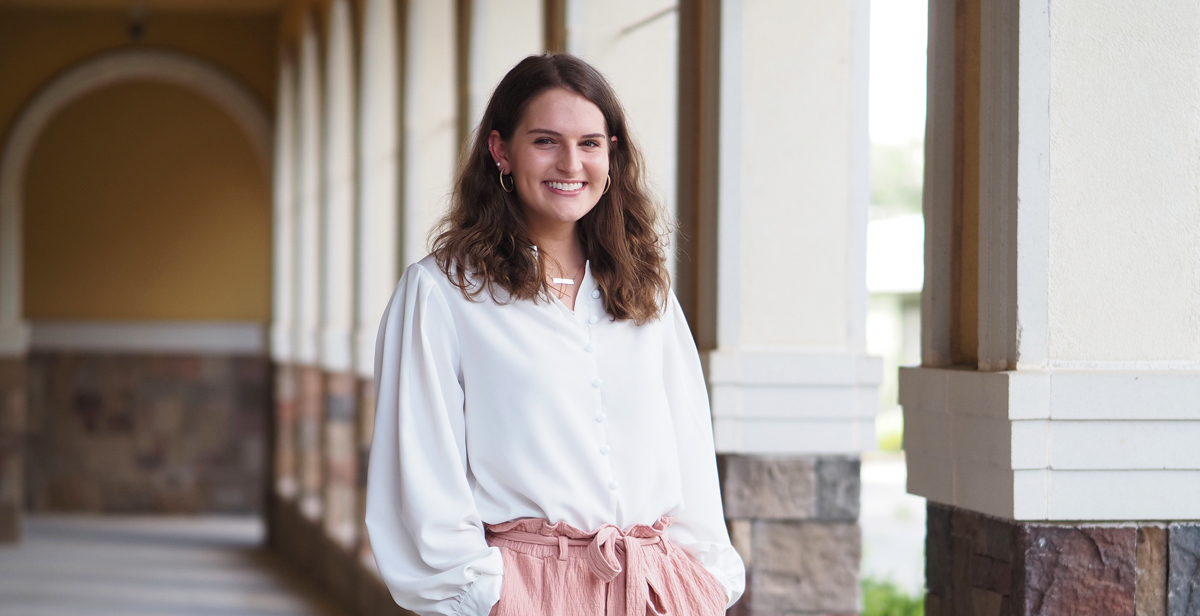 Jensen Graddick is a senior human resources specialist for the City of Daphne. She began an internship with the city while a junior in the Mitchell College of Business, then accepted a job even before she graduated. "It all fell into place," she said.
---
#MyFirstJob is a series focused on University of South Alabama graduates who are beginning their careers.
Jensen Graddick grew up in Daphne, crossed Mobile Bay for high school and college, then returned to the Eastern Shore to begin her career in human resources. She's seen first-hand the effects of a hot labor market.
During her junior year in the Mitchell College of Business, she began an internship with the City of Daphne.
When a human resources specialist retired before her final semester at South, the city hired Graddick before she even graduated. After six months on the job, another person in the department left, and she became a senior human resources specialist.
"I thought maybe, fingers crossed, something would come open, but I never dreamed all of this would happen," she said. "It all fell into place."
Graddick, 21, started out studying psychology at the University of South Alabama. When she turned to business, she discovered an interest in human resources.
"Psychology is part of that, interacting with people, recruiting and working with employees," she said. "When I got the internship, it felt like a good fit."
Mardi Gras Family History
Graddick's father is a project completion manager for a nuclear power company. Her mother is an assistant teacher at Christ the King Catholic School in Daphne.
Her family has lived in South Alabama for several generations.
"My great-great-great grandfather designed some of the very first Mardi Gras floats," Graddick said. "They have some of his sketches in the Mobile Carnival Museum."
The Eastern Shore was more rural and quiet when she was a little girl. She and her brother went fishing with her dad. She remembers taking second place in a Young Anglers Tournament on Dauphin Island.
After graduating from McGill-Toolen Catholic School, she and her friends chose to attend South. It was close, but not too close. Now she lives in Mobile and commutes to the Eastern Shore, which is easier than the other way around.
"That's the secret," she said. "I take the Bayway in the morning and the Causeway on the way home. And now I take the little tunnel to Midtown."
From South to Daphne
Graddick lived on campus at South, then moved into an apartment just off University Boulevard.
She had a student job with the Computer Services Center. She enjoyed pizza in the school dining hall. She spent her share of time in the Marx Library.
"I liked the first floor in the commons area," Graddick said. "I'd try to snag a study room when I could."
In the Mitchell College of Business, Graddick found mentors in Dr. Treena Finney, professor of management, and Dr. Kelly Woodford, associate dean.
As a sophomore, she first saw a listing for a human resources internship with the City of Daphne, but she had to wait until she was upperclassman. Now she has a full-time job and is interested in pursuing a master's degree in business administration.
In Mobile, she enjoys the restaurants, coffee shops and trivia nights of Midtown. In Daphne, she helps look after about 340 full-time employees.
Employment of human resources specialists is projected to grow 10 percent in the next decade, according the U.S. Bureau of Labor Statistics. Graddick said the field suits her. She's comfortable working behind the scenes.
Graddick manages the payroll system and is starting to deal with workmen's compensation issues. She's also helped implement Perform, a new on-line evaluation system.
"People call and say, 'You're the Perform expert, right?' and I'm like, 'I guess,'" she said. "And I've gotten to speak about it at the Public Works Department. So it's nice having that knowledge."
---