Engineer Rolls to General Motors
---
Posted on July 21, 2020
Thomas Becnel
---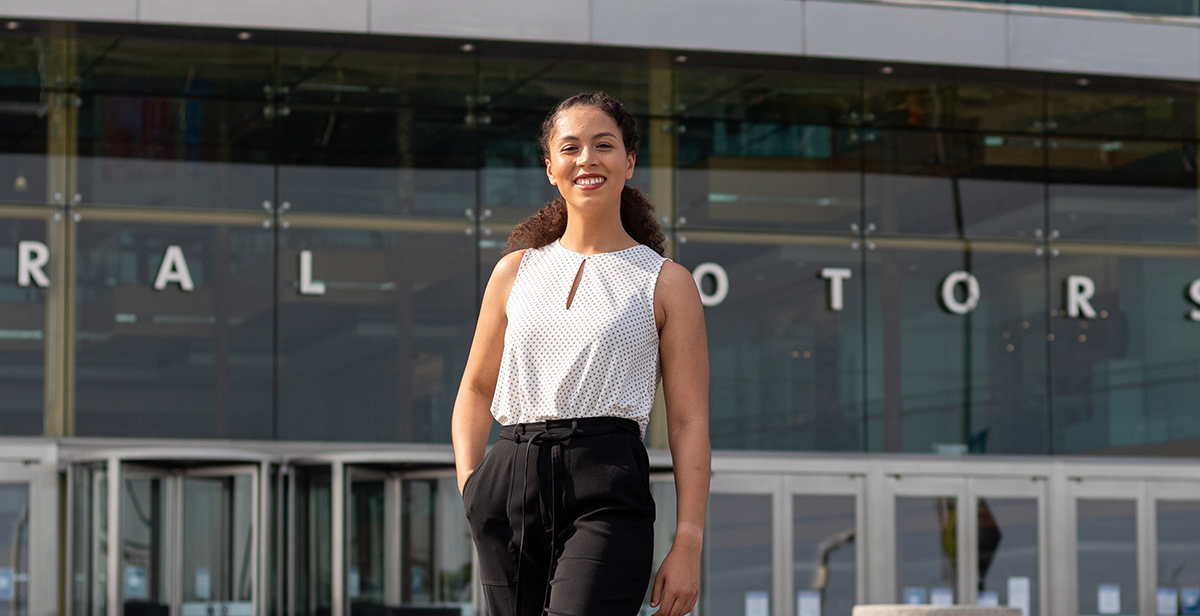 Gaelyn Angus-Barker, who graduated from the University of South Alabama with a degree in mechanical engineering, is in a two-year program at General Motors that includes four six-month rotations in different positions.
---
#MyFirstJob is a series focused on University of South Alabama Class of 2020 graduates who are beginning their careers.
On the drive to Detroit for her job with General Motors, Gaelyn Angus-Barker crossed a bridge into Ohio with a light heart and heady sense of adventure.
"I could swear the sky looked different," she said. "It was pouring most of the way, and then it was clear, and I could see the sky and the clouds. I'm like, 'This is it. I'm almost there.'"
In May, Angus-Barker graduated from the University of South Alabama. In July, she moved into an 11th-floor apartment in downtown Detroit. "I'm a big-city girl," she joked.
Right now, she's working from her apartment, too, thanks to the coronavirus pandemic. An easy commute. She and other GM newcomers stay in touch with online messaging.
"My first rotation is as a system safety engineer," she said, "but there's a lot of different positions."
Her two-year program, known as TRACK, will include four six-month rotations. Next year, she might be working on the design of new engines. After that, it could be test-driving or crash-testing new vehicles.
Angus-Barker, 22, grew up in Los Angeles and then Ocean Springs, Miss. School was easy for her and she was allowed to skip 7th grade. She set her sights on the stars.
"When I was a kid, I was convinced I was going to be an astronaut," she said. "I was an avid Space Camp fan. I went all the time."
In high school, she took two physics classes because she enjoyed them so much. She did science fair projects. She was also an Irish dancer who traveled to competitions in Atlanta and across the Gulf Coast.
Scholarship money drew her to the University of South Alabama, where she started in chemical engineering before switching to mechanical engineering. She joined the Society for Women Engineers and the National Society of Black Engineers. She did research on MRI heart scans under the direction of Dr. Julia Kar, assistant professor of mechanical, aerospace and biomedical engineering.
At South, Angus-Barker spent much of her time at Shelby Hall in the College of Engineering, lived on campus and worked as a desk assistant in Stokes Hall. She tackled all kinds of problems for all kinds of students. She became part of the Jaguar community.
"I got to meet people from all over campus," she said. "I'd see people everywhere and they'd be like, 'Hey, Gaelyn.'"
After three years of engineering classes, she began an internship with International Paper in Rome, Ga., northwest of Atlanta. Her time at the company was extended, twice. She considered it time well spent.
"I got to work in reliability engineering, which was awesome for me, and I learned a ton," she said. "It gave me a lot of experience."
Angus-Barker moved back to Mississippi and returned to South for what turned out to be a virtual graduation ceremony. She began applying for jobs. The General Motors process was an educational experience.
"It was all online," she said, "and there was a virtual interview where a computer asked questions, and then a game session with a memory test, mental math quiz, and pattern-recognition. Then I had a three-hour Skype interview that was so long. I was really nervous, but I guess they liked me."
She accepted a job offer and planned her move to Michigan. Her downtown apartment is near a tunnel connection with Canada, where her mother was born. For now, the summer weather in Michigan is fine, but she knows there will be weeks of freezing temperatures this winter.
"I have one parka, but I'm not ready," she said, laughing. "I know I'm not ready."
Angus-Barker drives a Chevy Cruze, so she's already a customer of the company that employs her. She jokes that it will become her project car. Her career is just getting started.
During the GM job interview, she talked about how much she loves to travel. One manager asked about the prospect of working overseas, perhaps in China. Her answer was that sounded great.
"I want to be out of my element," Angus-Barker said. "I want to see something new."
---