South Program Gives Entrepreneurs a RAMP to Growth
---
Posted on July 21, 2020
Thomas Becnel
---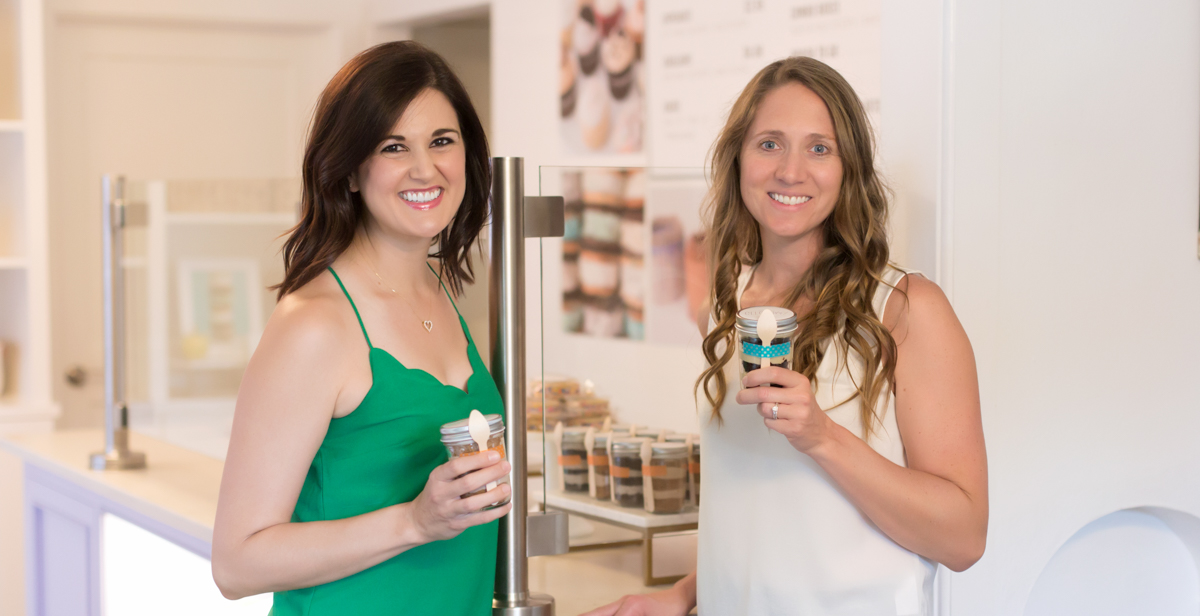 Jennifer Conrad, left, a University of South Alabama graduate, and Lauren Kapeluck own ellenJAY, a boutique bakery in Midtown Mobile. The two have taken part in South's Real Advice Mentoring Program, RAMP, for help with business planning and growth strategy. Photo courtesy of ellenJAY.
---
On her final day of business in March, thanks to the novel coronavirus, Jennifer Conrad worked out of the parking lot behind the ellenJAY bakery.
When customers pulled up, she walked over to slide cake boxes into the back of their SUVs.
"How's that for service?" she joked. "Thanks for coming by."
Conrad has a bachelor's degree in economics from the University of South Alabama, along with a master's degree in economics from Tulane, but she dressed down for delivery duties. Running shoes, shorts and an ellenJAY T-shirt. She and her business partner, Lauren Kapeluck, were training for a marathon when they first got the idea for a boutique bakery in Mobile.
The Midtown shop opened six years ago and has grown steadily. In 2019, ellenJAY had eight employees and did $350,000 worth of sales. The company ships cookies nationwide and plans to begin selling franchises.
Last year, the ellenJAY founders turned to South and RAMP — the Real Advice Mentoring Program — for help with business planning and a strategy for growth. The Mobile service, licensed by the Massachusetts Institute of Technology, matches emerging entrepreneurs with all-star teams of local business mentors. In 2019, the University of South Alabama Foundation for Research and Commercialization was awarded a $10,500 grant by BBVA for the purpose of supporting RAMP.
"We know what they have to say is valuable," Conrad said. "It's not one big thing. It's a million little things."
Michael Chambers, the executive director of RAMP, is associate vice president of research innovation at South. For him, mentor training at MIT was an eye-opener. The emphasis was on in-person meetings with several advisers having different areas of expertise, with specific recommendations after each session.
"It was a whole new concept of mentoring," Chambers said. "This is a team-based approach. I'm very proud of South for taking the lead here. We'd like to help as many local businesses as possible. It's all about economic development in Mobile."
Partners in RAMP include USA's Melton Center for Entrepreneurship and Innovation, Mobile County, the City of Mobile and the Mobile Area Chamber of Commerce, along with the Alabama Small Business Development Center and Innovation PortAL. Mentors for RAMP include Brent Barkin, CEO of Shoe Station; Denise Browning, founder of Hunter Ventures; and Abe Harper, president of Harper Technologies.
"Mentoring is so critical to an organization's growth and development, and our visit to MIT provided a model we are able to implement in our community," said Dr. Donald Mosley Jr., executive director of the Melton Center and professor of management, who played a key role in launching RAMP.
All growing companies are different, but many face the same challenges. RAMP clients ask about everything from raising money and hiring lawyers to leasing space and expanding staff. Mentors try to help them avoid rookie mistakes such as growing too quickly and becoming overextended.
"In the early stages, it could be deciding issues of corporate structure or building a team," Chambers said. "A lot of companies want to start a team or buy space before they really need to."
Terry Harbin, market president of BancorpSouth in Mobile, is a RAMP mentor. He says most new businesses have growing pains. All of them have strengths and weaknesses.
Starting a company often requires pluck, enthusiasm and salesmanship. Building a business sometimes means shifting gears, learning patience and tweaking strategy.
"With a lot of entrepreneurs, the biggest problem is getting them to focus on one thing," Harbin said. "That's a big-time problem, an age-old problem."
He can remember working with tech start-ups back in the 1980s. He saw the best and the worst of the boom. Now, with RAMP in Mobile, he's advising several small businesses.
One of them is LEVELD, an app-based platform similar to Airbnb and Uber, which allows people to rent out their tools and equipment as an additional source of income. The founder of the company, a mechanical engineer named Matthew Gray, has been receptive to new ideas and different perspectives.
"The people who are most successful in the program" Harbin said, "are the ones willing to learn and willing to be redirected."
'A Better Way'
Gray grew up near Mobile, went out of state for college and became an engineer, then returned to Alabama with LEVELD.
He's learned to talk about things like KPI — key performance indicators — but his business idea began with a customer complaint. His complaint. About improving the tool-renting experience.
"I'm a do-it-yourself kind of guy myself," said Gray, 32. "I was doing some real estate refurbishment and ended up renting from a big box retailer. I thought, man, there has got to be a better way."
In addition to his engineering career, he dedicates a large portion of his time focusing on LEVELD. He began working with RAMP. Mentors helped him rethink market niche and some of his basic assumptions for the company.
"You know, maybe it's not price point that we're after," Gray said. "Maybe it's convenience and building partnerships with hardware stores and homeowners."
In 2020, he was selected for a 13-week Birmingham start-up program, Velocity Accelerator, that provided $50,000 in seed money for the company. More encouragement. Things are moving forward for LEVELD.
"It's exciting," Gray said. "And it's super-scary, putting your money and your time into something that might not work."
'Gooder Than Sugar'
Mel Washington, regional manager of the Small Business Development Center, has advised Mobile manufacturers, technology companies and marketing firms. He recommended ellenJAY for RAMP.
"I'd been working with them for about three years, but I felt strongly that they needed to hear another voice in addition to mine," he said. "I think ellenJAY is our first retail store, so that was different. We love the idea of having a diversity of businesses."
Having Conrad on the business side is an advantage. Not many entrepreneurs have master's degrees in economics, noted Chambers.
"Her background is not typical," he said. "She started ahead of the curve. Your typical mom-and-pop, they might not have that financial experience."
Conrad and Kapeluck never lacked ambition for ellenJAY. They always wanted to be more than a boutique bakery in Midtown Mobile. From the beginning, they wanted to go national and franchise.
"Once we decided to do it," Conrad said, "it was done."
The name ellenJAY came from the initials of their first name. The business slogan — "Nothin's gooder than sugar" — came from Kapeluck's young son.
The bakery started out doing custom orders, anything people wanted, but shifted to menu-based options. Doing that made it easier to plan, budget and operate. And it didn't cost them their customer base in Mobile.
Last year, ellenJAY began selling cookies through the Williams Sonoma website for upscale cooking supplies. They do a lot of business during the Christmas season. Now they're trying to streamline recipes and store procedures to prepare for franchising.
The bakery remains a lean business. Conrad and Kapeluck still work out of a converted house on Airport Boulevard. Inside the back door of the bakery is a sign — "#MOPUSOUT" — that reminds everyone to clean up before they leave the place.
Every month or so, they meet with mentors and talk about the latest items on their checklist. The coronavirus pandemic is just the latest interruption to businesses such as ellenJAY. There is always something to worry about when starting from scratch.
"It's a million times harder than I thought it would be," Conrad said, laughing. "I don't think anyone knows what they're getting into. But it's also 1,000 times more fun than I ever imagined."
---