USA Nursing Grad Gets in Fast-Paced Routine at University Hospital
---
Posted on July 28, 2020
Thomas Becnel
---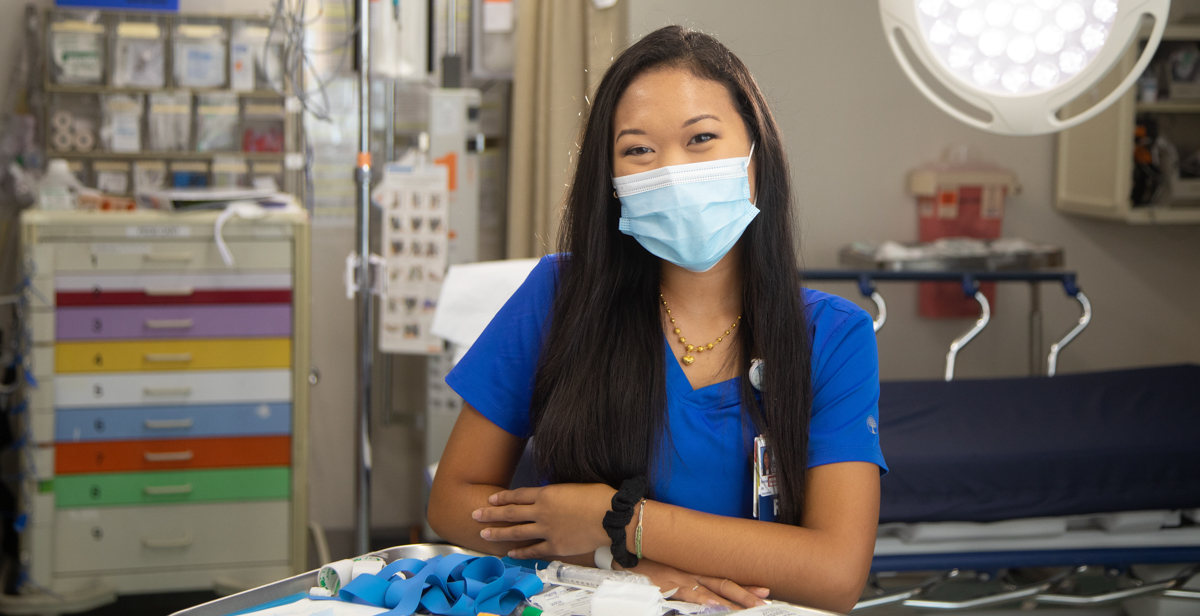 Serena Thidasongsavanh works as a nurse in the emergency department at USA Health University Hospital. Compared with other academic medical centers in the United States, the University Hospital emergency department handles some of the most complex and challenging cases requiring the highest level of care.
---
#MyFirstJob is a series focused on University of South Alabama Class of 2020 graduates who are beginning their careers.
After just a month on the job, Serena Thidasongsavanh has learned the rhythm of life as an emergency room nurse on the night shift at USA Health University Hospital.
Sometimes it's fast.
"So much is going on in the moment, you're not even processing," said the University of South Alabama graduate. "Just the adrenaline of being there keeps me on my toes."
Sometimes it slows down.
"It's very overwhelming, when people are coming in, but there's usually a lull around 3 a.m.," said the 22-year-old. "Then it gets busy again in the morning."
Sometimes it's hard to gear down. Thidasongsavanh will work day shifts, too, during her training. It's all part of her orientation at University Hospital, where, compared with other academic medical centers, the emergency department handles some of the most complex and challenging cases requiring the highest level of care.
"Every day in the emergency room, I see something new," she said. "That fast pace, you know, I've always been that kind of person. I feel like I thrive in that kind of environment."
Thidasongsavanh often goes by her first name, Serena; her last name is difficult for people to pronounce. Pro tip: the first H is silent. "Tee-duh-song-duh-von" is about right.
"People say all kinds of things," she said, laughing. "It's usually not very close."
Thidasongsavanh's parents are from Laos and Cambodia. Her mother is in sales. Her father works in a nail salon. Their daughter is the first college graduate in the family.
"They're very proud of me," she said. "My dad brags about me to all of his clients."
In Montgomery, Thidasongsavanh attended Brewbaker Technology Magnet School, which has a medical academy. She got a head start on her career in nursing.
"It was a big advantage going into college, definitely," she said. "I learned a lot about healthcare and medical terminology when I was 14."
In the College of Nursing, a rigorous curriculum tested her commitment. Students at South take pride in working through long hours of study and practical training.
"It made me think about the future and ask if this is what I wanted to do," she said. "It was a big reality check. You have to keep pushing through it. Toward the end, I figured out what I wanted to do and what my passion was."
At South, she lived in a residence hall for a year before moving into an apartment. She joined the Student Nurses Association. She also worked part-time.
At the Alabama Outdoors store, Thidasongsavanh sold gear to hikers and campers. At the Student Rec Center, she welcomed classmates at the front desk. After work, she found time to lift weights and meet friends at the pool. The coronavirus pandemic interrupted that routine.
"The Rec Center is supposed to reopen in a few weeks," she said. "I'm excited about that."
After graduating from South in May, Thidasongsavanh looked for jobs in nursing. She wanted to work in an emergency room. She decided to stay in Mobile.
"It's a big city, but not too big," she said. "I like going downtown during the day. I love the art and the murals all over the place. Going to all the shops is fun."
In the emergency room, Thidasongsavanh wears running shoes to cushion the strain on her body. Sometimes she works 16-hour shifts. Energy and enthusiasm help her make it through the night.
Later in her career, she would consider going back to graduate school. She likes the idea of becoming a clinical instructor for young nursing students.
As a young nurse, she's happy with her career choice. Thidasongsavanh works with a half-dozen other recent South graduates. They share the emergency department with many older colleagues. Everyone wears royal blue scrubs. Later this year, they are scheduled to move into the new Fanny Meisler Trauma Center, the only Level 1 trauma center in the area.
"We're always working as a team," she said. "There's always someone there with you, and my coworkers feel like family."
---