Fungi, Fertilizer and 'Nature'
---
Posted on July 28, 2021
Thomas Becnel
---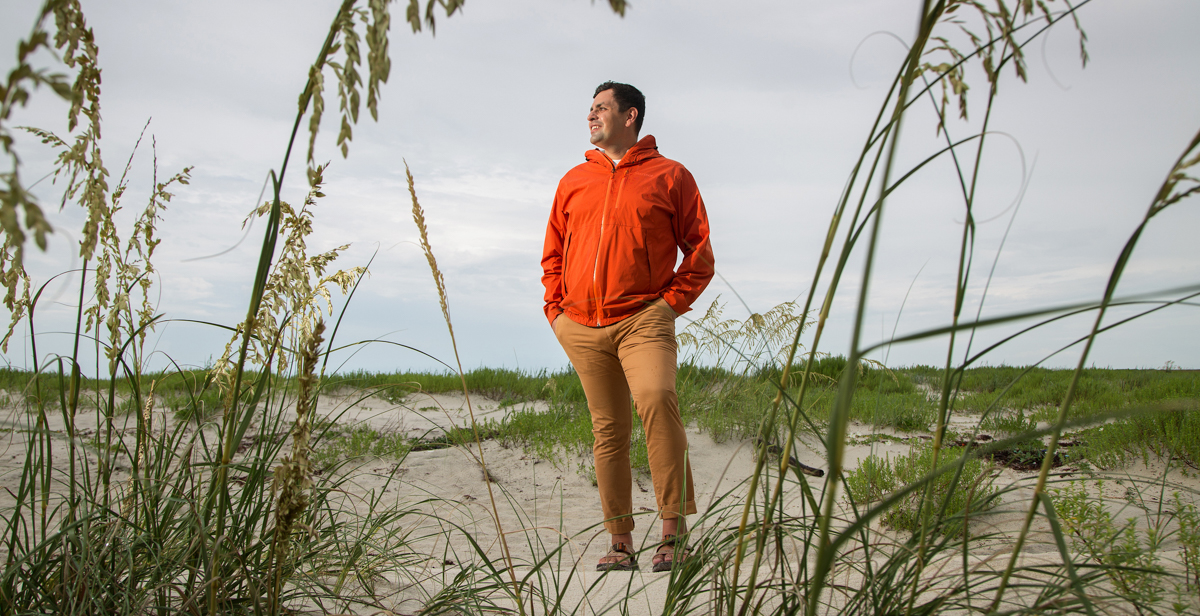 Dr. Jeremiah Henning, assistant professor of biology, will study how nutrient addition and disturbance events such as hurricanes alter plant communities and how ecosystems function. The research could have important implications for coastal areas, such as Dauphin Island, where Henning will conduct some of his research.
---
In just two years at the University of South Alabama, Dr. Jeremiah Henning found a home for his biology research in the grassy sand dunes near the west end of Dauphin Island.
"Before I arrived, I knew I wanted to transition to dune environments," said Henning, a 37-year-old assistant professor and Wisconsin native. "Dauphin Island is close by. The town has been receptive to me conducting research across the island. And it's a great place to get students plugged into research with the Nutrient Network."
That network is a global research cooperative of scientists studying the long-term effects of fertilizer on grassland sites distributed across five continents. Studies have shown that adding nutrients to soil increases plant size, but also decreases biological diversity and reduces beneficial bacteria and fungi.
What's true for grassland environments around the world is true for lawns along the Gulf Coast, Henning said. Because lawn grass roots only go down a few inches in the soil, most fertilizer applied to lawns quickly runs into the surrounding natural ecosystems, which reduces the diversity of plants in the area. Alternatives to fertilizer application in lawns include a less-is-more strategy and the use of more slow-release fertilizers.
This summer, Henning was one of 10 co-authors on a paper, "Nitrogen and phosphorous fertilization consistently favor pathogenic over mutualistic fungi in grassland soils," published in Nature Communications, a prestigious scientific journal. The main findings of the paper include an increase in root pathogens and a loss of beneficial fungi after application of fertilizers in grasslands globally.
"I knew we had a compelling story and relatively straightforward results, however it is always hard to predict how peer review will go and ultimately what the editors will say," he said. "It was so nice to see the acceptance email. Such a relief."
The lead author of the Nature paper was Dr. Ylva Lekberg, a soil ecologist at the MPG Ranch, a research and conservation organization in Montana. She met Henning and Dr. Carlos Arnillas of the University of Toronto Scarborough at an annual Nutrient Network meeting. They talked about exploring plant-fungal relationships across the Nutrient Network dataset.
"There were times in this process when the three of us were ready to throw in the towel," Lekberg said. "There are always ups and down in research. But Jeremiah is a good collaborator. He's so enthusiastic and supportive. He's always sending e-mails with three exclamation points."
The Nature paper was a stand-alone study that used data from previous research conducting in the Nutrient Network. It did not include results from the grassland dunes that Henning has plotted on Dauphin Island.
Those will be part of the second generation of Nutrient Network sites that will be measuring how nutrient addition and disturbance events – like hurricanes – alter plant communities and how ecosystems function. That could have important implications for Alabama dune communities recovering from hurricanes, protecting us from future hurricanes, and providing habitat for lots of plants and animals.
Professors of mycology have helped students and the general public better understand the remarkable range and ecological importance of fungi such as mushrooms. In "Entangled Life," a 2020 book by Dr. Martin Sheldrake, the English biologist described mycelium as a living seam of connective tissue – a "wood wide web" – with sprawling networks above and below the ground.
"Fungi are everywhere, but they are easy to miss," Sheldrake wrote. "They are inside you and around you. They sustain you and all that you depend on. As you read these words, fungi are changing the way that life happens, as they have done for more than a billion years. They are eating rock, making soil, digesting pollutants, nourishing and killing plants, surviving in space, inducing visions, producing food, making medicines, manipulating animal behavior and influencing the composition of the Earth's atmosphere. Fungi provide a key to understanding the planet on which we live, and the ways that we think, feel and behave."
Henning spends much of his time studying the web of mycelium in dunes across the Gulf Coast. He became a mycophile as an undergraduate at the University of Wisconsin-Oshkosh.
"I took an Introduction to Fungi class and it changed my life," he said. "Fungi are really, really weird compared to plants, animals and bacteria. They kind of break all the rules that you learn in introductory biology about how cells function and how organisms live."
Summers at the Sea Lab
Henning stores thousands of root samples at his first-floor office in the Life Sciences Building.
It's more of a cozy space than a spotless lab. The walls are painted a deep blue, with red patterned rugs covering the floor. The overhead lights remain off, but floor lamps offer a welcoming glow for visitors who take a seat on the couch.
Henning works at a stand-up desk in front of a window. He has an easy laugh and casual style. On a summer afternoon in the office, he wears a Milwaukee Brewers T-shirt.
He still feels like a newcomer to the Gulf Coast, though he enjoys the warm weather. Each summer, he teaches Marine Botany at the Dauphin Island Sea Lab. He can step outside and lead students on field trips to a marsh or beach.
Henning serves on the College of Arts and Sciences Diversity Committee and is a faculty fellow in the Office of Community Engagement. His lab also conducts research on inclusion and equity in STEM fields. Last year, he received a $348,000 grant from the National Science Foundation to research how to promote the retention of historically marginalized groups such as first-generation college students, racial and ethnic minorities, women and gender expressive students.
Dr. Raj Chaudhury, executive director of South's Innovation in Learning Center, called Henning a true scholar.
"He can combine disciplinary scholarship with investigations into other, socially relevant aspects of becoming a scientist – questions of identity," he said. "That sets him apart from many others in the field."
With students in his undergraduate classes, Henning tries to put the fun in fungus.
"I think it's a pretty easy sell," he said. "It's hard to convince students that they should start thinking about fungi, but as soon as you start introducing them and their weirdness, students are immediately hooked."
Henning is the first member of his family to go to college. He appreciates the blue-collar work ethic he got from his parents.
Henning earned his Ph.D. at the University of Tennessee and did post-doctoral study at the University of Minnesota, which hosts the Nutrient Network, which started in 2007.
Henning calls it "Nut Net," but Lekberg pronounces it "Nute Net," as in "nutrient," which she thinks makes more sense. In any case, both appreciate the research group. It continues to add scientists and field sites around the world.
Dauphin Island is now part of that trend.
"There are only a few coastal dune grassland ecosystems currently represented in the Nutrient Network," Henning said, "so we are bringing a unique site to it."
There is always work to be done for the ongoing project.
"Right now, we're in the midst of another network-wide soil collection," Henning said. "About 2,000 root samples from around the world will be coming to our lab. It's really exciting. You know, after 10 to 15 years of nutrient addition, what do these fungal communities look like? So it'll be a busy time in the lab for the next couple of years."
---